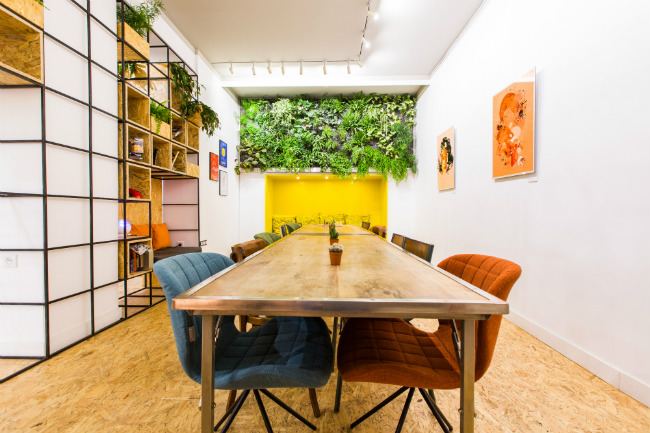 With a growing number of Parisians and expatriates leaning towards the entrepreneurial life, it's no wonder co-working spaces are on the rise in Paris. The first opened its doors in the Sentier in 2008 and has evolved into what is now Numa [1], a start-up acceleration co-working space. Le Loft [2], a former rope factory boasting 620m² of space, is a co-working incubator also located in what was once called Silicon Sentier. In recent years, over a dozen have followed suit, catered to a community of business-minded creatives who seek a space to work other than their often cramped quarters. As one such entrepreneur, I well understand the importance of an environment where productivity trumps distraction. An alternative to corner cafés, in the past favored by greats like Hemingway, these relaxed professional spaces provide the ideal environment for solo work or a business meeting, some even offering private conference rooms. Where better to create your office and connect with like-minds, than in a comfortable café offering unlimited wifi and café crèmes?
Here are a few of my favorites, where you can often find me designing or writing, thriving in the energy of fellow creatives. Did I mention they all excel in coffee?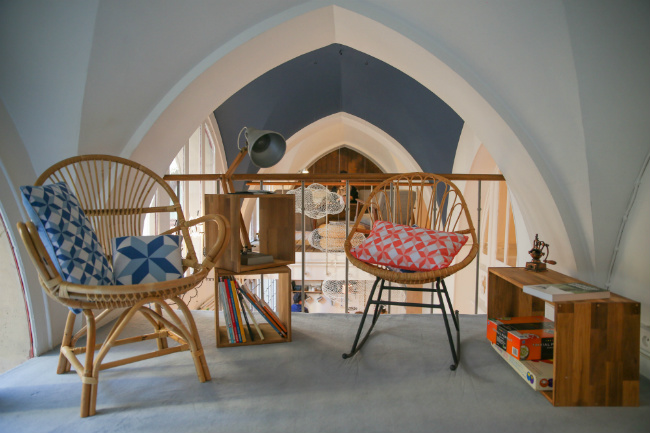 Nuage Café [3]
The latest to open in the Latin Quarter is Nuage Café, in recent years a church and once the high school of Cyrano de Bergerac. You might even find his desk in the eclectic workspace. Nuage, meaning cloud, is true to its name, a tranquil lofty duplex featuring various shared and private work environments. Books are strewn throughout the space, hidden even in the stairwell. In-house services include ordering a coffee via your laptop. By registering your seat online, a professional network is created among those sharing the space. A discreet way of connecting. Soon lunch will be offered so you never need to leave your cloud.
14, rue des Carmes 75005. Monday-Friday 9am – 9pm / Saturday-Sunday 12 – 8pm. 4€/hour, 16€/day. coffee by Coutume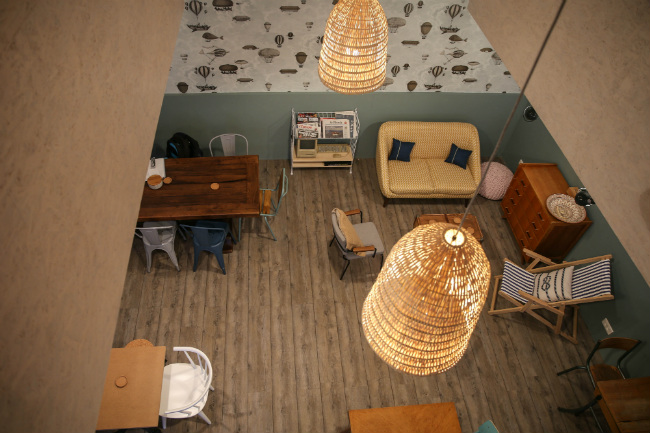 Craft [4]
Steps away from Canal Saint-Martin sits Craft, a minimally designed and highly efficient space that has welcomed international clientele for over three years. The unique concept behind this co-working café is the even exchange of food and drink for work time. The 3€ per hour fee can be used for an assortment of local tastes including pastries, sandwiches, coffee and fresh juices, providing the ideal spot for a working lunch. With soft music and the sounds and smells of coffee grinding in the background, it's easy to feel at home in this intimate space.
24 rue des Vinaigriers 75010. Monday-Saturday 9am – 7pm / Sunday 10am – 7pm. 3€/hour. coffee by Lomi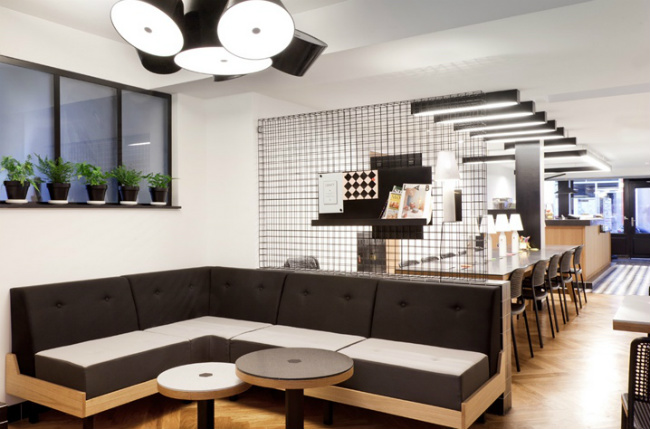 Anticafé [5]
The creative energy of Anticafé is immediately felt upon stepping into this animated space; upbeat music streams through the air, ever-changing artwork fills the walls, board games line the shelves. The lower level reveals a cozy cave in which to hide away or conduct a meeting. Lunch is not offered but there's plenty in the way of snacks and beverages, including freshly squeezed juices. The first to open in 2013 sits in the shadows of Centre Pompidou, and already two more locations have opened in Paris and one in Rome. Where next?
79 rue Quincampoix 75003; 10 rue Richelieu 75001; 59 rue Nationale Paris 75013. Monday-Friday 9am – 10:30pm / Saturday-Sunday 10am – 9:30pm. 4€/hour. coffee by Caron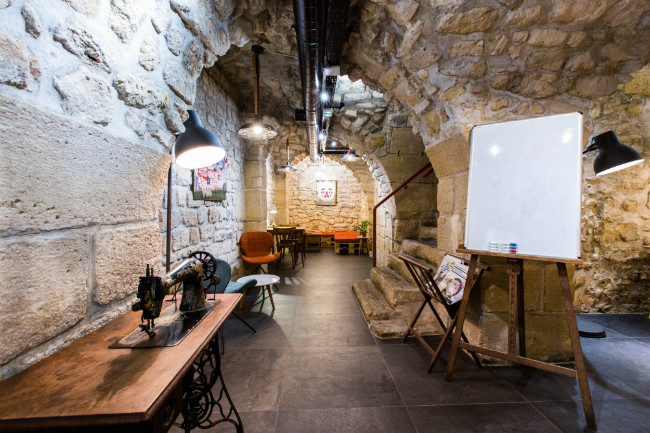 Hubsy [6]
Five months ago Hubsy joined the café co-working culture. Located across the street from Musée des Arts et Métiers in Paris' 3rd arrondissement, it's the perfect spot to work solo while enjoying street scenes and museum views. The lower level provides a private meeting room which can be booked in advance, or you can opt to lounge more casually in the upstairs balcony. Snacks are plentiful and the owners take great pride in their coffee, Pfaff having been awarded best French coffee roaster in 2014 by the French Coffee Committee.
41 Rue Réaumur, 75003. Monday-Thursday 9am – 10pm / Friday 9am – 8pm / Saturday-Sunday 11am – 8pm. 5€/first hour, 4€/each additional hour, 20€/day. coffee by Pfaff