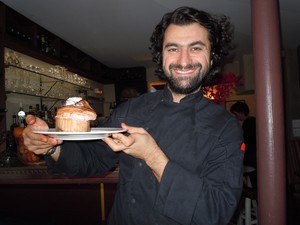 Is it possible to fall in love with a restaurant? Or, is it the magic of Montmartre? Climbing rue Lepic with its' mouthwatering epiceries, pâtisseries, souvenirs shops. And then, swinging a right onto rue Veron and finding the coup de foudre.
Les Tantes Jeannes is inspired by crooner Gilbert Becaud's chanson. Owners Octave (the chef) and Laetitia (front of house, back of house etc. as you do) adore Montmartre, had two local restaurants, Marguerite and le Barathym, for which offers were made they could not refuse.
Moving on, the couple transformed Le Chai de Montmartre into a neo-bistro, re-named it, putting accents on excellent food and wine. Totally contemporary, at the same time keeping the "absinthe spirit" of old Montmartre and its' history and, talking absinthe, where in the city can you find a souffle à la A? Chez Les Tantes Jeanne, darling.
Before the souffle caviar d'aubergine, cuisses de grenouille, foie gras aux truffes, salade d'homard, green beans and mango, flash fried squid salade on a bed of roquette.
Now here's the rub, and the cows are rubbed regularly, it's Wagyu central here. The favourite boeuf of top chefs, Octave's "faҫon Kobe" is a tender delight, at tender price, filet or "en tartare". Black Angus if you prefer, cooked how you like. Thick triple-fried chips are carved from organic potatoes. Boeuf bourgignon, tagliatelle: Magret de canard au poire de Séchuan. A glass of Côtes de Rhône?
Octave's off to spend the day with artisan butcher Yves le Bourdennec at Boucherie Lamartine next week, that's passion. Of Turkish origin chef graduated from Ecole Hôtellerie, worked with the likes of Jean-Claude Ferrero and Monsieur Faugeron who inspired his passion.
OK, Ashton's happy, I'm not interested in beef! No worries, plat végetarian, steamed forgotten vegetables, contained in a wafer thin flower shaped crèpe, posed on parsnip gratin, that'll blow you away.
Scallop risotto, fish of the day, veal with wild marjoram sauce are prepared at the last minute and may or may not be "on" according to the market. There's a cheese tray of freshness and generosity, all matured chez Les Tantes. Desserts include Pain Perdu, yogurt ice-cream, tarte du jour, moelleux au chocolat.
And, don't forget a glass of Verte de Fougerolles absinthe to match the souffle! Yes, it is possible to fall in love with a restaurant, it's always there when you need a bit of comfort. Absinthe makes the heart grow fonder darlings.
Les Tantes Jeanne,
Restaurant/Bar
42 rue Veron, 18th
M: Blanche Line 2
T: 01 42 51 14 21
Open 7/7 Lunch & Dinner
Lunch average spend starter, main; pudd: 20€
Dinner A La carte from 30-55€
New Years Eve – Saint Sylvestre
Menus at 85€ & 135€
Reserve by e-mail
Restaurant le Bar des Artistes,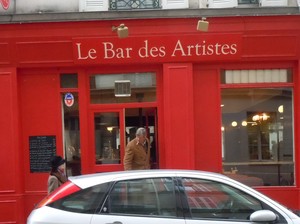 The new owner's taken down the posters that gave this atmospheric zinc, right by the stage-door of the Folies Bergère, its' name. Except in the loo, where a portrait of Serge Gainsbourg greets you with ciggie and signature sneer.
Magda Varrela (ex-Ducasse) greets you with a smile and a new menu, based on soothing bistro dishes, revised and corrected by young talent Nicholas Braat. Pas du tout un brat, Braat 's a very keen cuisinier who's worked all the posts, from amuse-bouche to dezzerts, chez Le Jules Verne, Fables de la Fontaine and a stint in Florence, Italy.
The blackboard announces bistro favourites, seasonal vegetable soups, salade de lentilles au lard, rillettes de lapin, risotto de champignons. Mains include paleron de boeuf: Dorade royal, pomme fondant drizzle of bouillabaisse sauce. Perfect textures revealed in boudin noir aux deux pommes: St. Marcellin de chez Alleosse and desserts include pomme au four, coulis aux airelles and superb tarte chocolat orange.
Wash down with a flute of champage (9€) a crisp white Rully 6-25€ or the red Saumur champigny 5-24€. And then it's off to the Folies Bergère, recently acquired by Lagadère who bought the original costumes at auction. If you missed the memo, the sale took place in June.  Oh la la
Restaurant le Bar des Artistes,
10 rue Saulnier, 9th
Metro: Cadet
Shut Sun-Mon & Christmas
T: 01 47 70 50 88
Average spend 28€ plus wine.
No site
Garance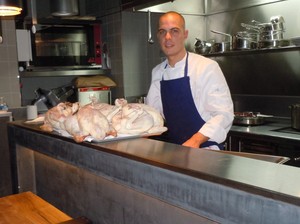 Ah! Garance, you say. Named after the lady in the film Les Enfants du Paradis starring Arletty. Right? Wrong? Then it must be after the region in the Languedoc region? Wrong.
Give up?
Named for the bright touches of rouge garance (red dye from the madder plant) daubed around the hip new left-bank bistro Garance, launched November 5th by two Guillaumes, Muller, in the salle, Iskander at the pianos. Both ex-Arpège. The zen transformation of the two-story former tacky restaurant russe is by architect Gilles Reibell. Street level is the Comptoir Cuisine, open kitchen with space for 6. Here you can leave the chefs to create a "carte blanche" menu for you.
The first floor, reached by an elegant granite stairway makes the vast glass wine space its' focal point.  Another bar and romantic tables for two or four. Dream on baby about the wines, everything you ever want to taste and then some. Prices from 14€.- 1,200€.
You're seeking a no frills addy for Christmas and New Year. Garance has no special menus, no frills, cabarets or cotillions. Just excellent organic, locavore, food served daily with passion and love. Stay tuned for a full report in the New Year.
Garance,
34 rue saint-dominique 7th
M: Invalides
Lunch 34€ + wine
T: 01 45 55 27 56
Lunch – 34€ + A La carte
Average Spend Dinner – 60€
Shut Sat-Sun
Open Christmas & New Year
No frills, no imposed menu
La Bûche "Joyau de Noel"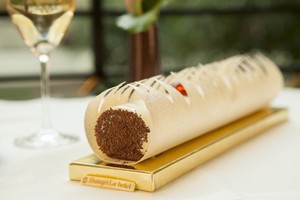 This Christmas, Franҫois Perret chef patissier at Shangri La has created a seriously luxurious bûche with which to crown your Christmas table, signed Baccarat and Perret.
Nestled inside a white satin box the chocolate cake is set on a chocolate biscuit base, covered in white icing with a dash of cognac, topped with a sugar lace motif and a crystal from Baccarat's Médicis collection.
Continuing the royal theme, in the atrium near the Christmas tree, the giant Advent calendar is a replica of the hotel's façade. Behind each of the 24 windows there's gifts to be won, could be sets of Château Baccarat glasses, complimentary Christmas Teatime or a night's stay at the hotel.
Until December 24, 2012, five guests are invited to draw from a collection of five keys. Only one key can unlock each window!
From December 21-25, 2012, the horse-drawn Calèche Impériale, the imperial carriage, complete with the hotel's insignia, will be waiting at the main entrance, ready to take lucky passengers for a trot around the Eiffel Tower and back. Inside the carriage, guests will find a throw in faux fur and a "hot chocolate service" to keep them warm.

Subscribe for
FREE

weekly newsletters.
BonjourParis has been a leading France travel and French lifestyle site since 1995.
Readers' Favorites: Top 100 Books, imports & more at our Amazon store
We update our daily selections, including the newest available with an Amazon.com pre-release discount of 30% or more. Find them by starting here at the back of the Travel section, then work backwards page by page in sections that interest you.
Current favorites, including bestselling Roger&Gallet unisex fragrance Extra Vieielle Jean-Marie Farina….please click on an image for details.
Click on this banner to link to Amazon.com & your purchases support our site….merci!