Les Grands Voisins: A Community Project (and Camping) in the Heart of Paris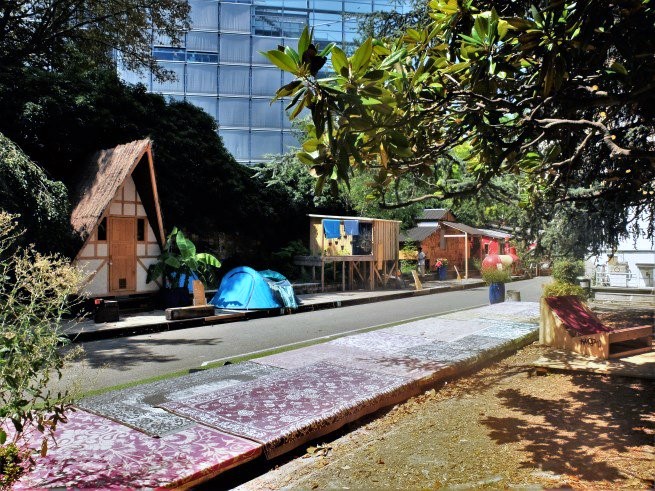 The moment I stepped on to the runway at Paris Charles de Gaulle I was hit with a sweltering barrage of sticky July heat. Locals are known to leave the capital en masse in late June and August to escape the uncomfortable midsummer temperatures, and the concept, previously unfathomable to a Briton living in the rainy West Country, was now seeming more a necessity than a lifestyle choice. It was damn hot.
As I made my way down through Paris on the RER B line, towards Denfert-Rochereau, things got unbearable. With no seats free I stood, hugging my backpack and with my face pressed against the clammy Perspex of the window. I was beginning to regret my holiday choices.
After alighting at Denfert I headed towards Les Grands Voisins, the city campsite which would be my basecamp for the next 24 hours in the 14th arrondissement. On arrival my spirits were immediately lifted. The entrance opened out onto a quietly secluded square with tall trees blocking out the sounds and sights of the busy city. Handmade furniture ingeniously recycled from industrial objects dotted the complex with streaks of color, and I was warmly greeted by the scattering of inhabitants going about their business. The immediate calm was just what I needed in this heat, and though I won't go as far as using such clichéd terms as 'urban oasis,' I will definitely stretch to a "city haven."
After dumping my bag in my digs, a beautifully built wooden cabin raised on stilts, I sat down with one of the volunteers at Les Grands Voisins to find out more about this fascinating project.
The historic Saint-Vincent-de-Paul hospital will soon be transformed into a new eco-quartier in Paris, but in the meantime it's been given a (temporary) new lease of life with art ateliers, community gardens, pop-up concerts/events, restaurants, and even camping. Les Grands Voisins took over the site in 2014 after the existing hospital closed in 2012, with a vision of respecting this area's history of hospitality. The main buildings have since been used as a refuge for roughly 600 people, including refugees from all over the world, and vulnerable persons living in Paris. By including the Yes We Camp project, which provides camping and cabins for tourists and locals alike, Les Grands Voisins aims to break down barriers of exclusion between the residents living in the social housing and the rest of the world.
The result is a vibrant, beautiful campsite with a genuine sense of community. Resident artists and designers have worked together with refugees and disadvantaged people to create a seriously impressive infrastructure here. Electricity for the workshops comes from solar panels, accommodation and furniture is recycled from salvaged scrap, and there are libraries and study rooms sourced from donated books and equipment. The bathroom areas are some of the cleanest and best designed I have ever witnessed at a campsite, pricey or otherwise, and I enjoyed studying the clever mechanisms– trying to discern what they had been in a past life. The showers are made from old polytunnels, with the fabric folding down to preserve your dignity, and the washing machine uses the pedals of an old racing bike to provide the spinning motion. Les Grands Voisins is truly a design lover's heaven.
At lunch time I headed to one of the two restaurants in Les Grands Voisins, Les Comtoirs, which served Senegalese and West African dishes for just 5€ a head. The delicious chicken and rice dish I ordered, Maafe au Poulet, was cooked by a team hired by the Aurora project, which organizes paid roles in Les Grands Voisins for disadvantaged residents, and my post-meal coffee was made by a local Parisian who volunteered on weekends. "Care to buy a coffee for one of our neighbors?" he asked. When I looked a little confused he pointed to a small blackboard behind the bar with a tally drawn in chalk. This friendly little system was one of the many ways Les Grands Voisins worked to integrate all of its residents; you can throw in an extra euro and add a tally to the board, covering the cost of a free coffee for a member of the social housing.
Such is the spirit throughout the Grands Voisins project. Prices are kept low enough just to cover production costs, with food and the accommodation, and what they can spare they offer you for free. Things like pétanque, table tennis, pianos and even a sauna are yours to play with, and there's no shortage of people to share them with. It's for this reason that the Camping Grands Voisins is a great choice for people staying in Paris this summer on a tight budget, and it's made all the sweeter knowing your money is going to a good cause.
By 6pm the atmosphere had taken a turn for the funky. A local group of musicians had struck up on the band stage, suitably made from pallets and what appeared to be the flatbed of an old truck. I grabbed a tasty wheatbeer from the pop-up bar and took a pew on the edge of the pétanque terrain, watching the group perform an interesting mix of cuban and West African music with my new buddy Julian. Soon the outdoor dance floor had filled up with the young and the old, swinging and swaying together to form an eclectic and thoroughly unreserved troupe. I threw caution, and probably a fair bit of wheatbeer to the wind, and joined in, arms aflail.
I awoke with a narrow beam of light burning a hole into my very being. A few too many wheaties and a long night of grooving had left me feeling more than a little jaded this morning. Where was this obscenely obtrusive light coming from? Surely I had turned off the switch after crawling into my comfortable bed last night. After a moments grumbling and a bit more flailing, I found the source of the beam, which turned out to be another ingenious invention from the creators of Les Grands Voisins, though wasted on me in my hazy state. In the roof of the cabin was a wooden disc with an assortment of different sized holes; turning the disc offered differing amounts of light to enter the room. I turned the mechanism to cheese grater mode, allowing a more hangover-friendly smattering of dappled light to shine through, and slumped back on to my pillow.
Leaving Les Grands Voisins is difficult, not logistically but emotionally. While well aware that a visitor to Paris must go out and see the sights, I couldn't help lingering in the peaceful campsite for most of the morning. When I was finally ready to face the music and reenter the busy city I felt sad to be leaving this curious little place. Walking out the gates, the sounds of the metropolis immediately returned, abruptly reminding me I where I was. I turned back for a last look at this, screw it, urban oasis and took my little map from my bag. It was hard to be too glum, with all of Paris ahead of me.
Useful information
Les Grands Voisins can be found at 82 Avenue Denfert-Rochereau, about five minutes walk from Denfert-Rochereau metro station. You can take the RER B directly from Charles de Gaulle airport. Camping prices vary depending on the accommodation type you choose; cabins start at 45€ and sleep between two and four people. Tents are 22€ a night and hammocks are 8€, but bring a light sleeping bag. Lockers are available free of charge. Note that this is the last season for the campsite. It will close its doors on October 1.
For more information and bookings, visit lesgrandsvoisins.org
Lead photo credit : ©Theo Gittens
---
---