The Leavened Truth on Lockdown: An Interview with Apollonia Poilâne
"From first time bakers to a general desire to ensure getting nutritious and essential basics, bread takes center stage right now," says Apollonia Poilâne.
In 2002, with the sudden death of her beloved parents in a helicopter accident, Apollonia Poilâne – at the time a 19-year-old Harvard student – became President of Poilâne.
The international company has branches in Paris, London and also the manufacture/bakery at Bièvres, near Versailles. There around 15,000 organic loaves fragrantly emerge from the 24 wood-burning ovens, replicas of those used at the Paris locations.
Using just four ingredients (stone-milled wheat flour, water, a starter that provides the leavening, and Brittany sea-salt), the sourdough's rich in magnesium, selenium and iodine, the structural fibers known to prevent constipation and possibly some digestive cancers.
Apollonia is a dedicated, qualified, hands-on baker. "I can't tell you what a high I get from baking bread, the fulfillment it brings. A wheat seed transmits an unbelievable amount of information when it's planted," she told CBS News.
"It's not often that the bakery introduces an exciting new line …however we will launch some new sable biscuits soon. A few recipes are included in my cookbook and I'm proud to say that Dorie Greenspan nominated the corn sables as her "latest inductee into the pantheon of great shortbread cookies. They are created as the ideal healthy snack and produced in the bakery –shortbread made with 100% rye, barley, oat, corn & buckwheat. They follow my vision of showcasing great grains, a fun, delicious way to enjoy nature's jewels from the earth".
Apollonia says that with Covid19, "we had customers stocking up on their Poilâne bread, especially from overseas!" There has been a huge shift/demand/interest in bread since the start of the pandemic. It's trending in Google searches, features have been published in WSJ, NYTimes, BBC and just about every food-related website.
The cookbook Poilâne: The Secret of the World Famous Bread Bakery is a great source of timely recipes. "I'll continue my Zoom online Masterclasses with live Q&A sessions to help encourage bakers and first timers to get their hands into some dough!" Apollonia promises. And, as for the flour: "with the huge uptick of interest in baking, there have been flour shortages – but our bakery is still well stocked."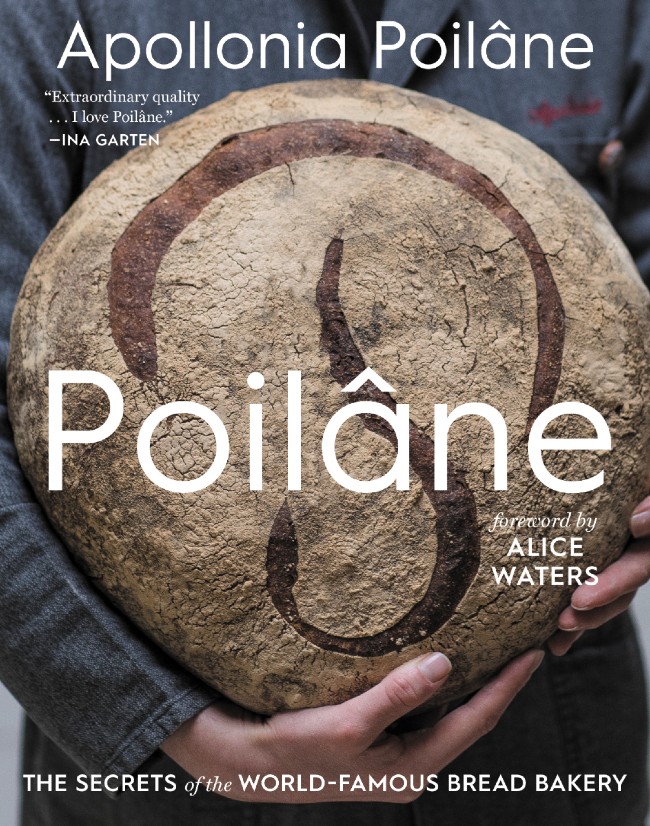 The Comptoir (the cute café next to the bakery on rue du Cherche-Midi) is closed – "but we're welcoming vegetable/fruit producers who normally supply restaurants/local markets who are using it to distribute food to the community. And I'm delivering baked goods/breads to frontline medical personnel."
And, Refettorio helmed by Massimo Bottura and JR (the edgy internationally renowned artist, photographer, graffiti artist and filmmaker) continues to function. The cultural project, "Food for Soul", nourishes and supports deprived members of the Paris community. For 2 years, Poilâne has been gifting daily bread to chef Bottura; however, during lockdown, the canteen project, located in the crypt of the Church of La Madeleine, place Madeleine, has redirected towards preparing meals for the community's needy.
Poilâne adapts business hours within the laws of le confinement.
The four Paris boutiques are open – but for less time:
8 rue du Cherche-Midi, Paris 6th: 8h-15h, Monday-Saturday
49 Boulevard de Grenelle15th – 8h-15h, Tuesday-Sunday
38 rue Debelleyme, Paris 3rd: 8h-15h – Tuesday-Saturday
83 rue de Crimée, Paris 19th: 8h-15h – Tuesday-Saturday
The in-house delivery service supplies resellers such as Monoprix, etc. in Paris and on Ile de France. Private Poilâne bread-o-philes may order paniers (baskets) filled with the signatures: Panier sucrée (€33.50), Pains & Punitions (€38.40), Panier Gourmand (€50) delivered to your door. Order by phone (01 45 48 42 59) or via the website.
#stayhomestaysafe
Lead photo credit : Maison Poilane. Photo credit: Philippe Vaurès-Santamaria
---
---
Comments