Markets in Paris – from the Marché to Café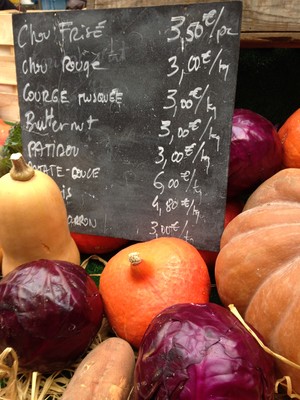 Almost as iconic as the Eiffel Tower itself, the open-air markets of Paris are a part of the daily life for Paris locals and visitors alike. These marchés show us so much about the French relationship with food and the ritual of shopping for it. While the setting of the French market has stayed the same over the years- with sidewalk stands topped with sturdy canvas awnings being set up in neighborhoods across Paris on a weekly basis- the content has unfortunately changed quite a bit. When describing Paris markets, famed chef and ardent Francophile Julia Child speaks of her favorite vegetable vendor, Marie des Quatre Saisons who was thusly named because "her cart was always filled with the freshest produce of each season". Nowadays at the market, you see all seasons at once, with imported produce from around the world filling stands and making strawberries and cucumbers as common a sight in November as in July. While food markets near Julia's home in Provence likely embody the characteristics of the markets she knew and loved in Paris, the city has slowly been losing access to locally grown, seasonal produce at the markets. The reason for this drastic change is the disappearance of the farmer from the market. In fact, the majority of Paris markets can't truly be considered "farmers markets" as you'll be lucky to find one farmer, if any, among the expanse of fruit and vegetable stands. When I first noticed the lack of farmers, I was shocked. While Paris is a large urban metropolis, the surrounding areas are agriculturally rich and surely the Ile-de-France region, which Paris calls home, would be host to farmers and locally grown produce. I decided to start exploring the markets and asking questions, I found farmers from neighboring regions, like Cergy-Pontoise, Coulommiers, and the Seine-et-Marne- but they were few and far between. In order to document my quest, I founded Paris Paysanne, a blog where I shared my experiences exploring Paris markets and enjoying French terroir, all while on the lookout for French farmers. The more research I did, the more passionate I became about my treasure hunt. To my delight, I found that I was slowly gaining more readers and a larger audience of followers who were equally interested in the state of Paris markets. I decided to take my research further and turn it into a constantly updated map of where to find farmers at Paris markets. This simple resource is an easy way for locals and visitors to find farmers at their nearest market. It has been so fun to follow up on leads from readers and continue my regular visits to the city's markets- so far I've visited about 50 markets! It has been exciting to see Paris Paysanne's audience grow, but even more gratifying to be a part of a larger "eat local" movement in Paris. Besides the markets, many associations have been created to bring locally grown produce to the people of Paris and beyond. AMAPs (Association pour le Maitien d'une Agriculture Paysanne) across the city bring neighbors together and directly support local farmers. Members of an AMAP meet in a neighborhood location each week to collect their basket of locally grown, seasonal vegetables. The meet up allows neighbors to spend time together as well as build a relationship with their farmer. La Ruche Qui Dit Oui combines the AMAP with the marché by asking participants to order and pay for their produce (and many other locally produced, organic goods) online and then go to their local ruche (french for "beehive") to collect their purchases and meet the producers that bring food to the city. Both of these innovative approaches change not only how we buy our food, but they also bring communities together, connecting neighbors and farmers and building a network of people who are interested in where their food comes from. Many Paris restaurants and cafés are engaged in promoting and using locally sourced ingredients, as well. One of my favorite spots fro great coffee and food is Holybelly in the 10th arrondissement. At this warm and welcoming café/restaurant you will find, prominently displayed on a giant chalkboard near the open kitchen, a constantly updated list of seasonal products from nearby regions. The chefs, Lise and Sarah, stick to the seasons and produce wholesome, delicious, and comforting food to please all palates. The list goes on, with stellar restaurants such as Verjus, Le Verre Volé, and Pierre Sang's Oberkampf restaurant favoring locally produced products and assuring the freshest ingredients for their customers. Thanks to a new label created by the Ile-de-France, diners can look for the "Des Produits d'ici Cuisinés ici" certification at over 40 Paris restaurants and be assured that they are eating a homemade, locally sourced meal- which is getting harder and harder to find at the corner bistrot these days. By Emily Dilling
SUBSCRIBE
ALREADY SUBSCRIBED?
BECOME A BONJOUR PARIS MEMBER

Gain full access to our collection of over 5,000 articles and bring the City of Light into your life. Just 60 USD per year.

Find out why you should become a member here.

Sign in

Fill in your credentials below.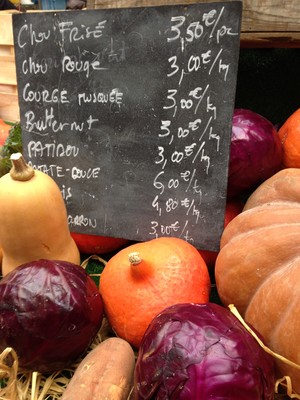 Almost as iconic as the Eiffel Tower itself, the open-air markets of Paris are a part of the daily life for Paris locals and visitors alike. These marchés show us so much about the French relationship with food and the ritual of shopping for it. While the setting of the French market has stayed the same over the years- with sidewalk stands topped with sturdy canvas awnings being set up in neighborhoods across Paris on a weekly basis- the content has unfortunately changed quite a bit.
When describing Paris markets, famed chef and ardent Francophile Julia Child speaks of her favorite vegetable vendor, Marie des Quatre Saisons who was thusly named because "her cart was always filled with the freshest produce of each season". Nowadays at the market, you see all seasons at once, with imported produce from around the world filling stands and making strawberries and cucumbers as common a sight in November as in July. While food markets near Julia's home in Provence likely embody the characteristics of the markets she knew and loved in Paris, the city has slowly been losing access to locally grown, seasonal produce at the markets.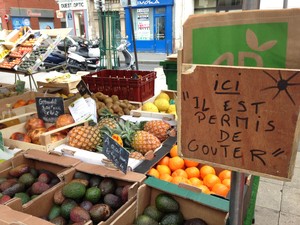 The reason for this drastic change is the disappearance of the farmer from the market. In fact, the majority of Paris markets can't truly be considered "farmers markets" as you'll be lucky to find one farmer, if any, among the expanse of fruit and vegetable stands.
When I first noticed the lack of farmers, I was shocked. While Paris is a large urban metropolis, the surrounding areas are agriculturally rich and surely the Ile-de-France region, which Paris calls home, would be host to farmers and locally grown produce. I decided to start exploring the markets and asking questions, I found farmers from neighboring regions, like Cergy-Pontoise, Coulommiers, and the Seine-et-Marne- but they were few and far between. In order to document my quest, I founded Paris Paysanne, a blog where I shared my experiences exploring Paris markets and enjoying French terroir, all while on the lookout for French farmers.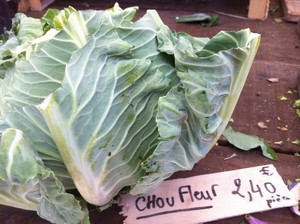 The more research I did, the more passionate I became about my treasure hunt. To my delight, I found that I was slowly gaining more readers and a larger audience of followers who were equally interested in the state of Paris markets. I decided to take my research further and turn it into a constantly updated map of where to find farmers at Paris markets. This simple resource is an easy way for locals and visitors to find farmers at their nearest market. It has been so fun to follow up on leads from readers and continue my regular visits to the city's markets- so far I've visited about 50 markets!
It has been exciting to see Paris Paysanne's audience grow, but even more gratifying to be a part of a larger "eat local" movement in Paris. Besides the markets, many associations have been created to bring locally grown produce to the people of Paris and beyond. AMAPs (Association pour le Maitien d'une Agriculture Paysanne) across the city bring neighbors together and directly support local farmers. Members of an AMAP meet in a neighborhood location each week to collect their basket of locally grown, seasonal vegetables. The meet up allows neighbors to spend time together as well as build a relationship with their farmer. La Ruche Qui Dit Oui combines the AMAP with the marché by asking participants to order and pay for their produce (and many other locally produced, organic goods) online and then go to their local ruche (french for "beehive") to collect their purchases and meet the producers that bring food to the city. Both of these innovative approaches change not only how we buy our food, but they also bring communities together, connecting neighbors and farmers and building a network of people who are interested in where their food comes from.
Many Paris restaurants and cafés are engaged in promoting and using locally sourced ingredients, as well. One of my favorite spots fro great coffee and food is Holybelly in the 10th arrondissement. At this warm and welcoming café/restaurant you will find, prominently displayed on a giant chalkboard near the open kitchen, a constantly updated list of seasonal products from nearby regions. The chefs, Lise and Sarah, stick to the seasons and produce wholesome, delicious, and comforting food to please all palates.
The list goes on, with stellar restaurants such as Verjus, Le Verre Volé, and Pierre Sang's Oberkampf restaurant favoring locally produced products and assuring the freshest ingredients for their customers. Thanks to a new label created by the Ile-de-France, diners can look for the "Des Produits d'ici Cuisinés ici" certification at over 40 Paris restaurants and be assured that they are eating a homemade, locally sourced meal- which is getting harder and harder to find at the corner bistrot these days.
By Emily Dilling
More in food markets, marche, market, open market, Paris food markets
---
---