Eat, Drink and Be Merry at the Salon de l'Agriculture in Paris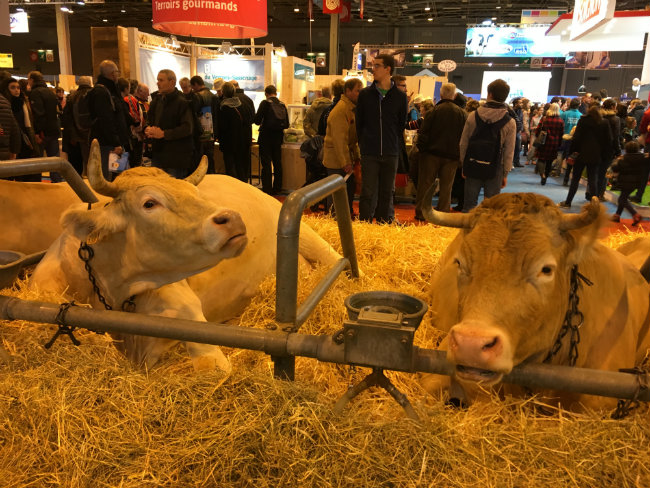 The last week in February is one of my favorite times of year in Paris. Despite the grey skies and cold temperatures, the city heats up with the arrival of France's finest birds and beasts at the Salon International de l'Agriculture, an annual showcase that takes Paris by storm. Farmers arrive in Paris with their prized livestock–from the heavily muscled Bleu-Blanc cows to Silkie Bantam chickens—and take up residence in the sprawling pavillons at the Parc des Expositions de la Porte de Versailles. For the 53rd edition, "the biggest farm in France" is expected to welcome close to 700,000 visitors (a third of them under age 12!) to ogle 4,000 animals.
There are vegetable-inspired fashion shows, dog herding contests, cooking classes, children's ateliers (plus a climbing wall!), and, bien sûr, cow beauty pageants. The mascot of the show this year is Cerise, a bazadaise cow, an ancient breed that has existed since the time of the Romans. You'll find this beauty in her own dedicated space in Pavillon 1, and you can also purchase a bag with her face plastered on it.
For a quarter of a century, the Salon has also served as an important political stage, with French Presidents (and sometimes, ahem, their rivals) staging photo ops amongst the agriculteurs and their livestock. This year, farmers booed and heckled President Hollande during his visit.
The best part of the Salon de l'Agriculture: the pavilions dedicated to the gastronomy of each French region. As you tour the restaurants and stands, you might start off with some saucissons, a taste of foie gras, or what about a raclette sandwich? Then head to the "Auvergne" section for a healthy portion of aligot, the traditional dish made with melted cheese and mashed potatoes. Stop by the Basque Country for some oysters and gâteau basque (Basque revelers are known to break into song, encouraging the crowd to sing-along). "Bourgogne" is awash in wine tastings, while Outre-Mer is always the rowdiest bunch with rum, exotic fruit punch, and live music straight from the islands.
The Salon will continue through the weekend (last day is March 6, 2016). The entry fee is 13 euros for adults, and 6 euros for children between 6 and 12 years. Free for children under 6. Metro: Porte de Versailles. For more information, visit www.salon-agriculture.com
This article was adapted from a story on our sister site, FranceToday.com
Lead photo credit : cows at the Salon de l'Agriculture/ MW Nicklin
---
---
Comments