Discover the Restaurants Behind your Favorite Paris Films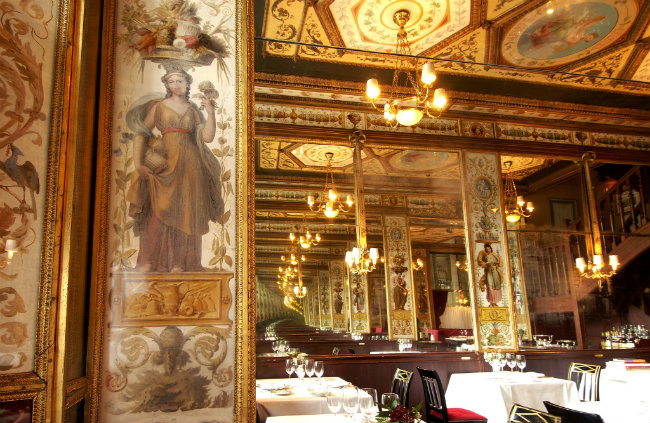 Lights, camera, action! Welcome to Paris, the birthplace of countless cinematic creations, settings and inspirations. Here, there are many opportunities across the city to wine and dine as the movie stars do, in a variety of timelessly Parisian restaurants, many of which you might recognize from huge blockbuster hits such as Quentin Tarantino's Inglorious Bastards or perhaps Jean-Pierre Jeunet's Amélie. Besides from being a movie set, most of the establishments mentioned here are steeped in history, evoking an inspiring culinary experience. Over the years, the striking décor and great cuisine of these eateries have captured the eye of many filmmakers, artists and writers, so it is no wonder that the city continues to feature prominently on Hollywood's set location list. Ditch the popcorn and step inside the cinema screen at these five restaurants!
Le Grand Vefour – Midnight in Paris
Take a trip through time in the first ever grand restaurant to have been built in Paris! Tucked away in the Palais Royal, this was the meeting place of political, artistic and literary individuals for over 200 years. It comes as no surprise that Woody Allen chose to feature Le Grand Vefour in his fantasy film, Midnight in Paris, which perfectly complements the nostalgic aesthetics of the movie. Chef Guy Martin has managed to preserve the restaurant's 18th century Parisian glamour, providing his clientele with a real 'step back in time' quality- an experience that echoes the essence of the film. In this way, Martin can only be described as an artist. He has triumphed in obtaining a perfect balance between tradition and modernity in the food served at this haute cuisine gem. This culinary decadence certainly comes at a price, costing around €300 per person, but the prestigious dining experience will be one to cherish forever.
17 Rue de Beaujolais, 75001 Paris. +33 1 42 96 56 27. www.grand-vefour.com
Le Grand Colbert – Something's Gotta Give
Situated in the heart of the second arrondissement, this Parisian brasserie is not one to miss. It is in fact classified as a historical monument, and will captivate your gaze from the lofty ceilings to the stunning mosaic floor. You may remember Diane Keaton raving about the 'universe's best' roast chicken in Nancy Meyer's movie, and the real thing does not disappoint! Immerse yourself in this romantic and traditional restaurant and enjoy a three course dinner for a reasonable €56.
2 Rue Vivienne, 75002 Paris. +33 1 42 86 87 88. www.legrandcolbert.fr
Bistrot La Renaissance – Inglorious Bastards
From the outside this appears to be a typical Parisian bistrot, but a quick glance inside La Renaissance will transport you back in time. This could be due to the fact that not much has changed in the bistrot since 1905, and it exudes the very essence of la Belle Epoque. For this reason, it is no wonder Quentin Tarantino chose to include this restaurant in many sequences of his film Inglorious Bastards. La Renaissance also serves great, traditional fare at prices that even those without Hollywood budgets can afford. (Dishes from roughly €15-20.) The steak and sweet potato gratin really is the star of the show – serious melt-in-the-mouth deliciousness. This bistrot, like Tarantino's films, is a real crowd pleaser.
112 Rue Championnet, 75018 Paris. +33 1 46 06 01 76. www.bistrotlarenaissance.fr
Café des deux Moulins – Amelie
Montmartre is peppered with quaint Parisian cafés, but I would definitely recommend a visit to Café des deux Moulins. This humble, neighborhood eatery was catapulted to fame after being featured in Jean-Pierre Jeunet's beloved film, Amélie. The café can now be seen as a homage to the quirky classic, as you will find it filled to the rafters with Amélie memorabilia. Find yourself a table overlooking the street, and enjoy the same 'petit plaisir' that Amélie does, as you crack into a crème brûlée.
15 rue Lepic, 75018 Paris. +33 1 42 54 90 50. www.facebook.com/café-les-2-moulins-43499289590/
La Tour d'Argent – Ratatouille
One of the most famous restaurants in the world, La Tour d'Argent stands proudly as one of the oldest establishments in Paris. Check out that glorious view over the Seine! This magnificent setting has captured the imagination of writers such as Ernest Hemingway and Marcel Proust, and you might also recognize it from the Pixar movie Ratatouille, many of whose scenes were inspired by La Tour d'Argent. The food here lives up to its setting, and the duck in particular is certainly worthy of an Oscar Award. Here, it is the speciality, as the restaurant actually farms their own (famous) Challans ducks. The restaurant also has one of the most impressive wine cellars in the city.
15 Quai de la Tournelle, 75005 Paris. +33 1 43 54 23 31. www.tourdargent.com
Lead photo credit : courtesy of Le Grand Vefour
---
---
Comments