Craft Beer and Food Pairing in the Heart of Paris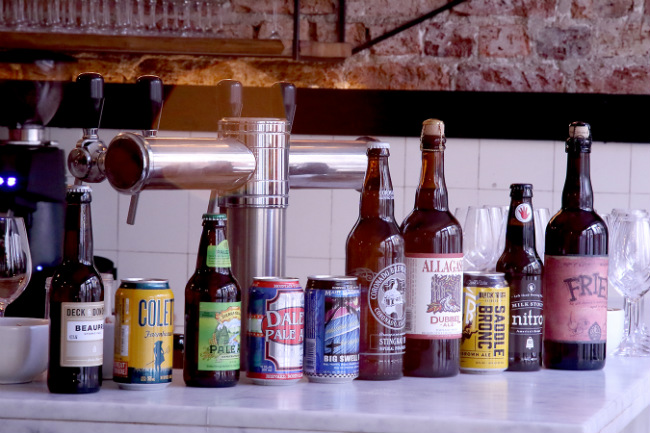 The craft beer revolution is infiltrating every corner of the globe and nowhere is this more apparent than the burgeoning craft beer scene in Paris. Five years ago Paris was a beer backwater with little more than homogenised, bland lager on offer, but since then around 15 craft breweries have opened in the Paris region including the first of its kind, La Brasserie de la Goutte d'Or in the 18th Arrondissement, Montreuil-based Deck & Donohue and Le Triangle, Paris's first gastrobrewpub near the trendy Canal Saint Martin all of which are brewing a diverse range of beer styles from saisons to stouts and everything in between. There is a groundswell of interest in craft beer and a new generation of Parisian gastronomes are waking up to the remarkable affinity between fine French food and quality craft beer. During
Paris Beer Week
held recently in the capital, the pioneers of the craft beer movement – America's small and independent craft brewers (represented by the Brewers Association) – rolled into town to spread the word about the flavor, diversity and quality of craft beer and demonstrate its mouth-watering compatibility with food. Bob Pease, President & CEO of the
Brewers Association
, explains: "The pre-conceived notion in France is to serve wine with food, but if people have an open-mind about taste, the experience they have with American craft beers and food will be unlike anything they have ever tried before." To prove beer's worthy place at the dinner table, the Brewers Association organized an exclusive beer and food pairing dinner showcasing the most popular beer styles in the world alongside the cuisine of acclaimed chef Edward Delling Williams (formerly of Au Passage). Hosted by Florent Ciccoli at Parisian neo-bistro
Jones
, the menu was a collaboration between Edward Delling-Williams and the Brewers Association's Executive Chef, Adam Dulye, who is himself one of the world's leading exponents on matching beer and food. The result was a five-course/10 beer feast of glorious flavors running the gamut of beer styles from saisons, to pale ales and IPAs, brown ales and stouts. The evening began with a fresh crab, raw pea and home-made labneh salad with pea oil paired with Great Divide Collette Farmhouse Ale (7.3%) and Boulevard Tank 7 Saison (8.5%). Chef Adam Dulye explained that the beer styles for the courses ahead would begin on a light note and intensify in hop character as the pairings progressed. He assured us that even after five courses and 10 different beers our palates would not be fatigued and that we could leave Jones, walk into a bar, enjoy a beer and not feel satiated! Next up was a smoked mackerel gratin and foccacia stuffed with smoked mozzarella and home-made butter accompanied by Sierra Nevada Pale Ale (5.6%) and Oskar Blues Dale's Pale Ale (6.5%). This was truly a match made in heaven. The mackerel was cooked in a creamy rich béchamel sauce with parmesan and perfectly balanced by the hoppy, subtle malt notes of the pale ales. They cut through the richness of the dish with aplomb to leave the palate feeling clean, refreshed and ready for the next heavenly mouthful. Chef Adam's skilful sequencing of beers moved on to IPAs– the rockstars of the craft beer world– with beetroot braised cuttlefish, beetroot, blood orange and bacon fluff paired with Coronado Stingray IPA (7.9%) and Maui Big Swell IPA (6.8%). The cuttlefish was cooked sous vide and marinated in blood orange to provide acidity. As we tucked in with relish, Adam explained that IPAs balance the palate in two ways – by cutting through fat and by counter-acting acidity. IPA is the most popular beer style in the States and it is easy to see why this big, bold, beast of a beer style goes so well with food. Then came a quite incredible combination of slow roasted pork belly, black garlic and fava beans with Allagash Dubbel (7%) and Saddle Bronc Brown Ale (5.4%). The soft, smooth Dubbel with its plum, dried cherry and nutty flavors cut and complemented the richness of the pork perfectly while the Brown Ale with its hoppier, maltier, roasted nut flavor notes enhanced the sweetness of the black garlic. And finally to desert, Adam chose two beer styles for this course – smooth, velvety Left Hand Nitro Milk Stout (6%) and barrel-aged Odell Friek Sour Ale (6.5%) which had been fermented with cherries and raspberries, teamed with stout cake and chocolate with a malt ice cream. The deep roasted chocolate flavors of the stout boosted the chocolate in the cake while the burst of sour tartness from the Friek left the palate cleansed and refreshed. Bob adds: "We are looking to produce an 'A-ha' moment – when diners taste the malt and hops of the beer and react to the flavors the chef is creating in the food." craft beer and…
SUBSCRIBE
ALREADY SUBSCRIBED?
BECOME A BONJOUR PARIS MEMBER

Gain full access to our collection of over 5,000 articles and bring the City of Light into your life. Just 60 USD per year.

Find out why you should become a member here.

Sign in

Fill in your credentials below.
The craft beer revolution is infiltrating every corner of the globe and nowhere is this more apparent than the burgeoning craft beer scene in Paris. Five years ago Paris was a beer backwater with little more than homogenised, bland lager on offer, but since then around 15 craft breweries have opened in the Paris region including the first of its kind, La Brasserie de la Goutte d'Or in the 18th Arrondissement, Montreuil-based Deck & Donohue and Le Triangle, Paris's first gastrobrewpub near the trendy Canal Saint Martin all of which are brewing a diverse range of beer styles from saisons to stouts and everything in between. There is a groundswell of interest in craft beer and a new generation of Parisian gastronomes are waking up to the remarkable affinity between fine French food and quality craft beer. [Check out our article on top spots to buy and drink craft beer in Paris.]
During Paris Beer Week held recently in the capital, the pioneers of the craft beer movement – America's small and independent craft brewers (represented by the Brewers Association) – rolled into town to spread the word about the flavor, diversity and quality of craft beer and demonstrate its mouth-watering compatibility with food.
Bob Pease, President & CEO of the Brewers Association, explains: "The pre-conceived notion in France is to serve wine with food, but if people have an open-mind about taste, the experience they have with American craft beers and food will be unlike anything they have ever tried before."
To prove beer's worthy place at the dinner table, the Brewers Association organized an exclusive beer and food pairing dinner showcasing the most popular beer styles in the world alongside the cuisine of acclaimed chef Edward Delling Williams (formerly of Au Passage). Hosted by Florent Ciccoli at Parisian neo-bistro Jones, the menu was a collaboration between Edward Delling-Williams and the Brewers Association's Executive Chef, Adam Dulye, who is himself one of the world's leading exponents on matching beer and food.
The result was a five-course/10 beer feast of glorious flavors running the gamut of beer styles from saisons, to pale ales and IPAs, brown ales and stouts. The evening began with a fresh crab, raw pea and home-made labneh salad with pea oil paired with Great Divide Collette Farmhouse Ale (7.3%) and Boulevard Tank 7 Saison (8.5%). Chef Adam Dulye explained that the beer styles for the courses ahead would begin on a light note and intensify in hop character as the pairings progressed. He assured us that even after five courses and 10 different beers our palates would not be fatigued and that we could leave Jones, walk into a bar, enjoy a beer and not feel satiated!
Next up was a smoked mackerel gratin and foccacia stuffed with smoked mozzarella and home-made butter accompanied by Sierra Nevada Pale Ale (5.6%) and Oskar Blues Dale's Pale Ale (6.5%). This was truly a match made in heaven. The mackerel was cooked in a creamy rich béchamel sauce with parmesan and perfectly balanced by the hoppy, subtle malt notes of the pale ales. They cut through the richness of the dish with aplomb to leave the palate feeling clean, refreshed and ready for the next heavenly mouthful.
Chef Adam's skilful sequencing of beers moved on to IPAs– the rockstars of the craft beer world– with beetroot braised cuttlefish, beetroot, blood orange and bacon fluff paired with Coronado Stingray IPA (7.9%) and Maui Big Swell IPA (6.8%). The cuttlefish was cooked sous vide and marinated in blood orange to provide acidity. As we tucked in with relish, Adam explained that IPAs balance the palate in two ways – by cutting through fat and by counter-acting acidity. IPA is the most popular beer style in the States and it is easy to see why this big, bold, beast of a beer style goes so well with food.
Then came a quite incredible combination of slow roasted pork belly, black garlic and fava beans with Allagash Dubbel (7%) and Saddle Bronc Brown Ale (5.4%). The soft, smooth Dubbel with its plum, dried cherry and nutty flavors cut and complemented the richness of the pork perfectly while the Brown Ale with its hoppier, maltier, roasted nut flavor notes enhanced the sweetness of the black garlic.
And finally to desert, Adam chose two beer styles for this course – smooth, velvety Left Hand Nitro Milk Stout (6%) and barrel-aged Odell Friek Sour Ale (6.5%) which had been fermented with cherries and raspberries, teamed with stout cake and chocolate with a malt ice cream. The deep roasted chocolate flavors of the stout boosted the chocolate in the cake while the burst of sour tartness from the Friek left the palate cleansed and refreshed.
Bob adds: "We are looking to produce an 'A-ha' moment – when diners taste the malt and hops of the beer and react to the flavors the chef is creating in the food."
The Parisian craft beer scene may not be as developed as our friends across the Atlantic but as Bob explains: "Every country is different. The bar culture in France is not as geared towards beer as other countries but as long as brewers pay attention to quality and produce world-class products to meet the discerning tastes of Parisians, it'll happen in time. In the States today you can walk into a white tablecloth restaurant and find a beer list on the table. That didn't happen five years ago. Even in the last few months in Paris we've seen growing interest in craft beer from beer and food venues such as La Fine Mousse and Trois 8 to established, well-revered bistros such as Jones, wine bars such as Martin and restaurants such as Aux Deux Amis. We're at ground zero with the Parisian beer scene and it's exciting to be part of it."
Lead photo credit : craft beer at Jones
More in craft beer, Paris breweries
---
---