Maxan dining room. Publicity photo.
Maxan, Paris 8th
Remember Maxan? Of course you do, rue Miromesnil, next door to Guy Martin's atelier.
Laurent Jazac (ex-Gérard Vié, Alain Dutournier, Gilles Epie) launched an ultra-modern space which he bought from the talented Alain Bourgade. It was then dubbed La Poêle d'Or. Now, it's Mimosa with the adorable Stéphanie Pécoul wearing the whites, more of Mimosa in a future BUZZ. Phew!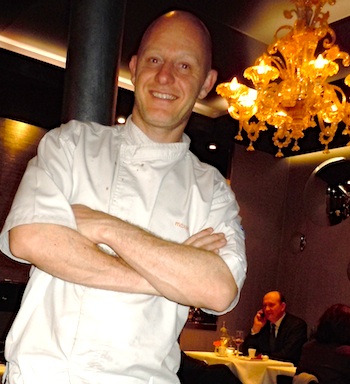 So, what happened? Where's Jazac, and his front of house, Serge Conquet? Find them, just off the Champs-Élysées, rue Quentin Bauchart (Conseiller Municipal de Paris, killed on the battlefield during WW1).
"Nice place you've got here," you'll say to Jazac, who looks like you wouldn't want to mess with him—shaved head, very muscly. If you want to see him smile, ask about his sprogs, Maxime and Andrea, after whom Maxan is named.
You're in Youmna, the former Lebanese . . . decor's not as funky as Maxan Mark 1: read sober and silver, touches of red and grey, mirrors and contemporary silver balls. Tables spaced well apart, so you can't really overhear the captains of industry (at lunch) and the celebs (at night, no names, sorry!).
From his space-capsule kitchen Zajac delivers a "cuisine neo-bourgeoise," that's not as daring as at Maxan Mark 1. Delicious parmesan sablés to nibble while you choose a robust hand-picked red Marcillac from Domaine Laurens (45€) or by the glass from 8€.
Serge Conquet's in charge of the salle, as he was before.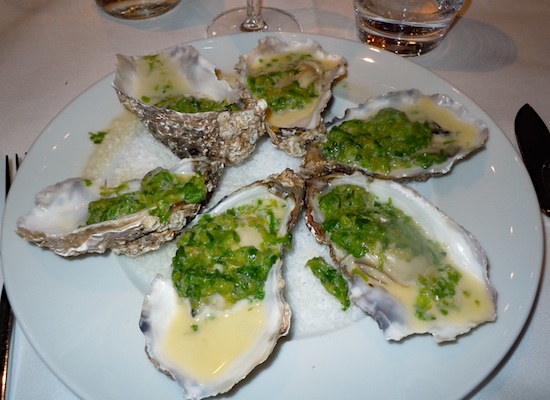 Oysters d'Arcachon at Maxan. Photo by M. Kemp.
Begin with Bouillon de châtaigne et poule faisane: Carpaccio de Saint-Jacques: Six warm huîtres d'Isigny number 2: Oeufs mollet pané et frit: Chair de tourteau frais, décortiqué par nos soins, céleri rémoulade et salade romaine or 1,000 feuilles foie gras de canard, artichauts poivrades et pain grillé. Mains include: Sole rôtie de nos côtes, beurre salé, purée de pommes de terre écrasée à la fourchette: Tourte de lièvre au foie gras de canard: Carré d'agneau rôti, jus court, coco de paimpol and filet de boeuf rôti, sauce bordelaise, fat hand-cut chips. Pudds are delicate, astringent as in: Mangue, passion, noix de coco faҫon île flottante: Mont Blanc crème de marron, marron glacé et chantilly: Sorbet compote de pommes, arlette, calvados: Crème caramel du Maxan pour 2, financier.
"I hope people will come regularly to Maxan to follow the evolution of my cuisine, it changes daily. I look at my products each day and, like an artist create, dishes inspired by, say, something I see outside, a newspaper article, a film," says Zajac.
"Everything here is chosen with love and care," he insists.
Maxan 2's posh, posher than Maxan 1, with a different clientèle, atmosphere. This is the next phase in the Zajac/Conquet culinary career, get over M1 and enjoy M2 because you're worth it and so are they.
3, rue Quentin Bauchart, Paris 8th
Tél: 01 40 70 04 78
Métro: George V
Shut Saturday lunch – Sunday
A La Carte €50-70
Lunch & dinner formula €32 for 2 dishes or €40 for 3 dishes
Coming next week: Alain Milliat
The picture shows juice-maven Alain Milliat's favorite jus, "Pomme Cox" de Normandie.
Top restaurants and elite epiceries stock Milliat's nectars, the fruit and veg come from the family farms in the Lyon region.
Now Milliat, a philosopher of fruits, has launched his Cave à Jus on the Left Bank.
Go there just for a fix of Jus de Raisin Blanc Chardonnay or for lunch or dinner created by  talented English chef Jon Irwin, influenced by his former bosses Pierre Gagnaire and Akrame Benallal.
More in our next edition of BUZZ!
Boutique, Restaurant
159, rue de Grenelle, Paris 7th
Métro: La Tour-Maubourg

Margaret Kemp is a Cordon Bleu graduate who spent a year traveling the world, working and watching in the kitchens of top chefs from Sydney, Australia via Bangkok, Hong Kong, California, New York and France. She reports for BonjourParis on the latest European trends, restaurants and hot spots. Please click on her name to see her weekly stories dating back to 2003 . . . et merci, Margaret.
Merci

, les abonnés

premium

,

nous vous apprécions

.
BonjourParis has been a leading online France travel and French lifestyle site since 1995.
Top 100 France-themed books & more: Readers' Favorites.
The best of Paris and France restaurants in your hands…please click on an image for details.
Thank you for using our link to Amazon.com…your purchases support our site.
Leave a reply
Your email address will not be published. Required fields are marked *