Buzz Extra: Auberge du 15
L'Auberge du 15 salle. Photo ©ADELAP L'Auberge du 15 After a delicious lunch at L'Auberge du 15, the latest "must-visit" bistro headed by Nicolas Castelet and his brother Florent, the talented and passionate pâtissier, the guys gave me their mission statement and discussed their concept. This is a very odd area, almost opposite the prison, in hospital central. Why will people come here? Well, as prisons go, it's the 3-Michelin star one, they queue up to get in, not out! This is a peaceful area, parking's easy, and no, we haven't had any orders to send meals to the prison . . . yet! We're the catalysts who'll bring other hot chefs to this location. Just down the road our friend has set up Boulangerie Berthollet, where our bread comes from. Watch this area, it's up and coming. L'Auberge du 15. Photo ©ADELAP What makes L'Auberge du 15 different from the others? The neo-retro feeling, given by the décor and the service en salle by Maxime Duteil and Laetitia. People feel as if they're in the countryside, not in the middle of Paris; they like that. The accent's not on starters, but on mains to share. Each course comes to the table in, say, a china tureen if it's soup, and is left there. We use copper pots for the mains. And for dessert, Florent prepares whole tarts, flans, mousse, served on multi-story cake stands, just as we remember our grandmother serving. Florent's soufflés are already the talk of the town. L'Auberge du 15, boeuf. Photo ©ADELAP What's your take on sustainable fishing? Here, look at the menu. There's only ever two fish dishes, that's our way of not abusing and overusing fish. All products and wines are French. Organic meat and free-range game, poultry and beef are easier to get hold of than fish. Also I'm a Taurus star sign and love working with meat! I know all my suppliers, we're from the
Aubrac
region, that's where our friend and neighbor 
Michel Bras
is. The vegetables come from our 2-hectare potager, in
Brittany
, same concept as Alain Passard. Next year we're buying a horse to plough the fields. I was so inspired by Monsieur Passard when I worked at Arpège. But attention! Just because a label says "bio" doesn't make it good! Where else did you work? With Christian Le Squer at
Ledoyen
, Jean-Franҫois Piège at
Le Crillon
and chez
Joël Robuchon
. Of course, everyone wants the gossip on my time at
Le Ralph's
. I was there for the launch and I can tell you it was pretty chaotic. Ralph Lauren has very definite ways of doing things and so do I! Let's just say I decided to quit due to differences of opinion. I do like the Black Angus beef that comes from his ranch, but I don't like the way he wanted it prepared! How often will you change the menu? Every day, if necessary, depending on what ingredients my friends send from the Aubrac. If you could be a dish? Hmm, wow! Actually I'd be l'aligot. Legend says that it was invented by three clergymen eating together in the
Auvergne
. It's a potato dish, and I use the Rattes variety to make mine. It's really mashed potato to which very fresh Cantal cheese is added. You have to beat the hell out of it to make it really smooth, it gets an elastic texture and when you serve it you need a pair of silver scissors to cut it! That's what I'd be. I served it today with the canette, the priests ate it as a main dish, but it goes with everything. It's the most convivial dish I know. And Florent, which dish are you? I'm a tall elegant Charlotte, which has actually become the signature dessert of the Auberge. I make it with fresh fruit, today it's raspberry, tomorrow who knows! PRACTICAL INFORMATION
L'Auberge du 15
Tél: 01 47 07 07 45
15, rue de la Santé, Paris 13th
Métro: Port Royal/Saint-Jacques Open: Tuesday through Thursday 12—2:30pm and 7:30-11pm; Friday and Saturday 12—2:30pm and 7-11pm Closed Sun-Mon Lunch Formula: Entrée, plat et dessert €26 Menu Dégustation: 5 plats €68 Dinner 50-70€ + wine
Facebook: Auberge du 15
Photo credits: ©Photos ADELAP courtesy of Auberge du 15
Margaret Kemp
is a Cordon Bleu graduate who spent a year traveling the world, working and watching in the kitchens of top chefs from Sydney, Australia via Bangkok, Hong Kong, California, New York and France. She reports for BonjourParis on the latest European trends, restaurants and hot spots. Please click on her name to see her weekly stories dating back to 2003 . . . et merci, Margaret.   You are reading an excerpt from PREMIUM CONTENT sent first to Premium Members who read our Sunday BUZZ column for the latest top chef news, restaurant openings, trends and happenings in Paris, London, Nice, Cannes, New York and other international destinations. If you're a culinary traveler, please consider an annual 
Premium Membership
with exclusive content and members-only benefits.  
SUBSCRIBE
ALREADY SUBSCRIBED?
BECOME A BONJOUR PARIS MEMBER

Gain full access to our collection of over 5,000 articles and bring the City of Light into your life. Just 60 USD per year.

Find out why you should become a member here.

Sign in

Fill in your credentials below.


L'Auberge du 15 salle. Photo ©ADELAP
L'Auberge du 15
After a delicious lunch at L'Auberge du 15, the latest "must-visit" bistro headed by Nicolas Castelet and his brother Florent, the talented and passionate pâtissier, the guys gave me their mission statement and discussed their concept.
This is a very odd area, almost opposite the prison, in hospital central. Why will people come here?
Well, as prisons go, it's the 3-Michelin star one, they queue up to get in, not out!
This is a peaceful area, parking's easy, and no, we haven't had any orders to send meals to the prison . . . yet! We're the catalysts who'll bring other hot chefs to this location. Just down the road our friend has set up Boulangerie Berthollet, where our bread comes from. Watch this area, it's up and coming.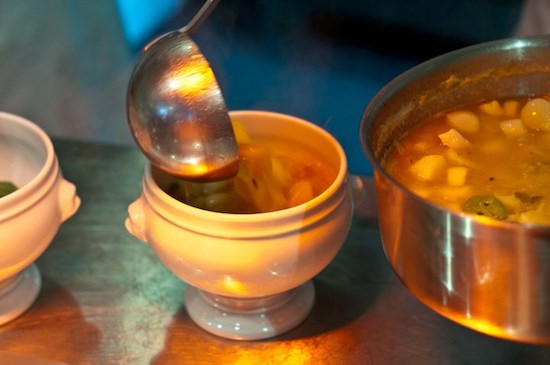 L'Auberge du 15. Photo ©ADELAP
What makes L'Auberge du 15 different from the others?
The neo-retro feeling, given by the décor and the service en salle by Maxime Duteil and Laetitia. People feel as if they're in the countryside, not in the middle of Paris; they like that. The accent's not on starters, but on mains to share. Each course comes to the table in, say, a china tureen if it's soup, and is left there. We use copper pots for the mains. And for dessert, Florent prepares whole tarts, flans, mousse, served on multi-story cake stands, just as we remember our grandmother serving. Florent's soufflés are already the talk of the town.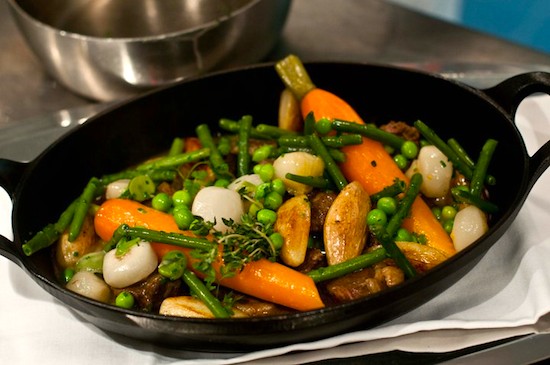 L'Auberge du 15, boeuf. Photo ©ADELAP

What's your take on sustainable fishing?
Here, look at the menu. There's only ever two fish dishes, that's our way of not abusing and overusing fish. All products and wines are French. Organic meat and free-range game, poultry and beef are easier to get hold of than fish. Also I'm a Taurus star sign and love working with meat! I know all my suppliers, we're from the Aubrac region, that's where our friend and neighbor Michel Bras is. The vegetables come from our 2-hectare potager, in Brittany, same concept as Alain Passard. Next year we're buying a horse to plough the fields. I was so inspired by Monsieur Passard when I worked at Arpège. But attention! Just because a label says "bio" doesn't make it good!
Where else did you work?

With Christian Le Squer at Ledoyen, Jean-Franҫois Piège at Le Crillon and chez Joël Robuchon. Of course, everyone wants the gossip on my time at Le Ralph's. I was there for the launch and I can tell you it was pretty chaotic. Ralph Lauren has very definite ways of doing things and so do I! Let's just say I decided to quit due to differences of opinion. I do like the Black Angus beef that comes from his ranch, but I don't like the way he wanted it prepared!
How often will you change the menu?
Every day, if necessary, depending on what ingredients my friends send from the Aubrac.
If you could be a dish?
Hmm, wow! Actually I'd be l'aligot. Legend says that it was invented by three clergymen eating together in the Auvergne. It's a potato dish, and I use the Rattes variety to make mine. It's really mashed potato to which very fresh Cantal cheese is added. You have to beat the hell out of it to make it really smooth, it gets an elastic texture and when you serve it you need a pair of silver scissors to cut it! That's what I'd be. I served it today with the canette, the priests ate it as a main dish, but it goes with everything. It's the most convivial dish I know.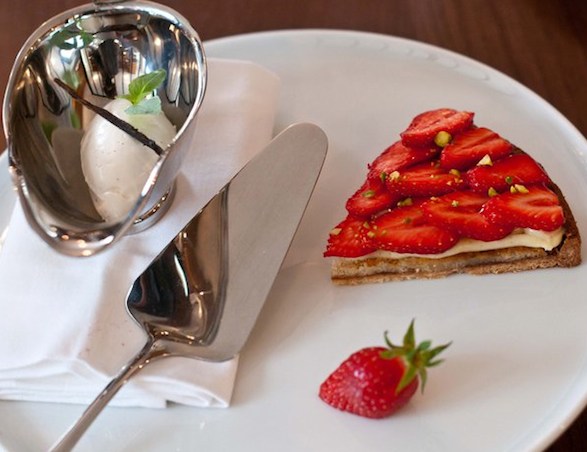 And Florent, which dish are you?
I'm a tall elegant Charlotte, which has actually become the signature dessert of the Auberge. I make it with fresh fruit, today it's raspberry, tomorrow who knows!
PRACTICAL INFORMATION
Tél: 01 47 07 07 45
15, rue de la Santé, Paris 13th [click for map]
Métro: Port Royal/Saint-Jacques
Open: Tuesday through Thursday 12—2:30pm and 7:30-11pm; Friday and Saturday 12—2:30pm and 7-11pm
Closed Sun-Mon
Lunch Formula: Entrée, plat et dessert €26
Menu Dégustation: 5 plats €68
Dinner 50-70€ + wine
Photo credits: ©Photos ADELAP courtesy of Auberge du 15

Margaret Kemp is a Cordon Bleu graduate who spent a year traveling the world, working and watching in the kitchens of top chefs from Sydney, Australia via Bangkok, Hong Kong, California, New York and France. She reports for BonjourParis on the latest European trends, restaurants and hot spots. Please click on her name to see her weekly stories dating back to 2003 . . . et merci, Margaret.
You are reading an excerpt from PREMIUM CONTENT sent first to Premium Members who read our Sunday BUZZ column for the latest top chef news, restaurant openings, trends and happenings in Paris, London, Nice, Cannes, New York and other international destinations. If you're a culinary traveler, please consider an annual Premium Membership with exclusive content and members-only benefits.

Subscribe for
FREE

weekly newsletters with subscriber-only content.
BonjourParis has been a leading France travel and French lifestyle site since 1995.
Readers' Favorites: Top 100 Books, imports & more at our Amazon store
New ways to share your love of the best of France. Please click on an image for details.
Thank you for using our link to Amazon.com…your purchases support our free site.
---
---