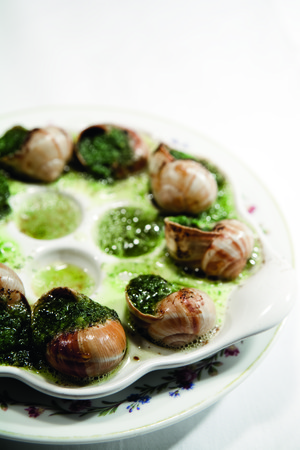 In 1912 master butcher Benôit Martray created bistro Benôit to feed friends and suppliers working in Les Halles, the enormous market, dubbed, by Emile Zola, "the Belly of Paris," which transferred to Rungis in 1969. Benoit had a unique atmosphere, still does to-day, after 100 years.
Until 2005 Benôit's proprietors were three generations of the Martray/Petit family. The last owners, Michel and Catherine Petit, were ready to retire when along came superchef Alain Ducasse. "I knew Benôit had to be preserved, not sold to a chain who would ruin the atmosphere", he said one day last week. "This maison is part of our French gastronomic heritage, the only bistro of its' kind to have a Michelin star".
So, the new owner made some changes to the interior, kept the old traditions, lace curtains, the red velvet banquettes, gleaming copper and brass, the shiny wood, family portraits and photos, wooden menu holders, all the tschokes, read, Monsieur Ducasse preserved the charm of this beau bistro. Michel Petit still comes to keep an eye on proceedings, he's there every Tuesday. "If we have complaints I refer them to him", laughs Monsieur Ducasse.
No snail porridge here! You'll get the original, 9 escargots en coquille, beurre d'ail, fines herbes. "I don't know anywhere else in Paris where you can taste a real Sauce Nantua (basic béchamel sauce to which crayfish jus and single cream are added, reduced, then 4oz of crayfish butter a teaspoon of brandy are beaten in, rubbed through a sieve, et voila!) which goes with Filets de Sole Nantua, èpinards en feuillete à peine cremèe", reflects Monsieur Ducasse.
350 fantastic wines, accents on Bordeaux and Burgundy, are referenced, the list created by Gérard Margeon, chef sommelier of Groupe Alain Ducasse. Below stairs the kitchens have been brought into the 21st century and the arched cellars, which once contained barrels of Beaujolais, are now prepping areas. Wearing the whites since 2008 is Eric Azoug. "2012 is a very special year for Benôit, we are planning lots of surprises for our clients, don't forget to take part in La Loterie des 100 ans", he advises.
Benoit [1],
Châteaux&HotelsCollection.
20 rue St Martin, 4th
Metro: Hotel de Ville,
T: 01 42 72 25 76
Also in New York, Tokyo, Osaka
Lunch 36€ + A La Carte
Tasting Menu Spécial 100 ans – 100€ + wine
Open 7/7 Parking St. Martin,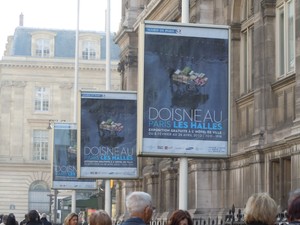 Robert Doisneau, pioneer of photojournalism, was born the same year as Benoit (1912). With his trusty Leica he recorded the end of Les Halles market. "I wanted to spend one night a week at Les Halles, so I would get up at 3am, in Montrouge, to get there, among the dawn workers. It was difficult to take photographs, lack of light, but I stuck with it. I knew it was disappearing, I absolutely wanted to keep a memory ot it", he insisted.
See Doisneau's incredible results at Hôtel de Ville, opposite rue St. Martin and Benoit. Be prepared to queue, it's worth it. And, while you're standing there, imagine Doisneau's Paris and his signature photo, "Kiss by the Hôtel de Ville". He died in 1944.
Robert Doisneau [2],
Free Exhibition at Hôtel de Ville,
Through 28th April 2012
rue de Rivoli, 4th
Shut Sundays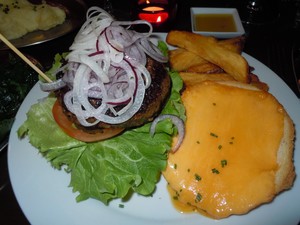 Le Livingstone, located between Les Halles and the Louvre, is a steak house dedicated to David Livingstone (1813-1873). "But, did the Scottish explorer like steak, hamburgers weren't invented then were they?" I ask owner Brice Fournier. "I don't really know, but Livingstone's life fascinates me and naming my restaurant after him salutes his spirit of adventure", Fournier explains.
Burgers and beef are big in Paris, often revised and corrected, sometimes ruined by chefs who really don't get it. Fournier lived and worked in the USA so the interpretation by his chef Mike Ohayon, of veggie, lamb and hamburgers is genuine and delicious.
Livingstone is decorated like a New York Steakhouse, designer Véronique Lemaire combines flea market finds and solid wood furniture with a modern spin. The walls are covered in paintings from the owner's collection.
Fournier's pride and joy is his magnificent 50's style rôtissoire. From the outsize menu choose Oeufs Benedicts Manhatten style, scrambled eggs with smoked salmon and bacon or Brooklyn style bagels with cream cheese and smoked salmon. Burgers and cheeseburgers are kingsize, served with plump golden hand cut chips, hash browns, topped with fried onions and of course there's Heinz ketchup! "Tell us how you like your burgers and we'll oblige", promises Fournier. Choose world wines from an interesting selection by bottle or glass or sip a cocktail Livingstone, vodka, lime fresh cucumber.
If Brice Fournier looks familiar you may have seen him on screen. He plays President Mitterand's Elysée Palace chef in the upcoming movie, "Les Saveurs du Palais" alongside Catherine Frot and Jean d'Ormesson, who plays the late President. "I had unlimited access to the Palace kitchens to learn how they work, it was a fantastic experience", says Fournier. "All very calm and dignified", he adds.
New York style desserts include pancakes and muffins, popovers, cheesecake, brownies, cookies.  Tarte Tatin becomes Upside Down Apple Pie with vanilla ice-cream. This is definitely an address in the smart-phones of celebs, count Andie Macdowell, Liam Neeson, David Bowie, Jean Paul Gaultier, Luc Besson, Jean-Baptiste Mondiano and Tricky amongst the regulars. Livingstone's laid back, fun and without pretension.
Livingstone NY Steak House [3],
106 rue Saint-Honoré, 1st
Metro: Louvre-Rivoli,
T: 01 53 40 80 50
Lunch formula – 23€-28€
Open 7/7 from midi à minuit
The 2012 guide Chateâux&Hôtels created by Alain Ducasse and supported by Laurent Plantier, Xavier Labrousse and Timothée de Roux showcases diversity this year.  Available on the internet, as a book and a free i-phone application, the collection combines heritage & modernity, elegance & simplicity, gastronomy and well-being.
"Standardisation bores me," explains Monsieur Ducasse. "I believe strongly in diversity, in every area, it enhances all our lives", he says. The charm of Châteaux&Hôtels Collection is the passion of its' hoteliers and restaurateurs. "It's that
something special sought by today's travellers, France is the most attractive tourist destination in the world, with almost 77 million visitors in 2011", adds Monsieur Ducasse.
Châteaux&Hôtels Collection showcases a selection of 623 establishments scattered all over the country, with almost 100 beautiful boutique hotels in Paris, such as:
Hotel L'EDMOND [4]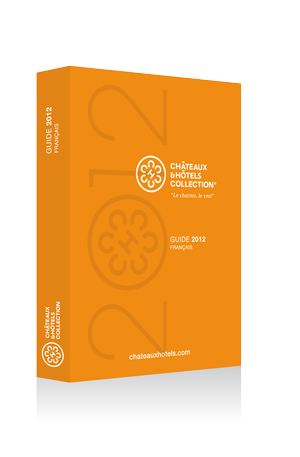 The Edmond, named after writer Edmond Rostand, who lived here, is close to La Défense, Le Palais des Congrès, Parc Monceau and chic Paris.  While given a contemporary spin, the hotel has kept its soul and old-fashioned charm. The
romantic inner courtyard provides the ground-floor suites and duplexes with their own garden. The apartments have balconies with unbeatable views of Sacré-Coeur, the Eiffel Tower, the Arc de Triomphe, etc.
17 avenue de Villiers, 17th
T: 01 44 01 09 40

Subscribe [5] for
FREE

weekly newsletters.
BonjourParis has been a leading France travel and French lifestyle site since 1995.
Readers' Favorites: [5]Top 100 Books, imports & more at our Amazon store
We update our daily selections, including the newest available with an Amazon.com pre-release discount of 30% or more. Find them by starting here at the back of the Travel section [6], then work backwards page by page in sections that interest you.
Current favorites, including bestselling Roger&Gallet unisex fragrance Extra Vieielle Jean-Marie Farina….please click on an image for details.
Click on this banner to link to Amazon.com & your purchases support our site….merci!