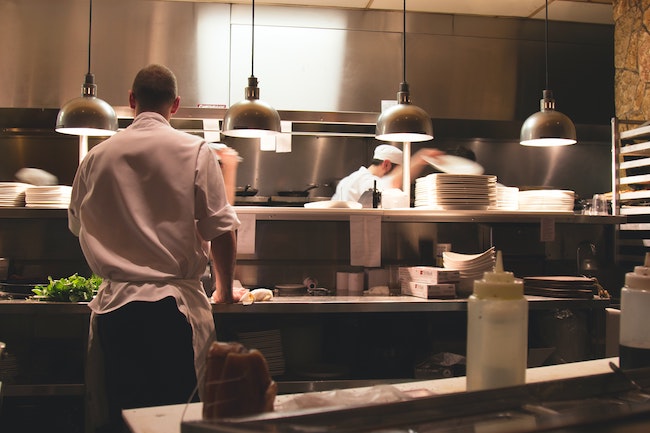 What a year this has been, my, oh my. It started off slowly but solidly in January when Colette and I brought in the New Year at some of our old favorities such as Ze Kitchen Galerie, le Clocher Periere, l'Epigramme, Rech, Spring, Garance + Equitable but we quickly encountered l'Entêtée, which I concluded was this year's Spring, le Clocher Pereire, l'Epigramme or Afaria. 
In late January/early February, I was blown away by Lena & Mimile, l'Agassin, le Georgeon, Bigarrade, le Petit Marguery + les Racines, but underwhelmed by Fougeres, le Petit Casier, la Bulle, Bistrot Canaille, Bistrot de Breteuil, Quedubon, Champerret + Marguerite and frankly rather angry at Ghislane Arabian + OJ. 
By late February/early March the new places had begun to settle in and for me the only ones that were impressive were l'Idee, Les Bouchons aka Le Restaurant de Philippe et Jean Pierre + Quai-Quai, until my food finder extraordinaire Atar suggested we trot out to the burbs to try the Auberge des Saints Peres in Aulnay sous Bois – wow! 
 

 

View this post on Instagram

 
April brought not only showers but Hide aka Koba's Bistro, Veraison and Gordon Ramsay's Veranda and late May/early June saw a burst of places that were all above average if not as top as the top: Itineraires, Six Odeon, Ducoté Cuisine, 153 Grenelle, Le Gaigne, La Folle Avoine, Le Telegraphe, Les Comperes + M comme Martine. 
It was around here that I took a quick jaunt to Bilboa and was enthralled by the food, architecture and art; it really recharged my batteries. 
June, July and August are my times to get out into the country (Nancy to Troyes) and hunker down, either with Colette, our friends or old acquaintances, often at old haunts, and not much hit the windshield until the rentreé. But hit it did, with a vengeance – with an incredible meal at the Table d'Adrien in the 2nd. Alas, M. Adrien is quirky and despite his assurance that I could write his "club" up for Anglophonic readers, calls by friends, female bloggers and I have resulted in not one confirmation of my enthusiasm.  
 

 

View this post on Instagram

 
Nonetheless, the other fall openings almost made up for this misstep, with: La Cantine du Troquet, Le Boudoir, a la Chataigne, La Table d'Eugene + l'Ardoise Gourmande. 
Again, Colette and I took a little time from eating in France to visit Romania and while the food was not super, the exotic country was. 
October saw another burst of new places, many again above-average, such as Agapes, Miroir, Dos de la Baleine, Memere Paulette + Au Gout Dujour. And November-December brought in Jadis, l'Assiette and brought the Bistrot 121 back from the dead and pricey. Only Chamarré befuddled me, but I explained that last week. 
Because of the quirky nature of the Table d'Adrien, I'll give you 11 instead of 10 top places this year but all the places I've mentioned positively above are well worth a visit (with two caveats: both Itineraires and Lena & Mimile have been shockingly inconsistent): 
Auberge des Saints Peres
212, av Nonneville in Aulnay sous Bois (RER: Aulnay sous Bois)
T: 01.48.66.62.11
Closed Saturday, Sundays and Wednesday
Menus at 38, 60 + 85 (with wine), a la carte 60-70 €. 
Chez Lena et Mimile
32, rue Tournefort, 5th (Metro: Place Monge)
T: 01.47.07.72.47
Closed Saturday lunch, Sundays and Mondays
Menus 15, 39, 43 € 
l'Agassin
8, rue Malar, 7th, (Metro: Alma Marceau)
T: 01.47.05.18.18
Closed Sundays and Mondays
Lunch menu at 25 and menu carte at dinner for 34 €. 

La Cantine du Troquet
101, rue de l'Ouest, 14th (Metro: Pernety)
No telephone/no reservations
Closed Sunday nights and Mondays
A la carte from 30-40 €
Le Jeu de Quilles
45, rue Boulard, 14th (Metro: Mouton Duvernet)
T: 01.53.90.76.22
Open for lunch only Tuesday-Saturday and dinner Wednesday and Friday
A la carte 40-60 € (depending on meat chosen) 
L'Entêtée
4, rue Danville, 14th (Metro:
T: 01.40.47.56.81
Closed Sundays and Mondays
Menu-carte 30 € at both lunch and dinner and a 20 € menu for 3-courses with no choices. 
l'Idee
52, ave de la Porte de Villiers in Levallois-Perret (Metro : Porte de Champerret)
T : 01.41.05.05.35
Closed Sunday lunch and Mondays
A la carte about 30-40 € 
Les Bouchons aka Le Restaurant de Philippe et Jean Pierre,
7, rue du Boccador, 8th (Metro: Alma Marceau)
T: 01.47.23.57.80
Closed Saturday lunch and Sundays
3 course menu for 28 Euros and with 1 glass of wine, bottled water and coffee = 33 Euros, a la carte 40+ €.  

Hide aka Koba's Bistro
10, rue de General Lanrezac, 17th (Metro: Ch de Gaulle Etoile)
T: 01.45.74.15.81
Closed Saturday lunch and Sundays
Menu 26 € for 3 courses, 29 € for 3 courses and 25 cl of wine and about 35 € a la carte. 
La Table d'Adrien
9, rue Volney, 2nd (Metro: Opera) 
T: 01.42.61.00.44
Open for lunch, by reservation, "like a club."
Lunch menu 50 €. 
Jadis
208, rue de la Croix-Nivert, 15th, (Metro: Felix Faure)
T: 01.45.57.73.20
Closed Saturday lunch and Sundays
Menu-carte 32 € 
Blog: John Talbott's Paris
© John Talbott 2008
---
Save on Sightseeing in Paris with the Paris Pass! 
The Paris Pass has all you need for a fantastic trip to Paris – and it'll save you time and money too!
The Paris Pass is bursting with value, including:
Paris Museum Pass – free entrance to over 55 of Paris' world famous museums and monuments, including the Louvre, Musée d'Orsay, Arc de Triomphe and many more.
Paris Attractions Pass – as well as the art galleries and cultural sites you get with the Paris Museum Pass, your Paris Pass also gives you free entry to Paris' best attractions including a Seine River Cruise, Musée Grévin, Tour Montparnasse and even a Wine Tasting experience!
Free Public Transport – with a metro pass giving you unlimited travel on the metro, buses and RER within central Paris.
Exclusive Special Offers – From shopping offers at Galeries Lafayette to great deals at restaurants and even a special free gift of perfume at one of France's best perfumeries.
You can visit as many attractions as you like, and with fast track entry at the busiest attractions, you will save time as well as money with the Paris Pass in your pocket.
Want to be inspired by more French foodie experiences and enjoy classic French food, wine and recipes? Head to our sister website, Taste of France, here.
Lead photo credit : Photo © Michael Browning, Unsplash
More in Eating in Paris, restaurant
---
---