Paris Region Celebrates the Launch of the 2017 Cultural Season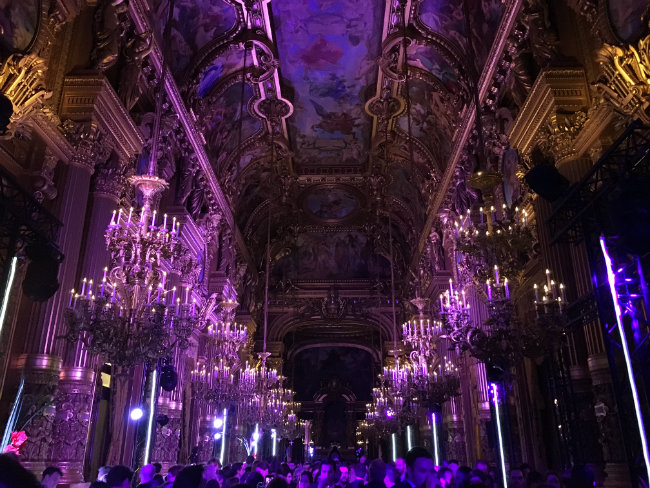 You'd be hard-pressed to find a more glorious setting than the Opéra de Paris for the launch of the 2017 Parisian cultural season. With its sumptuous interiors (not to mention the ceiling frescos painted by Marc Chagall), the Palais Garnier is an iconic Paris symbol. On Monday evening, the Opéra set the stage for a showcase of the upcoming arts season: a rich sampling of what's in store in the City of Light.
France continues to be the most popular global tourist destination, but the last two years, post-terrorist attacks, have not been without their challenges for Paris tourism. Hence the desire to shine the spotlight on what makes this city so rich and endlessly attractive to visitors. For the first time, the central government, the city and the Paris region have come together in a partnership to highlight the city's culture, heritage, and vibrant creativity. To kick off the culture season, we heard speeches from Audrey Azoulay, Minister of Culture; Matthias Fekl, Secretary of State in charge of Tourism Promotion; Mayor Anne Hidalgo; and Valérie Pécresse, President of the Île-de-France region.

Then, the curtain was raised on a stellar evening program highlighting dance, film, music, theater, and more. Famous actress-director Mélanie Laurent was recruited to create a three-minute film, in partnership with France Télévisions, to celebrate the cultural season. We heard a concert by the sensational YouTube stars L.E.J.; listened to an incredible soliloquy by award-winning actress Suliane Brahim, who plays Juliette in Shakespeare's Romeo & Juliette at the Comédie-Française; watched street artist Maksim Lopez "go inside" a Kandinsky painting with a little help from Google Tilt Brush; and that's not all…
The cerise sur le gâteau? The champagne-infused after-party hosted in the Opera's gilded halls, illuminated with colored lights as a DJ spun the soundtrack. We stepped out on the balcony to take in the majesty of the night. All of Paris was at our feet. Truly, a feast. Enjoy the cultural season!
For more details on the more than 500 events taking place during the Saison Culturelle 2017, visit the official website: http://saisonculturelle.fr/en. From a major Vermeer retrospective at the Louvre to Rodin's Centennial Exhibition at the Grand Palais, there is a lot to look forward to this year.
Lead photo credit : The illuminated salons of the Paris Opera for the launch of the Paris Cultural Season 2017
Leave a reply
Your email address will not be published. Required fields are marked *