Paris Plages: The Beach Arrives in the Capital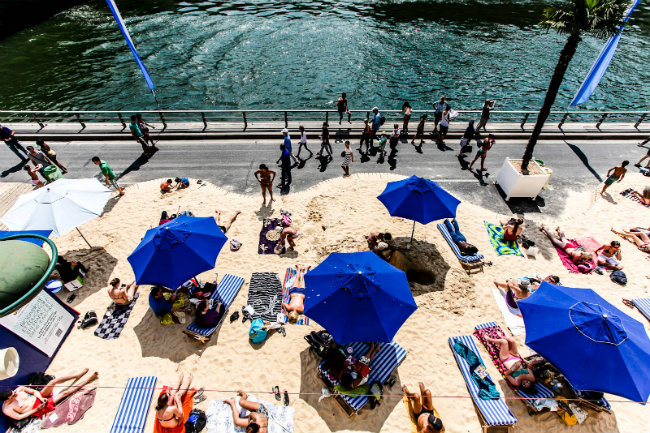 August is one of the best times of the year to visit Paris. While urbanites flock to the provinces for their annual vacances (and clog the autoroutes in the process), the capital empties out, embracing a lazy quietude and exuding a village-like vibe. Though some restaurants and boulangeries will be closed for a spell, there's always something open… And there's Paris Plages!
For the 13th year, the city of Paris brings the beach to the capital, closing the riverside quays to traffic and importing 5000 tons of sable to create a sandy beach for relaxing (and frolicking!). In fact, there are three artificial beaches set up as part of Paris Plages: a three-kilometer stretch along the Seine from the Pont de Sully to the Louvre; the large square facing the Hôtel de Ville (City Hall) where you'll find the beach volleyball courts and basketball; and the edge of the Bassin de la Villette, stretching from the Rotonde de Ledoux (not far from Jaurès Metro station) to the former Magasins Généraux (Rue de Crimée). Palm trees, giant sand castles, water sprinklers, ice cream stands, and buvettes complete the beach scene.
Don your bikini and grab a beach lounger to soak up some rays while watching the boats cruise down the Seine. Tired of lolling in the sand? From beach volleyball and taï-chi classes to fooseball tables and Petanque- there are activities galore. At the beaches on the Bassin de la Villette, adrenaline hounds can partake in a number of water sports like kayaking, rowing, and zip-lining. The best part of all? Entrance to Paris Plages is free, and it's open til midnight.
In addition to the recreational activities, Paris Plages hosts a bevy of fun events. From zumba to salsa (not to mention the bal populaire), a themed dance party takes place from 5-8 pm at the Tunnel des Tuileries. At Pont Notre Dame, you can take a photo and send it as a postcard at the kiosk dedicated to "Cartes Postales de Paris Plages." For book worms, Flammarion has sponsored a pop-up library.
To the delight of pint-sized visitors, the kids club is set up from 1-8 pm at the Pont au Change. "The farm" comes to the beach with animals from La Ferme de Paris making an appearance near the Pont Louis Philippe for workshops at 11 am, 2 pm, and 3:30 pm. (Until August 11.) There's also a children's reading corner situated at Square Federico Garcia Lorca. And on Sundays, kids (between the ages of 3-7) can learn to dance guingette-style at Le Bal des Enfants held at the Tunnel des Tuileries at 3 pm.
Bonnes vacances!
For the full schedule of events, visit the official website: http://quefaire.paris.fr/parisplages
Top photo of Paris Plages 2012, The Seine by Sharat Ganapati/ Flickr
Lead photo credit : Paris Plage 2012, the Seine by Sharat Ganapati/ Flickr
Leave a reply
Your email address will not be published. Required fields are marked *