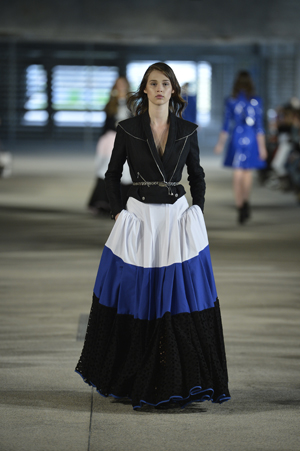 Fashion Week took us by the storm and the Parisian weather wasn't far behind. Day two had some really promosing names on the »to see« list, which took us on a fantasy fashion trip from blooming countryside to land of the rising sun.
It all started with Dries van Noten, a Belgian designer mastermind that is famous for his amazing skill to mix and match patterns. He once again proved to be a great storyteller as well.  For spring and summer 2013 he was clearly inspired by hay barns, vast countryside and blooming flowers. It looks like we'll be spending our next vacation in fresh air surrounded by farm animals. The collection has an easiness to it that we all love so much. By mixing tartan, flower prints, sheer fabrics and metalic colors Dries van Noten created a perfect fusion between casual and chic. Flannel shirt combined with the pencil skirt with inset details of little metalic pieces will work great both on countryside breaks and city sidewalks. Much like Dries van Noten French designer Alexis Mabille was also inspired by the rural beauty but in a more careless way. The girl wearing this collection is a city girl who actually doesn't care about the countryside. She can easily pair a romantic lace dress with moto boots, casual shirt dress with leather jacket or the famous Brigitte Bardot print with transparent ruffles. That gives the sometimes a bit boring countryside some sex and rock'n' roll appeal that it lacks.
I must admit the gloomy weather has put me in a very lazy mood on day two of fashion week. I decided to take advantage of it and focus on my writing. The only show that really interested me and made it worth it to pick my tushy off of the comfortable sofa was Peachoo Krejberg. I took my broken umbrella and jumped puddles to the venue. I thought to myself »oh why?? I could have been relaxing at home…« when the PR at the door let us wait outside in the pouring rain for almost an hour. I was soaking wet! Of course all that was forgotten the same second that the first look walked down the runway. The Indian and Danish design duo created an amazing collection where asymmetricity, draping, sequins and ribs played the main role. There's a great contrast between light and dark, soft and hard, beautiful and well… what we consider unpretty. Skeleton is clearly one of those. Although that could easily look very goth it's styled in a way that it could still be considered beautiful and feminine. Long white lace dress coverd with a leather chest belt in form of ribs has to be my favourite look of the collection.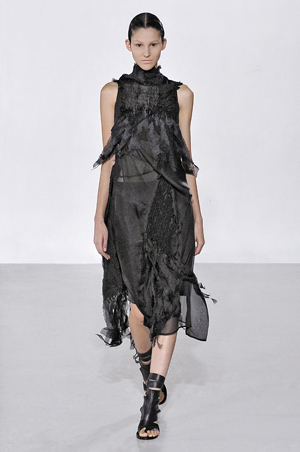 But the biggest surprise was yet to come. Among all the beautiful corpse brides there was one who manage to take my breath away. Slovenian model and the girl I was eager to meet ever since she impressed me with her presence at Slovenian fashion week last year, the lovely Prisha Justinek. I love models, I always tought they have something unearthly about them. I mean you have to be some kind of super woman to survive the rhythm and pressure of fashion month. Of course I stuck around after the show has finished just long enough to catch her and have a chit chat about our parisian experience and fashion week. It was great to exchange experience and talk in my mother tongue again.
Someone has told me that Mugler tweeted earlier that day they're going to let everyone who comes to the venue see the show. Sounds too good to be true? Well… it was. I went to Cite de l'arhitecture et du patrimoine right after Peachoo Krejberg. I was already tired and soaking wet but I said to myself: »what the hell, they're letting everyone in, who can miss an opportunity like that«. And if not, there was still a great chance of meeting Lady Gaga since she was the music director for the show. I'm usualy not in the habit of stalking celebs but come on, it's Lady Gaga. So I stood outside the venue and waited. And freezed. And waited a bit more. There were only a few curious bloggers and passers-by there, wondering what's happening, no sign of the usual crowdedness and paparazzi wars. I don't know if it was the cold rainy night or the fact that they knew there will be no Lady Gaga.
After all the guests were inside and my hands almost turned blue I had to admit defeat and head home. They didn't let anyone without an invitation into the show. But there's always the internet to turn to for comfort and with more and more brands having livestream each season it's impossible to miss anything. I checked the photos from the show as soon as I changed my wet socks. I wasn't expecting that much color, I always had this idea that Mugler is very dark and heavy.  Short dresses with Asian influences dominated the runway. Nicola Formichetti created this warrior princess that is fighting between tough and feminine. He reshaped her body and wrapped her in shiny latex looking leather. Soft kimono dresses and origami looking skirts are both sophisticated and seductive. The collection is sexy without being too obvious. The styling is very minimalistic but everyone is still talking about the handbags. They are the newest edition to the Mugler collection and they're fabulous.
Images courtesy of Alexis Mabille and Peachoo Krejberg, respectively.