5 Romantic Paris Hotels to Seduce Your Sweetheart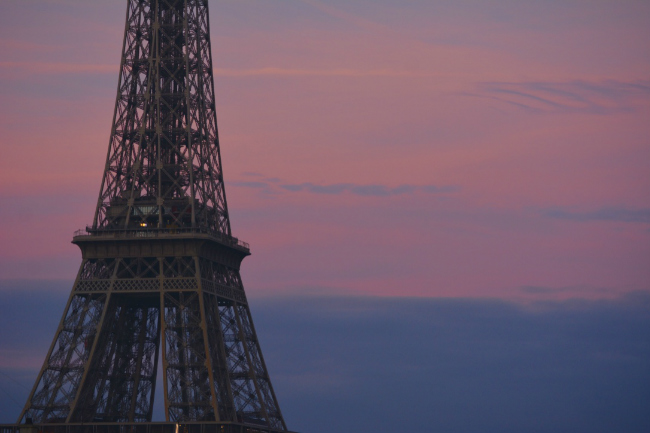 Arguably the most romantic city in the world, Paris is a place for lovers. Walks along the Seine and sipping wine in Saint-Germain-des-Prés will have your significant other swooning, but it's where you sleep that will surely seal the seduction. So here are five picks for Paris's most romantic hotels.
Odds are that you'll walk right by Hotel Particulier Montmartre and never see it. In fact, I lived on Avenue Junot and didn't even know it was there until after I moved. This boutique hotel is located in a Directorial style house, which was converted in 2007. Behind a nondescript iron gate, get buzzed in, pass by a members-only pétanque court and catch a glimpse of the Iron Lady herself. Through another private gate is the hotel. Surrounded by gardens, it's a treasure with impeccable salons and lobbies filled with objets d'art. Cozy corners are found throughout and the bar's design is one of my favorites in the city. With only five uniquely designed suites, Hotel Particulier Montmartre is quiet and secluded, which seduces with one glance.
23 Avenue Junot, Pavillon D, 75018 Paris. Tel: +33 (0)1 53 41 81 40. Valentine's special including overnight in a suite, a bottle of champagne and a box of Macarons, a gastronomic dinner and breakfast, from 895 euros.
Romance and a brothel might not sound like they go together, but that's exactly the case when it comes to Hôtel Maison Souquet. Located a minute's walk from the famed Moulin Rouge, in the up-and-coming area known as SoPi, this boutique hotel has been– in its past life– both a school for girls and a brothel. Designed by Jacques Garcia, Maison Souquet has kept the spirit of an 18th century pleasure house with the décor, which includes genuine antiques of the era. Whimsical and lavish, the twenty rooms and six suites are uniquely themed and include plush fabrics, ornate wallpapers and original female nude oil paintings. The well-appointed bar is dripping with red velvet and the lighting is perfect for stolen kisses. Guests can reserve the basement celestial-themed pool and hammam for their own private use.
10 Rue de Bruxelles, 75009 Paris. Tel: +33 (0)1 48 78 55 55. Room price is around 300 euros. There's a Valentine's offer, valid for the entire month of February, which includes champagne and chocolate in the room, cocktails for two, the privatized use of the spa for two people for one hour, rose petal turn down service, and late check-out. Price dependent on the chosen date.
Legendary poets and authors have also found inspiration in the Left Bank and Saint-Germain-des-Prés, including Ernest Hemingway in his classic Paris memoir, A Moveable Feast. In the heart of this artistic corner of the city is L'Hôtel. Historically, the hotel played host to Salvador Dali, Frank Sinatra and Serge Gainsbourg, but before those notable names graced the door, Oscar Wilde uttered his last words here. Now it's known as the smallest five-star hotel in the city. L'Hôtel is elegantly relaxed and easily identifiable as another one of Jacques Garcia's design creations.
A remarkable spiral staircase leads to the twenty individually decorated rooms. The one-star Michelin restaurant exudes romance with its garden terrace and vaulted glass ceiling. The atmosphere in the cozy bar transcends time, and you'll swear that Elizabeth Taylor and Richard Burton are lovingly entangled at the next table.
13 Rue des Beaux Arts, 75006 Paris. Tel: +33 (0)1 44 41 99 00. The restaurant will be hosting a decadent five-star feast on Valentine's Day. Rooms in February from 305 euros.
If hotels had genders then the Mandarin Oriental would decidedly be female. Located in the 1st arrondissement, on the exclusive rue Saint-Honoré, this palace hotel is elegantly sexy and modern. Rich pink, purple and orange punctuate the soft neutral palate, while ladylike details such as butterflies, fresh flowers and rich silks add to the soft, Oriental-inspired decor. Original photography, sculptures and sketches beguile and are found throughout the public areas and 138 rooms and suites. Book a spa appointment in one of the three couple's treatment rooms, where the private vitality pools for two and steam showers will set the tone for an evening of romance. Aperitifs in the Lalique crystal-encrusted Bar 8, followed by dinner at the two-star Michelin restaurant Sur Mesure par Thierry Marx, will capture the heart of even the most hard-to-get.
251 Rue Saint Honoré, 75001 Paris. Tel: +33 (0)1 70 98 78 88. Rates for this palace hotel are around 875 euros.
Famous French fashion designer, Christian Lacroix, has transformed the four-star Hôtel du Petit Moulin into an haute couture haven. Proving that good things come in small packages, this Marais hotel is the epitome of intimacy, with only 16 rooms and one suite. Toile, damask, zebra print, polka dots and floral patterns are mixed and matched to create uniquely designed rooms in a variety of styles that vary from Baroque to the 1960s. Evocative and seductive, this former 17th century bakery will no doubt heat up even a lukewarm love life.
29 Rue de Poitou, 75003 Paris. Tel: +33 (0)1 42 74 10 10. Rates in February for this four-star hotel start around 185 euros.
Lead photo credit : The Eiffel Tower, pink sky by Leah Walker
---
---