Versailles Drama 'Jeanne du Barry': Johnny Depp's Fraught Return to Cinema
Maïwenn's Jeanne du Barry opened this year's 76th Cannes Film Festival, and it's already drumming up much publicity due to one of its stars: Johnny Depp. In Jeanne du Barry, Depp plays French King Louis XV (1710-1774). The king becomes infatuated with a courtesan who visits Versailles, Jeanne du Barry (Maïwenn), and later falls in love with her – much to the dismay of the royal court and his disapproving daughters, whose mother, the Queen, Marie Leszczyńska, has just died. Jeanne Vaubernier – who later becomes Jeanne du Barry through marriage – is a working-class woman from humble beginnings, and it's believed she's not suitable for court life at Versailles. She comes from nothing but is a determined social climber who desires a better life than the one she was born into. "Jeane du Barry" film poster. Photo credit: Cannes Film Festival press office As the film's narrator says at the beginning of the story, a girl who comes from nothing is prepared for anything. We learn that Jeanne is the illegitimate child of a monk, and her mother, Anne, does what she can to support Jeanne and provide for the pair. Jeanne's introduction to the king through a friend is all it takes to radically change the course of her life. Johnny Depp as King Louis XV demonstrates not only his French language abilities, but also his silver screen comeback. The film marks Depp's return to cinema following a highly publicized trial with ex-wife Amber Heard, which included allegations of abuse. As a result, Jeanne du Barry's inclusion in the festival programming was not without its critics. While the film is Depp's first leading role in three years, he dismisses the idea that it's a comeback. Speaking at the Cannes press conference for the film, Depp said, "I keep wondering about the word 'comeback.' I didn't go anywhere…Maybe people stopped calling out of whatever their fear was at the time. But I didn't go nowhere." View this post on Instagram
A post shared by Festival de Cannes (@festivaldecannes)
SUBSCRIBE
ALREADY SUBSCRIBED?
BECOME A BONJOUR PARIS MEMBER

Gain full access to our collection of over 5,000 articles and bring the City of Light into your life. Just 60 USD per year.

Find out why you should become a member here.

Sign in

Fill in your credentials below.
Maïwenn's Jeanne du Barry opened this year's 76th Cannes Film Festival, and it's already drumming up much publicity due to one of its stars: Johnny Depp.
In Jeanne du Barry, Depp plays French King Louis XV (1710-1774). The king becomes infatuated with a courtesan who visits Versailles, Jeanne du Barry (Maïwenn), and later falls in love with her – much to the dismay of the royal court and his disapproving daughters, whose mother, the Queen, Marie Leszczyńska, has just died.
Jeanne Vaubernier – who later becomes Jeanne du Barry through marriage – is a working-class woman from humble beginnings, and it's believed she's not suitable for court life at Versailles. She comes from nothing but is a determined social climber who desires a better life than the one she was born into.
As the film's narrator says at the beginning of the story, a girl who comes from nothing is prepared for anything. We learn that Jeanne is the illegitimate child of a monk, and her mother, Anne, does what she can to support Jeanne and provide for the pair. Jeanne's introduction to the king through a friend is all it takes to radically change the course of her life. Johnny Depp as King Louis XV demonstrates not only his French language abilities, but also his silver screen comeback.
The film marks Depp's return to cinema following a highly publicized trial with ex-wife Amber Heard, which included allegations of abuse. As a result, Jeanne du Barry's inclusion in the festival programming was not without its critics. While the film is Depp's first leading role in three years, he dismisses the idea that it's a comeback. Speaking at the Cannes press conference for the film, Depp said, "I keep wondering about the word 'comeback.' I didn't go anywhere…Maybe people stopped calling out of whatever their fear was at the time. But I didn't go nowhere."
View this post on Instagram
Regarding the film's controversial inclusion, Variety reported how Cannes Festival Chief Thierry Fremaux said, "I don't know about the image of Johnny Depp in the U.S. To tell you the truth, in my life, I only have one rule, it's the freedom of thinking, and the freedom of speech and acting within a legal framework." He continued, saying, "If Johnny Depp had been banned from acting in a film, or the film was banned we wouldn't be here talking about it."
It's said that there's no such thing as bad publicity. And controversy around the film meant more people had heard of it before screenings even began. Packed screenings at the start of the week were an indicator of interest in the film. But once the film began rolling, attendees around me left at various points during the screening. (This is not an uncommon occurrence at Cannes.)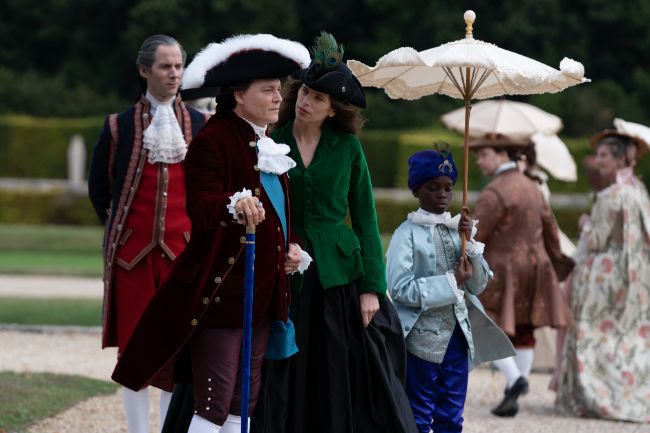 And, only 40 minutes into the two-hour movie, I found myself looking at my watch – a rarity for me when watching a film. While Jeanne du Barry was painfully slow moving at times, it had positives, too. The sweeping and gorgeous cinematography which captured the magic of Versailles so beautifully, was enchanting and it made up for the pacing of the film. The elaborate costumes and classical score transported me to 18th-century France and life at Versailles.
And life at Versailles for Jeanne du Barry is not all roses. While she enjoys the riches of life, like diamond necklaces and decadent meals, the scandal of her continued presence (a mistress to a married king, who is also herself married) causes much outrage. When the king's favorite daughter leaves Versailles to go to a convent and reject her royal life, King Louis XV falls into a depression and reverts to his unfaithful ways. This time, Jeanne is the scorned woman, not the lover.
But Jeanne remains at the side of the king. She continues to entrench herself in life at Versailles, and soon, she is back in the king's good graces and his loving arms. The pair flaunt their love and teenage-like flirty behavior, to the amusement of some and the shock of others.
When future queen Marie Antoinette arrives at Versailles, Jeanne du Barry must lay claim to her place within the court of Versailles, and she so conspires to speak with Marie Antoinette, so that she may stay. While her place at Versailles is secured after Marie Antoinette makes a passing, friendly comment towards Jeanne, tragedy befalls the lovers when the king is stricken with smallpox.
This is a dark Cinderella story – a tale of rags to riches and back to rags. It's a love story, a period drama, a triumphant feat of costume design and cinematography, and an ambitious film that didn't quite meet its mark. It's the kind of film that sounds intriguing from its description, but when executed, it plods along somewhat aimlessly, leaving me wanting a clearer, more focused story, and one with characters I can root for wholeheartedly.
Lead photo credit : Jeane du Barry. Photo credit: Cannes Film Festival press office
More in Cannes, Cannes film festival, Jeanne du Barry, Johnny Depp, King Louis XV
---
---