French Film: Roman Polanski's "J'Accuse" (An Officer and a Spy)
Roman Polanski's new movie about the Dreyfus Affair is both a critical and box-office smash in France. This while Polanski has been buffeted by charges of sexual assault that allegedly occurred decades ago. That's been taken as an illustration of how the French are behind the times regarding MeToo, while others see it as French imperviousness to American excess. It might be more accurate to say that the problem of anti-Semitism has trumped that of sexism. That theme is certainly one of the draws of the film, in addition to France's biggest star, Jean Dujardin, giving perhaps the finest performance of his career. And Polanski's direction is an example of late-career mastery rivaling that of Martin Scorsese with The Irishman. What's more, the director tells the story as a large-scale investigation thriller in the tradition of Z, All the President's Men, and JFK. This is set against a sumptuous reconstruction of turn-of-the-nineteenth-century Paris (with a few scenes shot in the provinces, including a Breton coastal town serving as Devil's Island, where Albert Dreyfus was imprisoned). Despite the French title, the film doesn't center on Emile Zola's famous front-page newspaper diatribe against the military cabal that framed Captain Dreyfus (played by Louis Garrel). He gets involved, along with future Prime Minister Georges Clemenceau (then still a newspaper editor) later in the story. The hero is Colonel Georges Picquart, played with formidable depth, intelligence, and feeling by Dujardin. He ironically doesn't like Dreyfus much (who's portrayed by Garrel as a nervous-tempered prig, though somehow endearing), but not only becomes his defender but turns into a victim himself. Picquart had been an instructor at the army academy who'd had Dreyfus as a student and given him a mark he wasn't happy with. Later he acted as an observer at Dreyfus' first trial. There are numerous flashbacks that take us back to the original facts (the transitions to which I occasionally found unclear). In the film's present-time, Picquart has been promoted to chief of army intelligence, and comes across indications of faked evidence that makes him take a second look at the case. A good part of the film takes the form of Picquart following a convoluted paper trail, having his agents painstakingly piece together bits of ripped-up letters and documents. There's also surveillance of Ferdinand Esterhazy, an officer who turns out to be the real traitor. Finally, Picquart confers with a large number of army officers, lawyers, handwriting experts and others, played by the proverbial stellar cast that Polanski has assembled, including Mathieu Amalric and no less than eight actors from the prestigious Comédie-Française. There's even a love interest (adulterous but affectionate) played by Emmanuelle Seigner (ie Mrs. Polanski). The period décor eye-candy gradually darkens, as Picquart descends deeper and deeper into the machinations of the military brass, and their malevolence threatens to engulf him. The scenes literally darken, all somber interiors, the way Francis Coppola shot the Godfather films. Polanski doesn't reproduce the horror-comedy absurdism of his early films, such as Repulsion and Cul-de-Sac. Nor does the film's vision dissolve into ambiguities as in his masterworks Rosemary's Baby and Chinatown. J'Accuse has a leaden quality that comes partially from the material, but also from a traditional style the French refer to as classique, as well as the melodramatic form the director has opted for. The real Picquart was a much more ambiguous figure than portrayed here, but aside from lip-service about his "imperfections" he remains a charismatic movie hero. There are areas left unexplored, untouched really: The fact that Dreyfus' Jewishness was something that aggravated the affair but doesn't seem to have been at its origin. Why the anti-Semitism of the time was so virulent despite, or perversely because, Jews in France were utterly integration-minded. Why the army was so revered yet so rigid and paranoid (perhaps bitter memories of the Franco-Prussian War, perhaps the unseemly politicking of the Third Republic's civilian leaders). Why the army veered towards exonerating Dreyfus, despite a second guilty verdict against him (and a defamation verdict against Zola). How the dynamics of colonialism abroad may have fed vicious racism and class war at home. More generally, the film's limited good guys vs. bad guys perspective doesn't account for how this bizarre case profoundly divided France for a period of twelve years. One movie can't say everything about a historical subject, but if J'Accuse had done more it would have been a deeper, more resonant film. It would have been more genuinely disturbing, as audiences mulled over what accounts for anti-Semitism nowadays, about which social institutions are too rigid and powerful (it's certainly no longer the French army). Instead, we work up outrage for how bad it was way back when. In the end, J'Accuse is actually quite comforting, which is perhaps another reason for its success. Production: Légende Films/RP Productions/Gaumont/France 2 Cinéma/France 3 Cinéma Distribution: Gaumont
SUBSCRIBE
ALREADY SUBSCRIBED?
BECOME A BONJOUR PARIS MEMBER

Gain full access to our collection of over 5,000 articles and bring the City of Light into your life. Just 60 USD per year.

Find out why you should become a member here.

Sign in

Fill in your credentials below.
Roman Polanski's new movie about the Dreyfus Affair is both a critical and box-office smash in France. This while Polanski has been buffeted by charges of sexual assault that allegedly occurred decades ago. That's been taken as an illustration of how the French are behind the times regarding MeToo, while others see it as French imperviousness to American excess. It might be more accurate to say that the problem of anti-Semitism has trumped that of sexism. That theme is certainly one of the draws of the film, in addition to France's biggest star, Jean Dujardin, giving perhaps the finest performance of his career. And Polanski's direction is an example of late-career mastery rivaling that of Martin Scorsese with The Irishman.
What's more, the director tells the story as a large-scale investigation thriller in the tradition of Z, All the President's Men, and JFK. This is set against a sumptuous reconstruction of turn-of-the-nineteenth-century Paris (with a few scenes shot in the provinces, including a Breton coastal town serving as Devil's Island, where Albert Dreyfus was imprisoned).
Despite the French title, the film doesn't center on Emile Zola's famous front-page newspaper diatribe against the military cabal that framed Captain Dreyfus (played by Louis Garrel). He gets involved, along with future Prime Minister Georges Clemenceau (then still a newspaper editor) later in the story. The hero is Colonel Georges Picquart, played with formidable depth, intelligence, and feeling by Dujardin. He ironically doesn't like Dreyfus much (who's portrayed by Garrel as a nervous-tempered prig, though somehow endearing), but not only becomes his defender but turns into a victim himself.
Picquart had been an instructor at the army academy who'd had Dreyfus as a student and given him a mark he wasn't happy with. Later he acted as an observer at Dreyfus' first trial. There are numerous flashbacks that take us back to the original facts (the transitions to which I occasionally found unclear). In the film's present-time, Picquart has been promoted to chief of army intelligence, and comes across indications of faked evidence that makes him take a second look at the case.
A good part of the film takes the form of Picquart following a convoluted paper trail, having his agents painstakingly piece together bits of ripped-up letters and documents. There's also surveillance of Ferdinand Esterhazy, an officer who turns out to be the real traitor. Finally, Picquart confers with a large number of army officers, lawyers, handwriting experts and others, played by the proverbial stellar cast that Polanski has assembled, including Mathieu Amalric and no less than eight actors from the prestigious Comédie-Française. There's even a love interest (adulterous but affectionate) played by Emmanuelle Seigner (ie Mrs. Polanski).
The period décor eye-candy gradually darkens, as Picquart descends deeper and deeper into the machinations of the military brass, and their malevolence threatens to engulf him. The scenes literally darken, all somber interiors, the way Francis Coppola shot the Godfather films. Polanski doesn't reproduce the horror-comedy absurdism of his early films, such as Repulsion and Cul-de-Sac. Nor does the film's vision dissolve into ambiguities as in his masterworks Rosemary's Baby and Chinatown. J'Accuse has a leaden quality that comes partially from the material, but also from a traditional style the French refer to as classique, as well as the melodramatic form the director has opted for. The real Picquart was a much more ambiguous figure than portrayed here, but aside from lip-service about his "imperfections" he remains a charismatic movie hero.
There are areas left unexplored, untouched really: The fact that Dreyfus' Jewishness was something that aggravated the affair but doesn't seem to have been at its origin. Why the anti-Semitism of the time was so virulent despite, or perversely because, Jews in France were utterly integration-minded. Why the army was so revered yet so rigid and paranoid (perhaps bitter memories of the Franco-Prussian War, perhaps the unseemly politicking of the Third Republic's civilian leaders). Why the army veered towards exonerating Dreyfus, despite a second guilty verdict against him (and a defamation verdict against Zola). How the dynamics of colonialism abroad may have fed vicious racism and class war at home. More generally, the film's limited good guys vs. bad guys perspective doesn't account for how this bizarre case profoundly divided France for a period of twelve years.
One movie can't say everything about a historical subject, but if J'Accuse had done more it would have been a deeper, more resonant film. It would have been more genuinely disturbing, as audiences mulled over what accounts for anti-Semitism nowadays, about which social institutions are too rigid and powerful (it's certainly no longer the French army). Instead, we work up outrage for how bad it was way back when. In the end, J'Accuse is actually quite comforting, which is perhaps another reason for its success.
Production: Légende Films/RP Productions/Gaumont/France 2 Cinéma/France 3 Cinéma
Distribution: Gaumont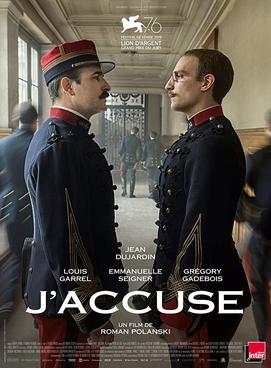 Lead photo credit : J'accuse de Zola. Image © Wikimedia
More in Dreyfus Affair, J'Accuse, Roman Polanski
---
---
Comments