Hotel Design Secret de Paris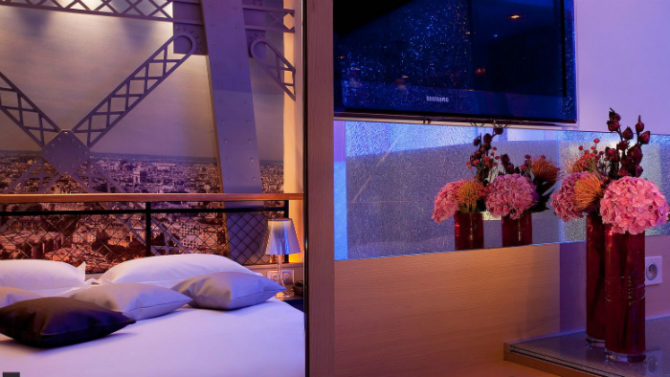 Located in the Trinité quarter in the 9th arrondissement, within walking distance of the Grands Boulevards, the Hotel Design Secret de Paris is a boutique hotel with a fun theme: each guest room is designed to reflect some of the most iconic monuments in Paris. So you've got Opera Garnier rooms- where decorative details conjure the Paris ballet and the beautiful Palais Garnier; the Moulin Rouge- painted red with images of can can girls dancing on the walls; the Eiffel Tower; Musée d'Orsay; the Trocadéro; and Ateliers d'artiste, situated appropriately up in the eaves on the top floor of the building. The whole design effect is complemented by mood lighting in the bedroom and shower room (and bathrooms come with chromotherapy tubs). Facilities include a pleasant breakfast room, sauna, hammam, and fitness area. Rooms from 175 euros/night.
Hotel Design Secret de Paris, 2 Rue de Parme, 75009 Paris. Email: [email protected]. Tel: +33 (0)1 53 16 33 33.
Lead photo credit : Eiffel Tower room at the Hotel Design Secret de Paris
More in boutique hotels in Paris, design hotels in Paris, where to stay in the 9th arrondissement
---
---