Review: 'Paris, Paris: Journey Into the City of Light' by David Downie
Not infrequently I am asked "If can take only one book with me to Paris to read, what should it be?"
And my answer is always the same: Paris Paris: Journey into the City of Light by David Downie.
This is because this nearly 20-year-old book — it was first published in 2005 as a collection of essays on the "people, places, and phenomena" of Paris — has something to interest and please almost anyone. (If it doesn't, it is not the fault of the book!)
Because this is a collection of stand-alone essays there's no need to read all of them, nor to read them in order. And you certainly shouldn't read it too quickly. This is a literary treat you can carry with you as you roam around Paris, or you can use it to prepare, or guide your way, giving you ideas for places you might not have thought of exploring, or things to see next time you are there.
During its two decades of life this book has collected a wide variety of accolades, from luminaries such as Mavis Gallant ("a quirky, personal, independent view of the city, its history, and its people"), Michael Ondaatje (who calls Downie "the master of educated curiosity") and no less an authority on travel than Jan Morris, who called it "perhaps the most evocative American book about Paris since A Moveable Feast."
It is certainly a quirky and independent view of Paris, and "educated curiosity" is a good way of describing Downie's approach to the city as well. His curiosity takes him into all kinds of unusual situations. For example, there is the museum he learns about from the message written on the back of an old, faded postcard he finds in a curio shop. The handwritten message says that the museum is "bizarre and disappointing," and that's enough to draw Downie there (this is a traveler who wants to decide for himself). He writes about the experience he has there — what he learned and what he reflected upon — in such a way that you feel you're right there with him, benefiting from his particularly sharp eye for observation and his sometimes provocative, always intriguing way of looking at things. (The museum —the Musée Gustave Moreau — still exists. But you'll have to read the book if you want to know more about it, or more precisely if you want to know about it from Downie's point of view.)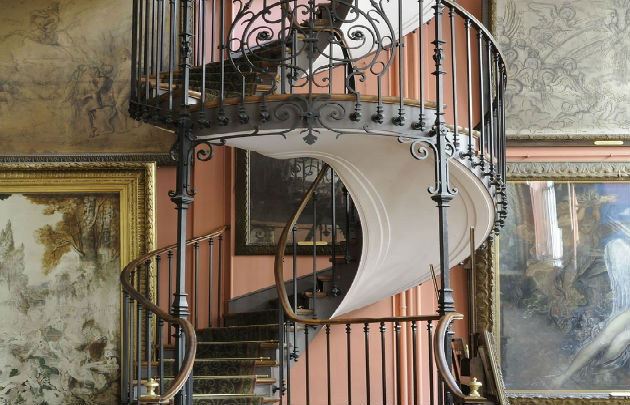 Another place his curiosity draws him to is the péniches along the Seine. In "The Boat People of the Seine" we learn about the daily lives of the people who live on those houseboats: where their children go to school; why their livelihood is so precarious; how devoted they are to the unconventional lives they are living. Through Downie's eyes we even get to witness a very special annual event, a "blessing of the boats" that he is invited to attend outside of Paris. This is because he's the kind of person who is genuinely and deeply interested in his topic, and in the people he is interviewing, and thus the kind of person who might have the honor of being invited to such an event, where he could gain a truly intimate and very special glimpse into their lives. And as readers of this book, we get to go along for the ride.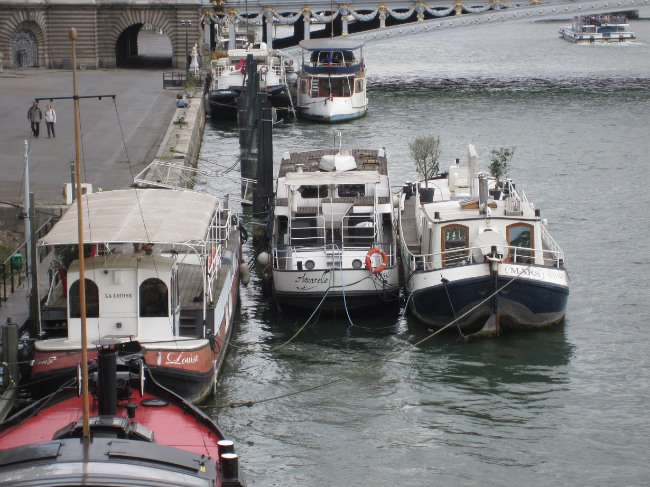 An essay entitled "Going Underground" gives us insight into Parisian history from the Gallo-Roman era to World War II, and fascinating tidbits of knowledge about the Paris sewers, the catacombs, and other less well-known underground locations. On the other end of the engineering spectrum, in "La Ville Lumiere: Paris, City of Light," we learn this:
…many light fixtures on Paris streets were installed before or during the Second Empire. Haussman-style lamps are still manufactured today. There are also Art Nouveau fixtures and others added in the 1930s. Are they obsolete? Of course. But no one would dream of removing them. Why?…The atmosphere Paris's old-fashioned lamps create is warm, welcoming and infused with nostalgia. No other city goes to such lengths and spends as much money—about 300,000 dollars a day—to create a retro "light-identity," an ambience that immediately declares "You're in Paris, the City of Light."
Downie's style is indeed highly personal. Though he is a diligent and careful researcher, he is not particularly interested in being "objective" in presenting his topics, nor in giving advice about all the usual places that hundreds of other travel writers have already given. He's simply sharing the experiences he's had, and his reflections about them, with his readers, and the result is that we find ourselves gaining access to all kinds of places tourists don't normally have the opportunity to experience, in the company of a very interesting and informative traveling companion.
Of the many things I love about this book this is perhaps the most important: that sense of being David Downie's invisible traveling companion as he strolls around this endlessly fascinating city, picking it apart and putting it back together again in his own unique and wonderful way.
And of course it is also so wonderfully well-written. Here's just a little taste:
No single element of Paris evokes the city's ambiguous allure more poignantly than the Seine. A slow arcing gray-green curve, the river reflects the raked tin rooftops arranged along its embankments and the temperamental skies of the Ile de France. Sea breezes sweep fresh Atlantic air up it into the city. Each day when I step out for  my constitutional around the Ile St. Louis — a ten-minute walk from where my wife, Alison, and I live — I ask myself what Paris would be without the Seine. The answer is simple. It wouldn't.
Doesn't that make you want to read more?
Paris Paris: Journey into the City of Light is the selection for the next Bonjour Paris Book Club meeting, on September 14. You can register below.
Please join us! We may even have a special guest…
REGISTER FOR THE BOOK CLUB HERE
More in book club, book review, David Downie, Janet Hulstrand
---
---