Paris: The Novel, by Edward Rutherford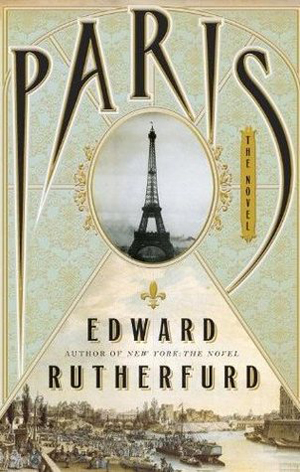 "The smell of gauloises and urine in the streets of Paris.  The feel of cold wind in Pere Lachaise cemetery.  The sight of the white blossoms of the horse chestnuts and the beauty of the unicorn tapestries in the medieval Cluny Museum…", reminded author Rutherford of the importance of using the five senses while writing Paris: The Novel.  Inspired by Marcel Proust's madeleines, Rutherford, a pseudonym for Frances Edward Wintle, writes historical fiction for those who have forgotten what they learned in school and can't be encouraged  to sort through tomes on their own.  He deftly captures within 800 pages, just over 700 years of Parisian life from 1261 – 1968.
Rutherford, an inveterate Francophile, began writing this novel after having written many other novels – Sarum, a 10,000 year story about Stonegenge and Salisbury, Russia, New York, Dublin and Ireland. While in Paris he discovered fantastic historical street maps, drawings, paintings and models of the city of Paris in the Carnavalet Museum in the Marais and photographs from the Museum of Montmartre.  He continued his research by reading a lot of stories from Balzac to Hemingway to ingest the flavor of 18th, 19th and 20th century street life and in order to create real scenes with actual people.
An expert at weaving fiction and history, Rutherford is often considered a James Michener disciple because of his formulaic use of dynastic families and their descendants to tell a story.  Through intimate tales of divided loyalties, passions, gossip and secrets he interprets history with a broad brush using every color under the sun.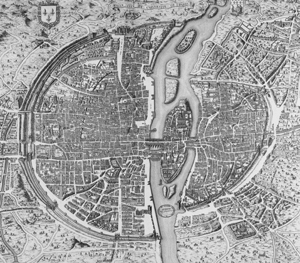 Unfortunately, I've read too many novels about Paris, fiction and non-fiction, to fully appreciate this book.  After the first 250 pages I became increasingly bothered by the way his characters presumed to educate me by minimizing topics as disparate as the origin of the word "bistro", to the shame of Dreyfus Affair.  After another 200 pages, I was weary from the snapshots of history as varied as the Knights Templars and the Nazi occupation of Paris, then further confounded by Cardinal Richelieu and the French Resistance.  There is also the not so sophisticated rivalry between the Le Sourds and the de Cygne's that spans generations, not unlike the Hatfields and McCoys and a mini course on French Impressionism told through the Blanchards and the Hadleys, an American father and son.  Overall, Paris: A Novel, devolves into an endless spiral of historical absurdity from which there seems no return.
I did, however, enjoy the history of the building of the Statue of Liberty and the Eiffel Tower as told through the eyes of two brothers, Thomas and Luc Gascon.  I chuckled about Rutherford's use of the name Gascon, since I live in the area of SW France known as Gascony.   There is certainly something for everyone in this book and then some….
Paris map: Jacques I Androuet du Cerceau [Public domain], via Wikimedia Commons
Leave a reply
Your email address will not be published. Required fields are marked *