Interview with Bringing Home the Birkin author Michael Tonello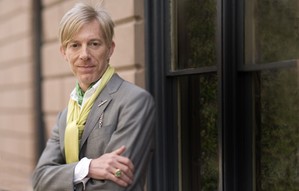 Michael Tonello knows Paris.
He is the Indiana Jones of the handbag world (minus the fedora and bullwhip). Tonello traveled the globe, hunting for the Holy Grail: Birkin bags. He chronicled these adventures in his bestselling-book, Bringing Home the Birkin.
Those disinterested in fashion may be unaware of the Power of the Birkin. French fashion house Hermès created the Birkin leather handbag in 1984, named for actress Jane Birkin. The bags are extravagant, ranging from $7,000 to $150,000. They are a staple in wardrobes of the fashion elite.
Bringing Home the Birkin recounts Tonello's adventures securing Birkin bags for his clients. The book transported me into the world of luxe accessories, Barcelona and bien sûr, Paris – a fashion capital of the world.
The most engrossing part of the book was the author. His tone and voice make this book a marvelous read.
In On Writing, author Stephen King says one should write with an Ideal Reader in mind. I delusionally believe I am Tonello's Ideal Reader; I can picture us drinking champagne at the Hemingway Bar, toasting our latest shopping acquisitions from Galeries Lafayette.
Fantasies aside, Tonello's writing will find an Ideal Reader in almost anyone. His humor, wit and roll-with-the-punches spirit makes reading this book a pure delight.
I was lucky enough to speak with Tonello via email about his book. Here's hoping to champagne in Paris soon…
Why did you decide to write "Bringing Home the Birkin"?
For many years when I was traveling around the world buying and selling Birkin bags I would stay in luxury hotels.  At the end of the day I would go down to the cocktail bar for a glass of wine. I'd often meet some stranger at the bar who would ask where I was from and what type of work I did. I'd then tell them about my somewhat crazy business, after which most would immediately respond with "this sounds like a movie or some fictional novel." Hearing those words over and over again convinced me that I had a great story to tell.
How has your life changed since writing the book?
I no longer run around the world buying and selling Birkin bags but I still connect people who are trying to buy or sell one of these bags. The book has brought lots of people to me with interesting projects – some of which I'm actively involved in now.
You live in Barcelona, but traveled to Paris frequently for work. How does Barcelona compare to Paris?
Paris is a city that is settled in its past whereas Barcelona is a city with an eye to the future.  For example, when people visit Paris they often want to have macarons at Laduree or buy tea at Mariage Freres, and they want both of those places to be exactly as they were seventy five years ago, whereas in Barcelona it's all about cutting edge contemporary food.
What do you love most about the European lifestyle?
I love walking to La Boqueria (open air market) every morning and buying my provisions for dinner. Fresh fish from the fishmongers, freshly baked bread and local produce. This is a morning ritual and I've gotten to know many of the vendors. This experience is very different than going to some giant supermarket once a week and stocking up.
You write about visiting two quintessential Parisian spots: Ladurée and the Hemingway Bar. Why do think people love Paris so much?
As I mentioned earlier it's because these places haven't changed over the years. I guess that we find some kind of comfort in that. I believe this will always be the case. Let's face it, it's not likely they would renovate Sainte Chapelle 😉
What is your favorite thing to do in Paris?
Two things: Shop and Eat.
Do you have plans to visit the City of Light soon?
I was just in Paris two months ago. I flew up to have a watch repaired and buy some bread and pastries at Du Pain et Des Idees. I'll be there again in November to meet up with some friends.
What is the one piece of fashion advice you'd give women?
It's best to own one outstanding piece rather than a bunch of mediocre items. Even better, a bunch of outstanding pieces!
Why do you think the Birkin is so timeless?
The bag has become an icon. It's a symbol of wealth and old world craftsmanship. I know of no other handbag that is so coveted.
Any predictions for Fall fashion trends?
Look to the streets. Nowadays the hottest trends emerge from the streets and not from the runways.
Leave a reply
Your email address will not be published. Required fields are marked *