Flammarion's New Maps: Pocket-Size Guides to Paris and Beyond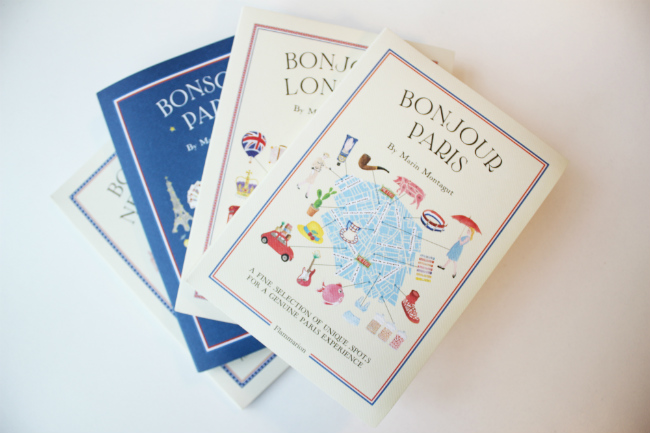 I have a thing for maps. The obsession all started with an innocent gift subscription to National Geographic when I was eight years old. Every month, I'd eagerly await the arrival of the next issue, usually packaged with a fold-out map. Covering diverse themes and regions, these maps weren't just eye candy for geography nerds and history buffs; they also illustrated the aesthetic beauty of map-making. I particularly love historical maps, etched with legends and mythical beasts. In recent years, despite ever-present digital apps and mapping technology, I've noticed a return to paper, a hankering for the tactile. Hand-drawn maps are having a come-back—from Herb Lester's collectable creations to the newly launched Bonjour City Map-Guides from the venerable Flammarion publishing house. Beautifully illustrated by filmmaker
Marin Montagut
—a "French globetrotter" who studied art in Paris and at Saint Martin's School in London—these hand-drawn maps also double as mini guidebooks, presenting a curated selection of offbeat insider addresses. In the "Bonjour Paris" map, there's a boulangerie where breads are "baked to perfection" near the Canal St Martin; an atelier where you can customize your own perfume in the Marais, and a paint shop in the Saint-Germain-des-Prés district where artists have been buying their colors since 1887. To complement this daytime adventure, the "Bon Soir Paris" map offers a bevy of exclusive addresses for night owls looking to paint the town red. The collection also includes London and New York map-guides so you can head out on a cosmopolitan transatlantic tour (or indulge in armchair travel). Adorned with charming watercolor sketches and printed on tear-proof paper, the maps are works of art in their own right. And at $9.95 each, the maps are an affordable treasure to share generously with friends and family (stocking stuffers, anyone?) Available at
Amazon
and fine book stores.
SUBSCRIBE
ALREADY SUBSCRIBED?
BECOME A BONJOUR PARIS MEMBER

Gain full access to our collection of over 5,000 articles and bring the City of Light into your life. Just 60 USD per year.

Find out why you should become a member here.

Sign in

Fill in your credentials below.
I have a thing for maps. The obsession all started with an innocent gift subscription to National Geographic when I was eight years old. Every month, I'd eagerly await the arrival of the next issue, usually packaged with a fold-out map. Covering diverse themes and regions, these maps weren't just eye candy for geography nerds and history buffs; they also illustrated the aesthetic beauty of map-making. I particularly love historical maps, etched with legends and mythical beasts.
In recent years, despite ever-present digital apps and mapping technology, I've noticed a return to paper, a hankering for the tactile. Hand-drawn maps are having a come-back—from Herb Lester's collectable creations to the newly launched Bonjour City Map-Guides from the venerable Flammarion publishing house.
Beautifully illustrated by filmmaker Marin Montagut—a "French globetrotter" who studied art in Paris and at Saint Martin's School in London—these hand-drawn maps also double as mini guidebooks, presenting a curated selection of offbeat insider addresses. In the "Bonjour Paris" map, there's a boulangerie where breads are "baked to perfection" near the Canal St Martin; an atelier where you can customize your own perfume in the Marais, and a paint shop in the Saint-Germain-des-Prés district where artists have been buying their colors since 1887.
To complement this daytime adventure, the "Bon Soir Paris" map offers a bevy of exclusive addresses for night owls looking to paint the town red. The collection also includes London and New York map-guides so you can head out on a cosmopolitan transatlantic tour (or indulge in armchair travel).
Adorned with charming watercolor sketches and printed on tear-proof paper, the maps are works of art in their own right. And at $9.95 each, the maps are an affordable treasure to share generously with friends and family (stocking stuffers, anyone?) Available at Amazon and fine book stores.
Lead photo credit : Flammarion's Bonjour City Map-Guides
---
---