Interview with Cathy Marie Buchanan, author of "The Painted Girls":
Anne Hathaway nabbed the Oscar for Best Actress in a Supporting Role for her performance as Fantine in Les Miserables. The win reflects what critics and movie-goers know to be true: The world loves a great French story.
Artist Edgar Degas' paintings are as celebrated as Victor Hugo's Les Miserables, and were the source of inspiration for author Cathy Marie Buchanan to tackle the story of Degas' famous dancers.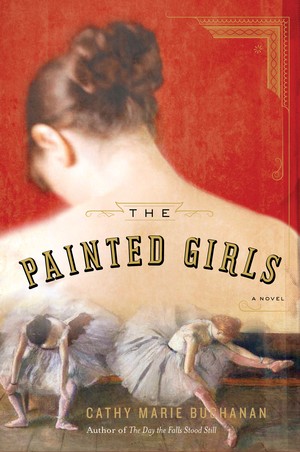 Buchanan's new novel, The Painted Girls, tells the story of one of Degas' most famous subjects, a young girl named Marie van Goethem, who served as a model for the artist.
Buchanan's greatest asset is her beautiful prose, which presents fierce imagery that transports the reader to Belle Époque Paris of the 1870s, when Moulin Rouge dancers dazzled at the cabaret, Palais Garnier opened to eager crowds and plans for the Eiffel Tower were underway. The author has taken great pains for historical accuracy, continuity, and story.
The author's fluid language weaves an engaging story that readers are sure to love. This is a great read, and will answer questions you didn't even know you had about Degas, his work, and a Paris of yore.
I had the pleasure of speaking to Ms. Buchanan about The Painted Girls, her early interest in ballet and that famous French painter:
What inspired you to write about Paris' Belle Epoque period, Edgar Degas and Parisian ballerinas in "The Painted Girls"?
Years ago, I happened on a television documentary called The Private Life of a Masterpiece: Little Dancer Aged Fourteen. I would learn that on its unveiling back in 1881, the public linked Little Dancer with a life of vice and young girls for sale. She was called a "flower of the gutter" and her face was said to be "imprinted with the detestable promise of every vice." Such notions were underpinned by a long history of often less than noble liaisons between the young dancers at the Paris Opéra Ballet and the wealthy male season ticket holders. I would also learn of the poverty of the girl—Marie van Goethem— who had modeled for the work. The revelations flew in the face of my modern-day notions of the sculpture and ballet as largely a high-minded pursuit of privileged girls. I was fascinated and knew Marie's story was one I wanted to tell.
Where does your interest in Parisian culture come from?
As a teenager, I spent four or five nights a week studying in a ballet studio where there were Degas ballet prints tacked to the walls. I felt a kinship with his dancers. Often he chose to paint them—no different than I was—stretching at the barre. I grew up attending ballet performances, and my favorites included La Sylphide and Coppélia, both French ballets of the Romantic Era. I think it's fair to say my interest in Parisian culture came through my early exposure to Degas' artwork and my love of ballet.
You left a corporate career to pursue writing; what sparked this change?
During high school I satisfied my creative yearnings by studying ballet, and by designing and sewing most of my clothes. Throughout my corporate career, I was always enrolled in a night school course— always something with an artistic bent—no doubt a continued effort to nurture my artistic soul. I took painting, drawing, woodworking, art history and interior design, before hitting upon creative writing.  Then, right from the first class, I was smitten. A four-year period followed where I continued my full time work by day and, in the evening, either attended a creative writing class or crammed in a bit of scribbling. Eventually my desire to spend more time writing trumped the security of sound employment, and I took the plunge, leaving the corporate world to write full time.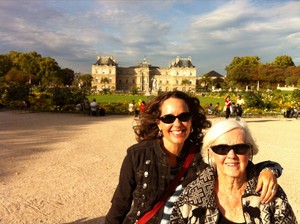 Your parents were enthusiastic travelers – taking you on cross-country road trips through Canada, Mexico and the U.S. when you were young – how did those trips shape you as a writer and traveler?
In 1973, when my childhood family of seven made our two-month camping sojourn into Mexico, my youngest sister was just two and Mexico was nowhere close to being set up for tourism. I'm convinced that being raised by parents with a tendency to throw caution to the wind is in large part why I was able to walk away from a healthy paycheck and secure job to take a serious stab at writing. Those early treks also made me into a lifelong traveler (I've visited close to forty countries) and a person who takes deep pleasure in immersing herself in a culture other than her own. In each of my novels—The Day the Falls Stood Still and The Painted Girls—and in my current work in progress, I create another time and place, and I expect the pleasure I get from the undertaking is related to my love of experiencing new cultures.
Who are some of your favorite authors and why?
My favorites include Margaret Atwood, Geraldine Brooks, and Barbara Kingsolver. I think each writes beautifully sentence by sentence and at the same time, tells a tremendously compelling story. It's what I strive for in my own work—a page-turning plot delivered in gorgeous prose.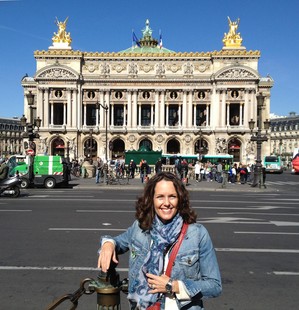 Have you traveled to Paris? What are you some of your favorite things to do, eat, and see in Paris?
Yes, I've been to Paris a handful of times. Touring Palais Garnier, where much of The Painted Girls takes place is a highlight, as is enjoying a ballet in the jewelry box-like theatre. It does not get much better than sipping champagne during intermission, while overlooking the grand staircase. I also adore strolling the shaded walkways of cimetière de Montmartre, and having lunch at the excellent café in the park-like setting of Musée Rodin. Best of all, though, was the privilege of attending a class of fourteen-year-old girls at the Paris Opéra Ballet school. Though thirty years and a continent away from my own days at the barre, I was struck by how familiar the exercises, the corrections and the music were. It made me think that despite having lived a very different life from my character Marie van Goethem, parts of our experiences were very similar.
As a Canadian, did you feel the influence of French language and culture in your upbringing?
As do all Canadians, I studied French at school, which was certainly useful when I was researching The Painted Girls. I grew up in a largely Anglo province, though we regularly travelled to Quebec and I knew from a young age the joie de vivre of the Québécois.
What is your favorite thing about the French "mode de la vie"?
I love that the French take pleasure in the small delights of life—a perfectly crafted pain au chocolate, a expertly brewed cup of café noir, the sun warming a face in the Jardin des Tuileries.
What advice would you give young writers?
Write every day. Don't wait for inspiration. It might never come.
How would you describe The Painted Girls in one sentence?
The Painted Girls is a heartrending novel set in belle époque Paris, inspired by the real-life model for Edgar Degas's Little Dancer Aged Fourteen and a notorious criminal trial of the era.
To purchase a copy of The Painted Girls, click here.
Leave a reply
Your email address will not be published. Required fields are marked *