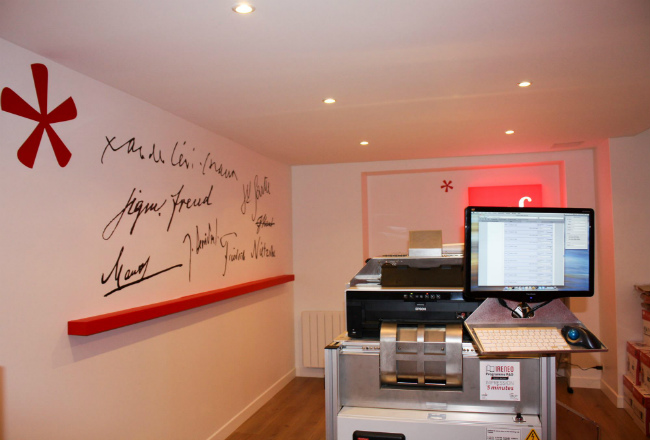 Paris is wonderful for so many reasons, and one of them is that its inhabitants value books and the shops that sell them. While many bibliophiles around the world worry about the future of the book, sales in France continue to hold steady (and, for the most part, turn a profit).
A new kind of bookshop has just popped up in Paris. It comes to us from esteemed French publisher Les Presses Universitaires de France (or, PUF) and it is a very unique kind of store. It features an "Espresso Book Machine" which sells print-on-demand titles.
Book industry publication Shelf Awareness reported on March 21: "The 775-square-foot store includes a café so that, as project manager Alexandre Gaudefroy put it, while customers wait a few minutes for a book to be printed, they 'can enjoy a cup of coffee from the shop at a reasonable price. The idea was to create a tea room and a bookshop at the same time.'"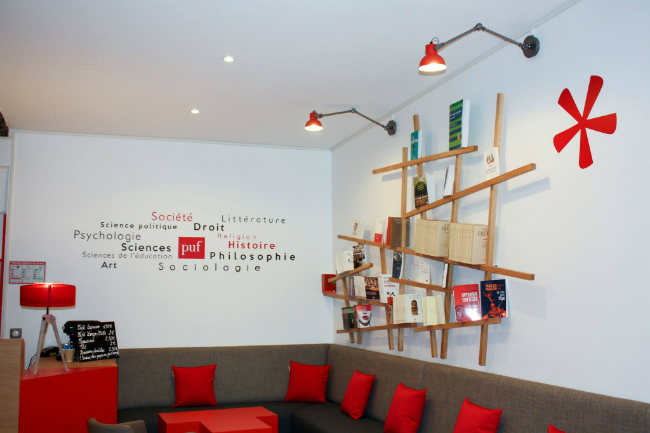 There are 5,000 books from the PUF catalog and three million from other publishing houses that can be printed from the Espresso Book Machine. Shelf Awareness reported that the store manager, Frederic Meriot, told the AP: "he needs to sell about 15 books daily to break even, and had sold 60 on opening day. He added: 'We could not have afforded to rent a 600-square-meter (6,450-square-foot) shop like we had in the past. With the Espresso Book, we don't need warehouses to stock the books, we don't spend money to pulp the books already printed that didn't sell, and it's also a low-carbon way of making books.'" (The shop is located at 60, rue Monsieur-le-Prince in the 7th arrondissement.)
This type of change is one of many that the publishing industry has grappled with over the past decade. With the advent of ebooks, the industry underwent massive shifts, and it remains to be seen what other future changes it will endure.
There are many bookshops throughout Paris where you can do your shopping if the Espresso Book Machine is not up your alley (metaphorically and/or physically).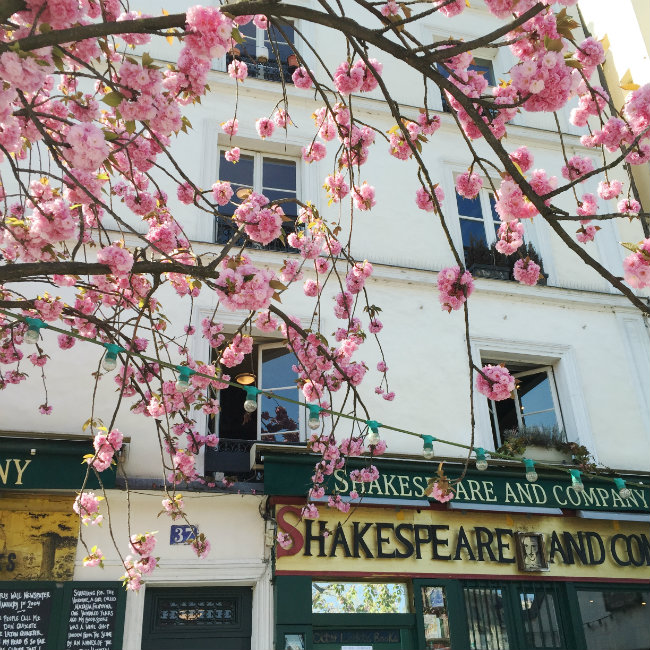 One of the most notable bookshops in Paris is Shakespeare & Company (37 Rue de la Bûcherie). Its name and fame precedes it for most. For those who don't know, this bookstore (originally founded in 1919 by Sylvia Beach in a different location) has been the go-to shop for countless literary luminaries like James Joyce, Ernest Hemingway, Ezra Pound, and more. It has been featured in many films set in Paris, such at Before Sunset and Midnight in Paris. The store opened a cafe recently, and the shop is often bustling so brace yourself when you enter. It is a magical place, where you can find numerous English language titles, a piano that welcomes playing, and cozy corners for reading.
Gibert Joseph is another bookshop that has been around for a long time (since 1929). There are various locations throughout Paris, and the shops contain numerous titles, as well as stationary and knick-knacks.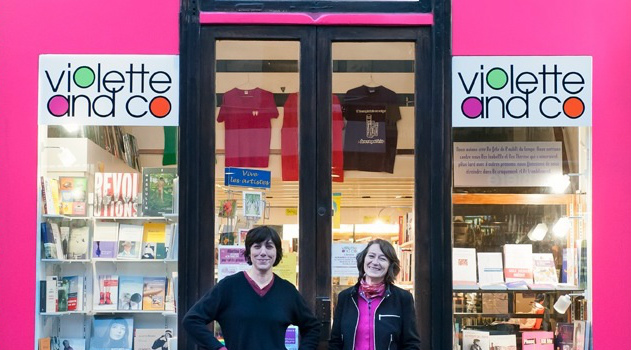 Another popular bookstore is Mona Lisait, located at 211 Rue du Faubourg Saint-Antoine in the 11th. Note that Mona Lisait used to have a number of locations, which have been sold to other booksellers following bankruptcy last year.
In Paris, you'll find a number of themed bookstores as well. Le Coupe-Papier (19 rue de l'Odéon) is a specialized bookshop dedicated to selling books about theater and the performing arts. Violette & Co. in the 11th (102 Rue de Charonne) is a bookshop specifically dedicated to promoting causes having to do with women and women's issues. Public readings, lectures, and exhibitions are also hosted by the shop.
Children's bookshop Chantelivre (13 Rue de Sèvres) is where one can find the perfect gift for your little one or the little one of a loved one. This bookshop, which opened in 1974, is said to be the first – as well as the best – children's bookshop in Paris. It also features activities and readings for children throughout the year.
It is often said (by my father and by others): a child who reads will be an adult who thinks. So when in Paris, be sure to pick up some books for your thinking self and the children in your life.