Letter from Paris: October 21, 2020 News Digest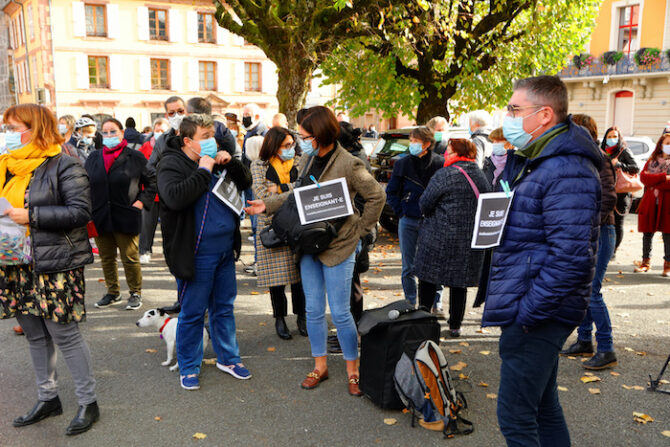 France is reeling from a senseless and horrific event that happened last week: the beheading of a school teacher by a radicalized Russian for showing Charlie Hebdo caricatures of the Prophet Muhammad in class. Samuel Paty, a beloved, 47-year-old teacher, was showing the images in order to discuss the concept of free speech and liberty of expression. Thousands have gathered in events across the country to pay tribute to the slain teacher, who has become a symbol of the Republic itself. The Economist predicts that this shocking murder will "harden France's belief in secularism," noting that— in a declaration at the beginning of this month that now seems prescient— President Emmanuel Macron "warned against mounting Islamism and the threat to freedom of expression." For more analysis, we suggest reading this column by John Lichfield.
After such horror and grief, let us respectfully pivot to a different kind of news. A curfew went into effect this past Saturday night in Paris to help contain the spiraling number of COVID-19 cases in France, since scientists have pointed out that social gatherings, when we let our guard down, are when the coronavirus spreads the most. (Eight other cities are also currently affected by the 9 pm- 6 am curfew.)
Picture this: Parisians from all walks of life congregating on sidewalk and restaurant terraces for typical Saturday festivities, enjoying good food and drink and conversation, when, all of a sudden, around 8:30 pm— the time most folks usually start enjoying dinner in Paris— there was a mass exodus to get home before the clock struck 9 pm. Taxis flying past, vélibs racing down the new bike lanes, people sprinting for the metro. This Instagram video hilariously captures the moment:
View this post on Instagram
Speaking of the curfew, restaurants are proving to be remarkably adaptive to the newly enforced hours. As are Parisians! We've been happily surprised to see diners flock to restaurants at 6 pm— what's usually deemed a very "anglo" hour to eat dinner. Restaurants are opening their kitchens earlier, and some, affiliated with hotels, are rolling out special offers so that you can sleep off your food coma for a discounted price in a hotel room after having dinner in the onsite restaurant. A clever way to indulge in a staycation while not having to race home before the curfew.
Even museums are adapting their hours to the new circumstances. And there are some terrific shows taking place in Paris right now. Matisse, Like a Novel recently opened at the Centre Pompidou, paying homage to the great artist on the 151st anniversary of his birth, and we just saw Luxes at the Musée des Arts Décoratifs which is so exquisite and contemplative that we'll have to spill all the juicy details in a future article on Bonjour Paris. For the full skinny on whats happening now in the city, don't miss our events calendar.
We'll close with a pretty shot of autumn in Paris. My, it's a lovely time of year in the City of Light.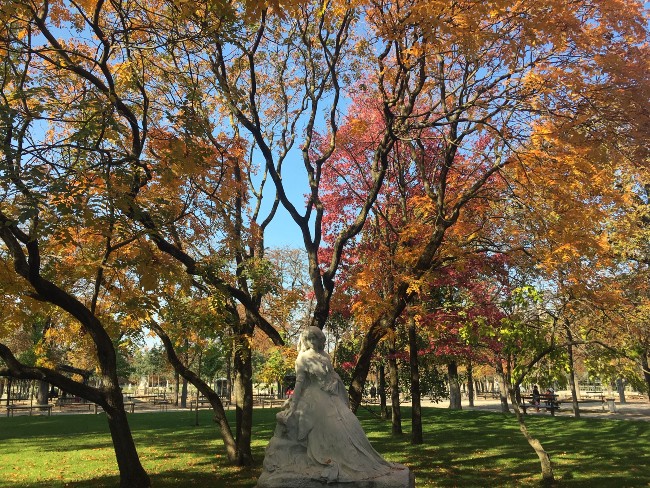 Lead photo credit : Gathering at the Place de la République, in Belfort, paying tribute to Samuel Paty. (CC BY 4.0)
More in letter from paris
---
---