Le Nuage Parfumé: Cartier Presents a "Scented Cloud" for the FIAC Art Fair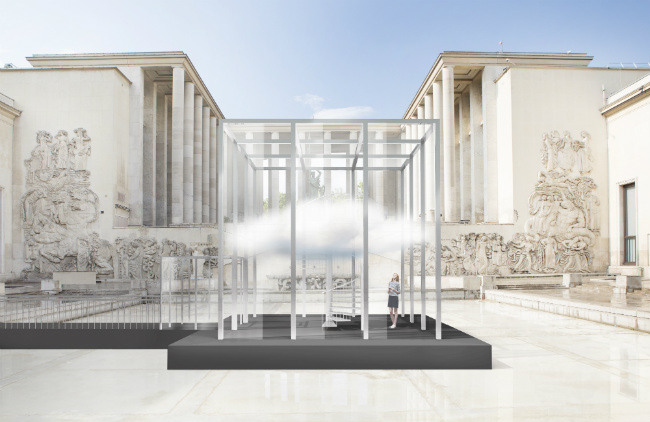 One of the major art events on the jam-packed Paris cultural calendar is FIAC (short for La Foire internationale d'art contemporain)– the famous contemporary art fair. Taking place this year from 19 – 22 October, the 44th edition of FIAC will host a carefully curated selection of leading international galleries in the Grand Palais. One of our favorite parts of FIAC is the Hors Les Murs program, where a number of large-scale artworks are showcased for free in iconic Paris sites: the Jardin des Tuileries, the Musée National Eugène Delacroix, and the Place Vendôme.
To coincide with FIAC, Maison Cartier is getting in on the action with an immersive olfactory installation built on the parvis of the Palais de Tokyo. Cartier seeks to prove the importance of fragrance as a creative medium. It's a clever concept; Cartier is dubbing the project their "first OSNI, an Objet sentant non identifié, meaning USO, Unidentified Scented Object."
Visitors can step inside the Nuage Parfumé, a clear glass cube– which will feel like passing through a "scented cloud." The installation was inspired by L'Envol de Cartier, the latest fragrance composed by Cartier's in-house perfumer Mathilde Laurent. To quote the official press release: This "sensational experience is a journey into an ethereal space, suspended between heaven and earth" which "shakes the senses and inspires reverie."
Another cool thing about Le Nuage Parfumé: it harnesses innovations in bioclimatic technologies developed by Transsolar, a Munich-based climate engineering firm. To quote: "Transsolar has developed a strata-based air-control system forming a new, dematerialized architectural space. Now, for the first time, Le Nuage Parfumé combines this ethereal innovation with olfactory diffusion, giving rise to an inimitable multisensory experience."
Practical information: The Nuage Parfumé will be open from 11 am – 8 pm, 20-23 October, on the parvis of the Palais de Tokyo. (This contemporary art museum is located at 13 Avenue du Président Wilson in the 16th.) Open until midnight on Friday. Free for visitors but reservations are required. Book your time slot here: www.osni.cartier.com.
While you're at the Palais de Tokyo, why not have a meal or drinks at Les Grandes Verres? We highly recommend this new eatery inside the new museum.
Lead photo credit : Le Nuage Parfumé, artistic rendering courtesy of Maison Cartier
Leave a reply
Your email address will not be published. Required fields are marked *