The Petit Palais is always a good idea. Constructed for the Exposition Universelle of 1900, the building is an architectural masterpiece of frescoes, marble mosaics and a lush courtyard garden. (Not to mention that access to the permanent collections is free.) But a recently inaugurated exhibition is an even bigger draw. Run, don't walk, to see the exquisite works of Jakuchū, one of the great masters of 18th century painting in Japan.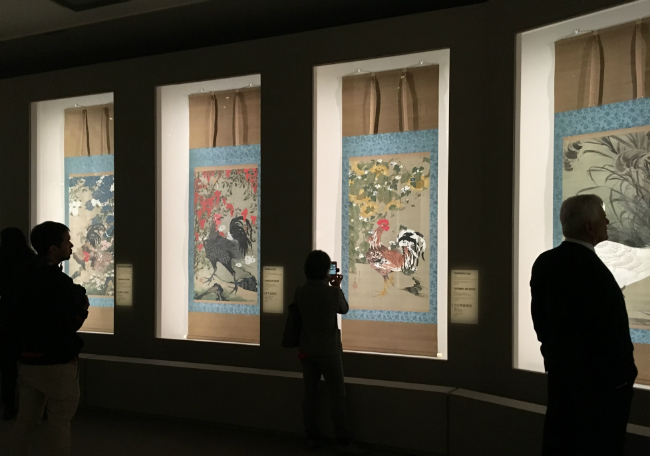 The 30 silk scrolls that comprise the "Colorful Realm of Living Beings" are so fragile that they can only be exhibited for one month at a time, before being sequestered away in darkness at the Imperial Collections of Japan. After an ambitious, six-year restoration starting in 1999, the works— largely forgotten in the 20th century— captured the public's imagination. They were exhibited to much fanfare in Kyoto (2016), where crowds waited hours in line to catch a glimpse of the radiant flowers, insects, fish and birds that seem to leap to life from the silk scrolls. They have only left Japan once before— for an April 2012 showcase at the National Gallery of Art in Washington D.C. This is the first time they have been exhibited in Europe.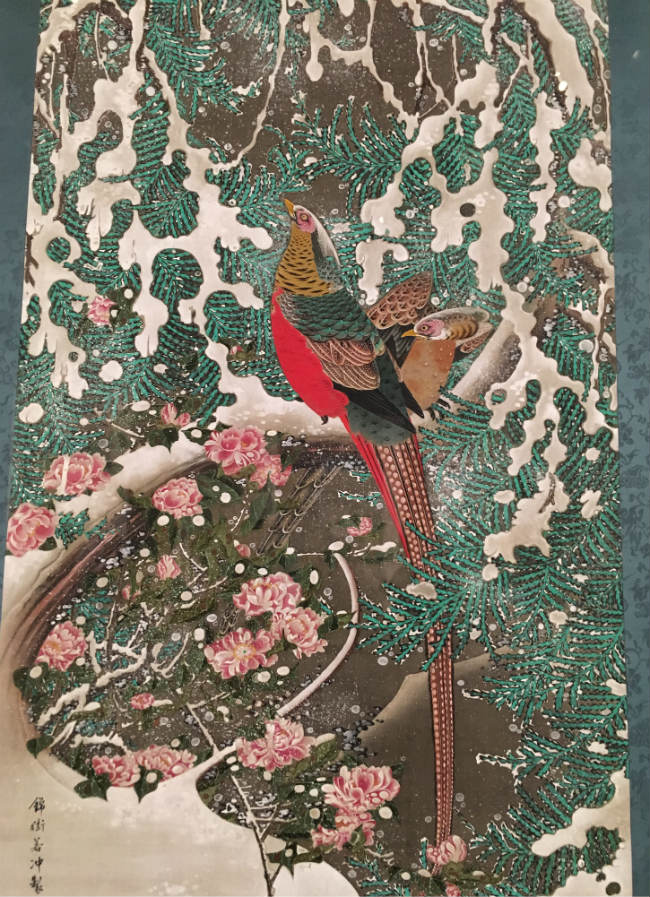 With rich colors and delicate brush strokes, these paintings are a celebration of life. The spider web! The lace-like plumage of the phoenix's tail! The hydrangea petals! The pine needles peppered with snow! The artist innovated with painting techniques and pigments to capture even the tiniest details. Jakuchū tended chickens at his home and studied their movements; the paintings are like character studies of his beloved birds. (A fruit and vegetable wholesaler at the Kyoto market, it wasn't until he was 40 years old that Jakuchū could devote his life to his painting.)
Jakuchū donated the 30 scrolls to the Shōkoku-ji temple in Kyoto, together with his Buddhist triad Shaka Sanzon-zō [Sakyamuni Triad]. Only the triad has remained at the temple. At the Petit Palais, visitors may see these works together— as the artist originally intended. In fact, the exhibit was inaugurated last week with a moving Buddhist ceremony (HOYO) performed by monastics from the Shōkoku-ji temple.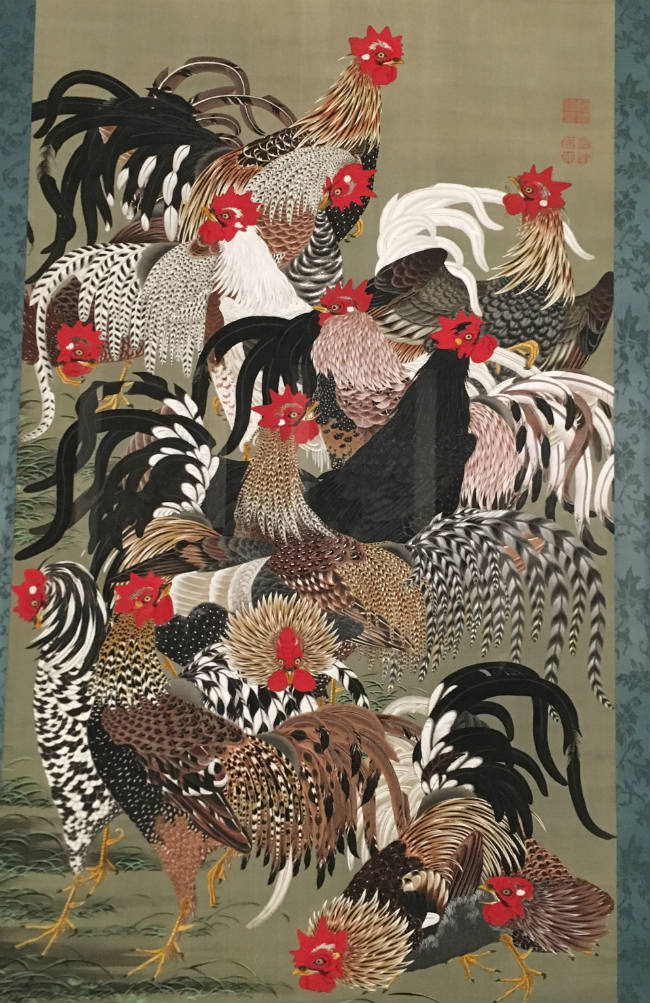 This exhibition is part of Japonismes 2018, a cultural celebration of 160 years of diplomatic relations between France and Japan. It's a jam-packed season with concerts, theatre, art exhibits and more. Another exhibit to note is "Treasures of Kyoto: Three centuries of Rinpa creation" opening on October 26 at the Cernuschi museum. Japonismes 2018 portrays the French passion for Japanese civilization.
Jakuchū, The Colorful Realm of Living Beings at the Petit Palais until October 14, 2018. Avenue Winston Churchill, 75008 Paris. Open from 10 am to 6 pm Tuesday-Sunday. Closed Mondays. Open late on Fridays until 9 pm and Saturday and Sunday until 8 pm. Full ticket costs 11 euros.