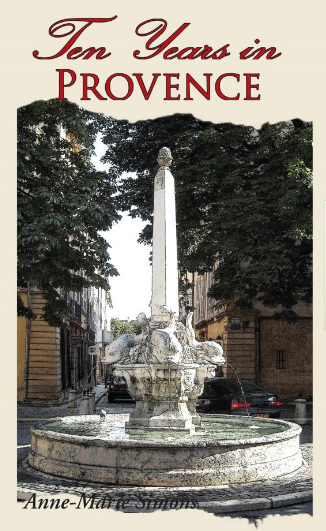 When I recently published a book about Provence, I was, of course, well aware of the fact that the subject was not exactly original and had been treated numerous times before. Since Peter Mayle came out with
A Year in Provence
in 1989 he has often been imitated but never equaled. And, even though the flow of Provence books may have slowed to a trickle, new tales do continue to drip-drip into bookstores. So why add another one? Well, because… this one is different. (I am sure you have heard that before.) To the best of my knowledge, most Provence books are about anecdotal village life or living in the countryside with a swimming pool, summer guests, lunch under the platanes to the chant of cicadas or lovely outdoor dinners next to the shimmering pool—in short, lavender-scented bliss. The only sour notes are unreliable workmen and the weird French shopping hours. When my husband and I decided to retire in France, we sold our house in Washington and bought an apartment in the old center of Aix-en-Provence, away from the pleasures and burdens of the house with garden and constant guests; ready to tackle the urban challenges of difficult parking, narrow streets, dog poop, and hordes of tourists. We planned to "do as they do" and blend in as much as possible. So how did it work out? Like a charm, thank you! And why not? Aix is much more sophisticated than we expected. Both the hedonist and culture vulture in us are richly rewarded with a Roman thermal spa in town (and the beach 40 minutes away), the bounty of provençal farms brought to sunny markets every day, an opera festival in the summer and a 3-day literary fest in the fall where Nobel-prize winners and other literary giants come to read and discuss their work with an adoring public. In the past six years or so, I have seen an English bookstore open and flourish in this city and several French bookstores expand and double their space along the high-rent Cours Mirabeau while at the same time more and more independent bookstores in Washington were closing. Today not a single one remains in reader-friendly Georgetown. The same goes for in-town movie theaters which are increasingly going the way of non-chain bookstores in Washington while they do well and get renovated in the center of Aix. And what a pleasure it is to live without a car, which we only use to leave town. Intra-muros everything is within walking distance, even a trip to the hospital or clinic. It is a great pleasure to be able to walk to restaurants, movies, and all manner of shops. And if you absolutely must shop or lunch in Marseille, the Navette (non-stop bus) takes you from downtown Aix to downtown Marseille in 25 minutes. Most unexpected of all, however, was the discovery of the excellent French healthcare system. Both my husband and I have had the "pleasure" to compare the American and French systems in minor and major ways and have nothing but praise for French healthcare.  Not only is it excellent, it is also much less expensive than in the U.S. and French doctors still make house calls! My French friends find all this perfectly normal and don't see what my enthusiasm is all about.  Of course I agree that this should be normal but I know only too well that it isn't in other countries and I happily brag about these differences to my friends in the States. Just imagine, I'll tell them, that beyond the small pleasures of everyday life in Provence you have this wonderful sense of security that leaves you thinking that nothing bad can happen to you here because the government-controlled prices in healthcare just won't allow you to go broke or lose all your savings due to ill health. It's a great comfort. It is quality of life. I don't like to chat on the phone but I am a great e-mailer and whenever I discover another local pleasure or weirdness worth sharing with my friends out goes another e-mail. Life among the French, it seemed, simply begged to be shared—initially in e-mails and later on in my book Ten Years in Provence. The book grew out of my correspondence and the writing was a pleasure. It also turned out to be the easy part, as I found out when I tried to get it published. Numerous rejection letters later I decided to self publish which turned out to be a nightmare. But that's another story…
TEN YEARS IN PROVENCE
by Anne-Marie Simons is available on
Amazon.com
. Anne-Marie Simons has worked as a translator, teacher, journalist, sportswriter (covering Formula One races) and director of corporate communications.  Now happily retired, she lives in the south of France. If you're coming to France (or for that matter anywhere) you can 
reserve your hotel here.
To rent a car, Bonjour Paris recommends 
Auto Europe
.
SUBSCRIBE
ALREADY SUBSCRIBED?
BECOME A BONJOUR PARIS MEMBER

Gain full access to our collection of over 5,000 articles and bring the City of Light into your life. Just 60 USD per year.

Find out why you should become a member here.

Sign in

Fill in your credentials below.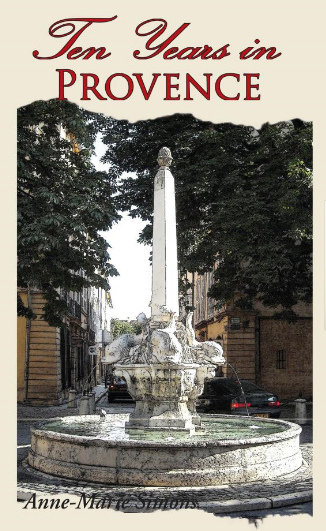 When I recently published a book about Provence, I was, of course, well aware of the fact that the subject was not exactly original and had been treated numerous times before. Since Peter Mayle came out with A Year in Provence in 1989 he has often been imitated but never equaled. And, even though the flow of Provence books may have slowed to a trickle, new tales do continue to drip-drip into bookstores.
So why add another one? Well, because… this one is different. (I am sure you have heard that before.) To the best of my knowledge, most Provence books are about anecdotal village life or living in the countryside with a swimming pool, summer guests, lunch under the platanes to the chant of cicadas or lovely outdoor dinners next to the shimmering pool—in short, lavender-scented bliss. The only sour notes are unreliable workmen and the weird French shopping hours.
When my husband and I decided to retire in France, we sold our house in Washington and bought an apartment in the old center of Aix-en-Provence, away from the pleasures and burdens of the house with garden and constant guests; ready to tackle the urban challenges of difficult parking, narrow streets, dog poop, and hordes of tourists. We planned to "do as they do" and blend in as much as possible.
So how did it work out? Like a charm, thank you! And why not? Aix is much more sophisticated than we expected. Both the hedonist and culture vulture in us are richly rewarded with a Roman thermal spa in town (and the beach 40 minutes away), the bounty of provençal farms brought to sunny markets every day, an opera festival in the summer and a 3-day literary fest in the fall where Nobel-prize winners and other literary giants come to read and discuss their work with an adoring public. In the past six years or so, I have seen an English bookstore open and flourish in this city and several French bookstores expand and double their space along the high-rent Cours Mirabeau while at the same time more and more independent bookstores in Washington were closing. Today not a single one remains in reader-friendly Georgetown. The same goes for in-town movie theaters which are increasingly going the way of non-chain bookstores in Washington while they do well and get renovated in the center of Aix.
And what a pleasure it is to live without a car, which we only use to leave town. Intra-muros everything is within walking distance, even a trip to the hospital or clinic. It is a great pleasure to be able to walk to restaurants, movies, and all manner of shops. And if you absolutely must shop or lunch in Marseille, the Navette (non-stop bus) takes you from downtown Aix to downtown Marseille in 25 minutes.
Most unexpected of all, however, was the discovery of the excellent French healthcare system. Both my husband and I have had the "pleasure" to compare the American and French systems in minor and major ways and have nothing but praise for French healthcare.  Not only is it excellent, it is also much less expensive than in the U.S. and French doctors still make house calls!
My French friends find all this perfectly normal and don't see what my enthusiasm is all about.  Of course I agree that this should be normal but I know only too well that it isn't in other countries and I happily brag about these differences to my friends in the States. Just imagine, I'll tell them, that beyond the small pleasures of everyday life in Provence you have this wonderful sense of security that leaves you thinking that nothing bad can happen to you here because the government-controlled prices in healthcare just won't allow you to go broke or lose all your savings due to ill health. It's a great comfort. It is quality of life.
I don't like to chat on the phone but I am a great e-mailer and whenever I discover another local pleasure or weirdness worth sharing with my friends out goes another e-mail. Life among the French, it seemed, simply begged to be shared—initially in e-mails and later on in my book Ten Years in Provence. The book grew out of my correspondence and the writing was a pleasure. It also turned out to be the easy part, as I found out when I tried to get it published. Numerous rejection letters later I decided to self publish which turned out to be a nightmare. But that's another story…
TEN YEARS IN PROVENCE by Anne-Marie Simons is available on Amazon.com.
Anne-Marie Simons has worked as a translator, teacher, journalist, sportswriter (covering Formula One races) and director of corporate communications.  Now happily retired, she lives in the south of France.
If you're coming to France (or for that matter anywhere) you can reserve your hotel here. To rent a car, Bonjour Paris recommends Auto Europe.
---
---