Each Fou de France now has a godfather, sort of like Miss France, to help them do the right thing, smooth the transition from good to great. Imagine how they feel, young mavericks, peeping out into a designer dining-room. The joint is dripping with Swarovski crystals, upholstered chairs have pull out draws on which rest Hermes/Gucci/Vuitton arm candy. Do the Fous wish their dining room staff would don white cotton gloves to grate the black truffles?
Ever had a Petit Dejeuner Gascon? Fine strips of foie gras lightly seasoned with balsamic, olive oil, sel de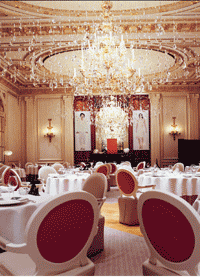 Guérande and fresh pepper cover a generous slice of freshly made toasted bread. There's humour in Biasiolo's creations, his version of a cup of tea is: "brew my own"! A muslin bag is filled with an infusion of ham, celery, garlic and burnt toast! Instead of marmalade you get chutney and quince jam with nice notes of vine leaf! A 2003 Rouge-Côtes du Marmandais Chante Coucou is matched with this.
Other Gascon adventures include destructured moules and chips. Paired with a re-interpretation of the Ricard classic aperitif, "la Ricard peanut", served in a Ricard glass is a smooth broth made with fennel purée, lightened with a bouillon of langoustine, finished with a cloud of peanuts. Imagine a Chante Coucou 1998 Rosé sipped slowly, ahhh!
Biasiolo asks many questions of traditional cuisine, he's a Young Restaurateur of Europe formed by Michel Bras, so it's hardly surprising. Sometimes he's got the answers, as with the above petit dejeuner, and his brilliant Modernisation d'un turbot Meunière (2004 Coucou Blanc), but he needs to keep it simple and Rouleau de Jambon Macedoine de Legumes Mayonnaise Mais seems overloaded with ideas. Le Monde est Fou a chocolate dessert served smoking with carbonic ice was cute, we were children again, with our future ahead looking bright. As does Biasiolo's. The final glass of red Mout was raised to a plucky young chef, his wife Laurence, brother Benoit and all his team. The Petit Dejeuner Gascon features on the Plaza's menu through mid-January.
Meanwhile, at 59, Joel Robuchon's former *** Michelin canteen, which, you recall, he handed over to Alain Ducasse in 1996, announcing his retirement. At the time the Flaubert of the kitchens declared: "Only Alain Ducasse has the talent to run my restaurant". Now, an interesting exchange of ideas is taking place. 59 the magnificent Hotel Particulier is hosting banquets and the team have transferred to the adjacent Relais du Parc, expect interesting new contemporary décor, the perfect backdrop for a menu of "the best of" Ducasse & Robuchon.
Hurry there for Ducasse delicacies (marked with a red sign) such as Cocotte of
Autumn vegetables with raw fruit. Red mullet, sautéed with white and green swiss chard àla niçoise. His famous, you love it or hate it pasta shells and ham with or without black truffles. His crispy lard and pompadour potatoes, pig's ear and tongue side-salad. And Orange flan with wild clementine marmalade. As for Robuchon, no sign of the orgasmic Gélée du Caviar à la crème de choufleur, but a soothing (marked in black) Pumpkin soup, served in mini pimpkin shells, scattered with pumpkin seeds. Robuchon's classic Whiting (Merlan en colere) with herb butter and his Petits Pots of vanilla and chocolate mousse. And the excellent plump little pigeon, wrapped like a welcome Christmas gift, with cabbage and foie gras.
Neither chef is in the kitchen, bien sur. The young and talented Romain Corbière holds everything together in a state-of-the-art kitchen, using the finest seasonal products money can buy. Ex- Bar & Boeuf and Le Louis XV, Corbière's dishes are light, inventive, delicate enough to be enjoyed alongside the two superstar chefs. Say, terrine of beef pot au feu, served with a hot broth and a beetroot and mustard condiment. Monkfish studded with chorizo, couscous of vegetables, harissa and chickpea condiment and Praline tart de Provence.
There's a comprehensive wine list by Gerard Margeon, many wines served by the glass including the excellent Champagne Paul Drouet Cuvée Special Alain Ducasse. Read in front of the fireplace, you'll conclude there's no place like Le Relais du Parc.
New Year's Eve: Book now for a night to remember, it's cheap at 200€ – try doing it at home for the same price. Begin with Foie gras laqué de sucs épices. Continue with marinated Saint-Jacques, caviar Osciétre. Then, Paté en croute. Follow with Roast Lobster, cèpes, chestnuts and coral jus. The main is Venison with roast winter vegetables, pepper sauce. Then comes Mont d'Or creamy cheese from the Jura, after which a Lemon rhubarbe croustillant will be most welcome before you attack the Fingers au Chocolat and coffee and mignardises. Bon Appetit.
Happy New Year!
Address Book.
Une Auberge en Gascogne,
9 Faubourg Corné,
47220 Astaffort,
T: 05 53 67 10 27
www.idealgourmet.com

Foie Gras from Les Saveurs de Lacoste

T: 05 62 08 54 96
Wines from Elian de Ros,
T: 05 53 20 75 22
The Plaza Athenee,
25 avenue Montaigne, 8th (Metro: Franklin Roosevelt)
T: 01 53 67 65 00
Le Relais du Parc,
55-57 Avenue Raymond Poincaré 75116. Paris.
www.sofitel.com
About 50€ + wine
Open Tues-Sat. Valet parking
New Years Eve Dinner 200€ + wine