Visiting the Town of Cognac and the Otard Cognac Distillery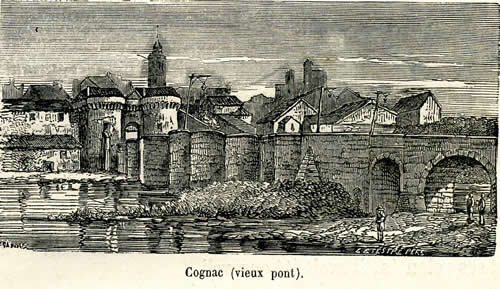 Antique postcard image of Vieux Cognac. Cognac has been a tourist town for centuries not for its eponymous distilled spirits, but for its location. It's on one of the ancient pilgrimage routes to Santiago (St. James) de Compostella in northwest Spain, and, for centuries, religious travelers stopped to rest at Cognac's churches on their way to Galicia. The Tours Saint-Jacques (St. James Towers) along the Charente River date from this time. Lately, though, the town of 20,000 has fallen off the tourism radar. I ended up there by chance on a weekend getaway, and found this out-of-the-way part of France steeped in history and tradition. For starters, King François I was born here two years after Christopher Columbus first set sail in search of a route to Asia. I was familiar with his Anglicized name of Francis I, this first Renaissance monarch of France, whose name was given to a sterling silver pattern by Reed & Barton that's unaccountably popular among my friends. A contemporary of Henry VIII of England, Holy Roman Emperor Charles V and Suleiman the Magnificent, he was the architect of many cultural advances for his country.   Castle Valois, birthdplace of François I (today known as Château de Cognac). He was born in the Château de Cognac in 1494, and its current owners are delighted to show you the exact room. The château is now the home of Otard, one of the premiere brands of eau de vie (brandy) produced in Cognac. Spirits, however, weren't the first produit de gastronomie created in the region of Poitou-Charentes. Back in 1215, Jean Sans Terre – better known to us English-speakers as John Lackland (who became the King John of Magna Carta fame) issued the town a charter for the salt trade. The marshy Atlantic coast of Charente is the perfect place to produce evaporated sea salt, which was a valuable commodity in a time that relied on salt for food preservation. Salt trade was the start of the town's prosperity. The Old Town, the medieval quarter called Vieux Cognac, still contains many unusual old buildings on its narrow, cobbled streets. The 17th century brought brandy production, begun when it was discovered that distilled alcohol traveled better by ship to northern Europe than wine. My tour guide pointed out gargoyles and other figures on the richly decorated wooden façades. There were lots of salamanders. This animal, more in its mythic incarnation as a relative of the dragon than its lowly existence as a lizard, was Francis I's symbol. In an era when towns and castles regularly burned to the ground, the salamander was said to thrive amidst the flames. Vieux Cognac runs from the river up to the Saint-Léger church, founded in the 11th century. It's noted for an unusual 18th century portal decorated with the signs of the zodiac. Cognac's main square is, of course, named for Francis I, and a statue of the king on horseback towering over his enemies is found at the center, right on the spot where a bastion once stood as part of the town's defenses during the Hundred Years' War. According to French law, only brandy made in certain areas around the town of Cognac during particular times of the year can be called "cognac." There are some good eaux de vie produced outside this Appellation d'Origine Contrôlée, but they are not cognac. Not surprisingly, the economy revolves around this particular form of brandy. Almost everyone I spoke to had some connection to the dominant industry, whether it was in the distillation process itself, or producing the barrels for aging, the bottles and corks, printing the labels, or the distribution and shipping. I was told that 95% of the production was exported. The very air of cognac seemed redolent with eau de vie due to the ubiquitous black mold. If you look around town, you'll see buildings old and new shaded with the distinctive fungus. Called the "angel's share", this is the evidence of cognac evaporating from oak barrels in nearby warehouses and cellars as it ages. I took the Otard cognac tour because I wanted to see inside the historic chateau (owned by the Otards since the end of the 18th century), but there are lots of others. Tours of Hennessy, Camus, Martell also are in Cognac, with Louis Royer and Courvoisier just down the River Charente in Jarnac. I stayed in the absolutely fabulous Logis du Fresne in the nearby village of Juillac le Coq. Inside, the rustic guestrooms have every luxury, and outside is the restful quiet of the countryside. Great restaurants were everywhere in the region. A few of my favorites are Le Coq d'Or in Cognac (try the Moules marinières au Pineau des Charentes), Château de l'Yeuse in Chateaubernard and La Ribaudière in Bourg-Charente. PRACTICAL INFORMATION
Cognac Official Tourism Bureau
City of Cognac
site (in English)
Cognac Otard
Château de Cognac Tél: 05 4536 8886 127, Boulevard Denfert Rochereau, BP 3 16100 Cognac Visit April through October 31 annually Entry (2012 prices) €9 adults; children under 12 admitted for free when accompanied by adult; reduced entry for teens and groups of 20
SUBSCRIBE
ALREADY SUBSCRIBED?
BECOME A BONJOUR PARIS MEMBER

Gain full access to our collection of over 5,000 articles and bring the City of Light into your life. Just 60 USD per year.

Find out why you should become a member here.

Sign in

Fill in your credentials below.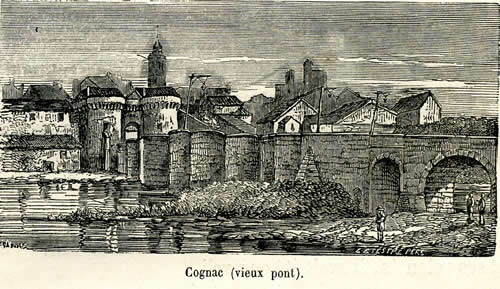 Antique postcard image of Vieux Cognac.
Cognac has been a tourist town for centuries not for its eponymous distilled spirits, but for its location. It's on one of the ancient pilgrimage routes to Santiago (St. James) de Compostella in northwest Spain, and, for centuries, religious travelers stopped to rest at Cognac's churches on their way to Galicia. The Tours Saint-Jacques (St. James Towers) along the Charente River date from this time.
Lately, though, the town of 20,000 has fallen off the tourism radar. I ended up there by chance on a weekend getaway, and found this out-of-the-way part of France steeped in history and tradition. For starters, King François I was born here two years after Christopher Columbus first set sail in search of a route to Asia.
I was familiar with his Anglicized name of Francis I, this first Renaissance monarch of France, whose name was given to a sterling silver pattern by Reed & Barton that's unaccountably popular among my friends. A contemporary of Henry VIII of England, Holy Roman Emperor Charles V and Suleiman the Magnificent, he was the architect of many cultural advances for his country.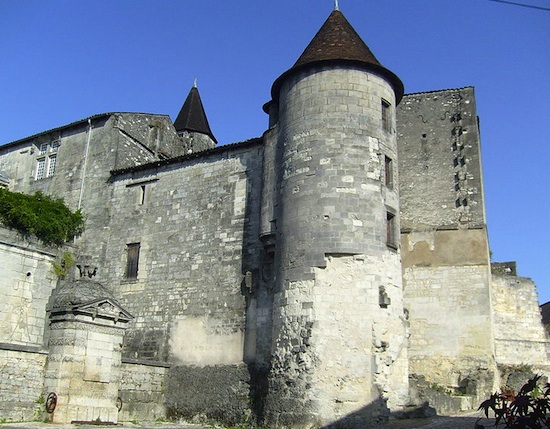 Castle Valois, birthdplace of François I (today known as Château de Cognac).
He was born in the Château de Cognac in 1494, and its current owners are delighted to show you the exact room. The château is now the home of Otard, one of the premiere brands of eau de vie (brandy) produced in Cognac.
Spirits, however, weren't the first produit de gastronomie created in the region of Poitou-Charentes. Back in 1215, Jean Sans Terre – better known to us English-speakers as John Lackland (who became the King John of Magna Carta fame) issued the town a charter for the salt trade. The marshy Atlantic coast of Charente is the perfect place to produce evaporated sea salt, which was a valuable commodity in a time that relied on salt for food preservation.
Salt trade was the start of the town's prosperity. The Old Town, the medieval quarter called Vieux Cognac, still contains many unusual old buildings on its narrow, cobbled streets. The 17th century brought brandy production, begun when it was discovered that distilled alcohol traveled better by ship to northern Europe than wine.
My tour guide pointed out gargoyles and other figures on the richly decorated wooden façades. There were lots of salamanders. This animal, more in its mythic incarnation as a relative of the dragon than its lowly existence as a lizard, was Francis I's symbol. In an era when towns and castles regularly burned to the ground, the salamander was said to thrive amidst the flames.
Vieux Cognac runs from the river up to the Saint-Léger church, founded in the 11th century. It's noted for an unusual 18th century portal decorated with the signs of the zodiac.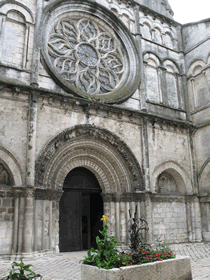 Cognac's main square is, of course, named for Francis I, and a statue of the king on horseback towering over his enemies is found at the center, right on the spot where a bastion once stood as part of the town's defenses during the Hundred Years' War.
According to French law, only brandy made in certain areas around the town of Cognac during particular times of the year can be called "cognac." There are some good eaux de vie produced outside this Appellation d'Origine Contrôlée, but they are not cognac. Not surprisingly, the economy revolves around this particular form of brandy.
Almost everyone I spoke to had some connection to the dominant industry, whether it was in the distillation process itself, or producing the barrels for aging, the bottles and corks, printing the labels, or the distribution and shipping. I was told that 95% of the production was exported.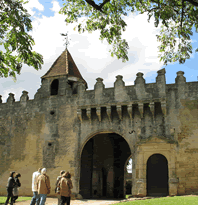 The very air of cognac seemed redolent with eau de vie due to the ubiquitous black mold. If you look around town, you'll see buildings old and new shaded with the distinctive fungus. Called the "angel's share", this is the evidence of cognac evaporating from oak barrels in nearby warehouses and cellars as it ages.
I took the Otard cognac tour because I wanted to see inside the historic chateau (owned by the Otards since the end of the 18th century), but there are lots of others. Tours of Hennessy, Camus, Martell also are in Cognac, with Louis Royer and Courvoisier just down the River Charente in Jarnac.
[See this related article for more about Cognac tours: French Cognac: The Ultimate Indulgence]
I stayed in the absolutely fabulous Logis du Fresne in the nearby village of Juillac le Coq. Inside, the rustic guestrooms have every luxury, and outside is the restful quiet of the countryside. Great restaurants were everywhere in the region. A few of my favorites are Le Coq d'Or in Cognac (try the Moules marinières au Pineau des Charentes), Château de l'Yeuse in Chateaubernard and La Ribaudière in Bourg-Charente.
PRACTICAL INFORMATION
Cognac Official Tourism Bureau
City of Cognac site (in English)
Château de Cognac
Tél: 05 4536 8886
127, Boulevard Denfert Rochereau, BP 3
16100 Cognac
Visit April through October 31 annually
Entry (2012 prices) €9 adults; children under 12 admitted for free when accompanied by adult; reduced entry for teens and groups of 20

Subscribe for
FREE

weekly newsletters with subscriber-only content.
BonjourParis has been a leading France travel and French lifestyle site since 1995.
Readers' Favorites: Top 100 Books, imports & more at our Amazon store
Guides to to help you wander France…please click on an image for details.
Thank you for using our link to Amazon.com…we appreciate your support of our site.
---
---