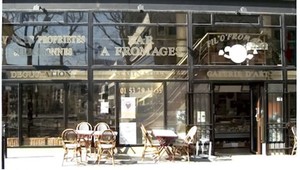 Paris is replete with delicious possibilities for tasting redolent cheese, delectable charcuterie and wine. Every quartier sports enticing Fromageries, often run by noted affineurs who age their vast selections of cheese to perfection. You purchase your treasures ripe for consumption when you want to enjoy them most, for a picnic that afternoon or with tomorrow's dinner.  But surprisingly, there are not so many choices for having a master affineur compose a brilliant selection of irresistible cheese just for you to enjoy sur place in convivial surroundings.  At Fil O Fromage, tucked away in the 13th, lovers of cheese, charcuterie and wine find their personal foodie-nirvana on an artfully composed assiette. Actually, on one of twenty-four remarkable assiettes!

If you love to feast on perfect French and other European cheese along with perfectly paired artisanal charcuterie and a glass or two of a well-matched wine, then treat yourself to a memorable repas at this intimate cheese and wine specialist in the 13th near Bibliothèque Nationale and Bercy Village.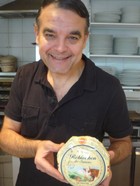 Cherif Bourbit is the propriétaire of Fil O Fromage. He is an accomplished affineur and is also supremely knowledgeable about French wines.  Cherif prides himself on finding and featuring small-scale, often little-known winemakers all with an eye to serving wines that complement his cheese and charcuterie.  And even better, Cherif is one of those infectiously engaging Parisian culinary artisans whose heart, soul and mind are utterly focused on perfection in their chosen métier.
Cheese-lovers can enjoy one of twenty-four formidable "Assiettes Gourmandes Dégustations" priced at 15.50 Euro each. All of the Assiettes Gourmandes include salad, bread, and a selection of artisanal charcuterie. There are generally three to four generous pieces of cheese per assiette.   Cherif will happily suggest a glass or a bottle of wine to complete your feast. Trust him! It will be good.
Fil O Fromage offers six 'thematic' platters that proffer selections of a certain type of cheese… for example, goat or sheep's milk cheese, perhaps a range of blue cheeses, or even flavorful bries. There are six choices for "Les Européennes", selections of Spanish, Dutch, Swiss, English and Italian cheese, even an assortment from Luxembourg! And, of course, celebrating a nation with more types of cheese than there are days in the year, there are twelve "Les Régionales" gathering cheese from regions of France including Alsace, the Aveyron, Burgundy, Lyon, Normandy and more.
The Lyonnaise selection includes those splendid gooey, rich raw-milk St. Feliciens and St. Marcellins plus Rigotte de Montagne and delicious charcuterie.  My favorite is the 'Corsica' assiette featuring Tome de Brebis, Brebis Corse Cremeux, Brebis aux Herbes du Maquis, and charcuterie including Jambon de montagne Corse, Coppa, Lanzo and Figuateli. Superb.  Of course, Cherif even has delicious red and white Corsican wines.
This is not a meal for the faint of appetite! And just in case one of these assiettes is not your concept of perfection, a platter can be assembled just for you. There are also smaller salads, sandwiches, and cheese-based entrées to enjoy.  In addition to settling in to the convivial downstairs bar or café or in the upstairs dining room to enjoy your personal tour de Fromages, you can also buy any of the cheese, charcuterie, fruit confitures, and of course, those wonderful wines to take back to your hotel, apartment, or to nearby Parc Bercy for the picnic of your dreams.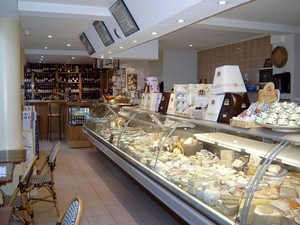 Fil O Fromage. www.filofromage.com Open Tuesdays through Saturdays, 10 to 8:30.  Closed on National Holidays.  Check the website for jazz evenings, art exhibitions or other special events. 12 rue Neuve Tolbiac. Metro: Bibliotheque or Cour St. Emilion.
Sally Peabody is a cheese-loving Paris Specialist and writer. Her company, Your Great Days in Paris, advises and coaches Francophiles on optimizing their time in Paris, on their own or with great private guides. Sally also leads spring and fall, small-group, 'foodie' tours in Paris, Lyon, the Pays Basque and Tarn et Garonne. Her Paris guidebook "Take Paris Personally, Discovering Quintessential Paris' is also available in E-Guide form. http://www.yourgreatdaysinparis.com