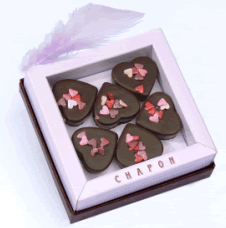 English art at the Louvre it's just been announced there's to be a new gallery, dedicated to BritArt, opening next year, apparently the Louvre has been buying up watercolours, the better to beef up their stock of English works: a sort of French style Frick Collection? Most people love their native country, don't you find? "Once a Corsican, always a Cosican", say cousins Augustin and Pierre-Marie Grisoni, of Villa Corse, Rive Droite. There's one on the Rive Gauche, same owners, same concept of fresh products direct from the Ile de Beauté – just like Laetitia Casta. Remember this space before? The crumbling Asian palace, so loved by local chefs. It's now undergone a sort of Tsunami, everything's gone, in it's place a handsome Corsican Villa serving breakfast, lunch and dinner. All they need are a few chambres, that's a possibility with Villa Maillot, the tres chic hotel, right next door.
Corsica's most famous son is, of course, Napoleon, born in Ajaccio 1769. He never returned to the island after becoming Emporer of France, no, I've no idea why, maybe Corsica Ferries was en greve.  Seems there's a mini revolution going on at Villa Corse, director Thierry Clement tells BUZZ they are not planning any celebrations for Saint Valentine. So, if you hate all the kerfuffle, book fast. The décor is sumptuous, Napoleonic in its' terra cotta splendour, log fire, bar/ lounge with newspapers and magazines, Corse Matin bien sur . The library is set with tables, a great spot for breakfast or afternoon tea, when you call ask Julie for Table No. 49 or 50. the round ones by the fire.
Chef Didier Vanhulsts roasts Corsican sea-bass on a bed

of fennel, drizzles it with local olive oil. Starters include Terrine of Wild Boar with myrtle and onion compote, a soothing glass of chestnut capuccino with hazlenuts or a macho plate of local charcuterie, coppa, lonzu, prisuttu, saucisson. Mains include squid, lightly fried in Terra Rossa oil, wild thyme and cherry tomatoes. There's linguine aux palourdes and saffran courgettes or cannelloni au brocciu. filet de boeuf Patrimonio, duck with polenta. It's all good, tasty and generous. Wines are, of course, Corsican. The Red Cuvee Corse (Domaine San Michele) AOC is the house wine and comes from vines in the Ortolo Valley(35€).
And, if you don't do Valentine's but want to decorate the table at Villa Corse, give your funny V… a heart-shaped surprise, cheaper than Cartier, nip down to Patrice Chapon and grab one of his limited edition jewel boxes, "La Boite au Coeurs". 
Meanwhile, back in the real Valentine world, chez Petrossian, at Le 144, Rougui Dia plans a menu to marry with La Cuvée Ruinart Pink Champagne.  "Ruinart Rosé has extraordinary aromas and is sensational on the palate. As well as an aperitif, I find it matches my dishes to perfection", says Rogui. So, expect Duo de caviar Alverta Impérial avec ses toasts et blinis. Cut coeurs de saumon fumé and Rogui's signature, Dos d'Esturgeon grillé et caviar Ossetra Royal, followed by Kysciellis (compote in Russian darling) of blackberries, bitter almond jelly and sorbet of Ruinart Rosé. Wash all this down with a bottle of Ruinart Rosé (included in the price) and Rogui's Valentine gift to take home, the elegant Coffret Duo Ruinart which sells for 56€ chez Lavinia or Nicholas.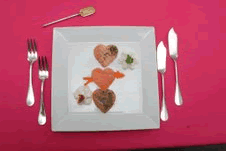 It's tres beau at Beauvilliers, where young chef Yann Paran (ex- Table d'Anvers, L' Arpege) is planning a 6-course dinner showcasing dishes his regular clients know and love. Gougeres and frivolities with the aperitif. Foie Gras de canard poché au vin d'oranger et épices with a pear marinated in Bordeaux. The mid-main of Dos de Saint-Pierre is roasted with black truffles and leek risotto. Main is Veal with baby vegetables and, the icing on the gateau: Vanilla Tahiti Millefeuille, aniseed ice-cream. Pick a Fiefs de la Grange 2002 (56€) and ask Mehdi for a nice cigar (Cohiba Esplendidos 20€). Royal.
Le Saut du Loup is the hip new black and white canteen (design by Philippe Boisselier) located in the Musée des Art Decoratif. On two levels, facing the Jardins of the Carrousel and, with Boisselier's brilliant play of mirrors, the Eiffel Tower is everywhere. "Here you can combine culture, sighseeing and gastronomy, which is really exciting", says chef Pascal Bernier. His Valentine dinner begins with a flute of champagne, amuse-bouches, foie gras, Saint Jacques are steamed with lentilles and topped with a cinnamon souffle, patisserie is by Laduree, or choose apple crumble or chocolate ice cream coupes. If you're really feeling romantic Dom Pérignon rosé (580€). It's only once a year dear.
Pascal Chanteloup the young talent at Le Restaurant, Le Club-Maison des Polytechnicians looks forward to Valentines because, "this 17th century Hotel Particulier lends itself to romance". You don't have to be a member, just call and reserve to discover a very private address. After the mise- en- bouche there's a Consommé of langoustine and Saint-Jacques, then crème of foie gras and pastilla of lobster. The "plat" is a tender filet mignon de veau with mushrooms and baby vegetables spiked with coriander. A little lemon and raspberry granité is followed by a "Douceur de la Saint-Valentin. Coffee, macaroons: carriages at dawn.
Villa Corse
Rive Droite,
141, avenue de Malakoff, 16th (Metro:Porte Maillot),
T: 01 40 67 18 44
Shut Sunday
Valet Parking
Average Spend –Lunch 25€ with glass of wine
Be My Valentine –
Dinner: 40-50€ + wine
Breakfast 12€
Next door:
Hotel Villa Maillot,
143 Avenue de Malakoff, 16th,
T: 01 53 64 52 52
Petrossian,
144 rue Université, 7th (Metro: Invalides)
T: 01 44 11 32 32
Valentine Dinner 160€ including champagne
Yann Paran @ A. Beauvilliers,
52 rue Lamarck, 18th (Metro: Lamarck-Caulaincourt)
T: 01 42 55 05 42
Valentine dinner 85€ per person    
Le Saut du Loup,
107 rue de Rivoli 1st (Metro: Tuileries)
T: 01 42 60 64 95
Valentine dinner 100€ + wine includes mineral water
Restaurant Le Club – Maison des Polytechnicians,
12 rue de Poitiers, 7th (Metro: Solferino)
T: 01 49 54 74 54
Valentine Dinner 85€ with champagne + mineral water
Leave a reply
Your email address will not be published. Required fields are marked *