Vacation to the French Riviera for Carnival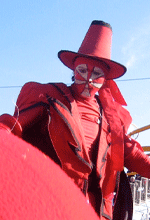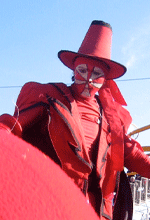 Every winter the French Riviera comes alive during Carnival- a two-week extravaganza hosting carnival parades, beautiful flower parades, concerts, shows, fireworks, and gala soirees.  Unlike America's version of Carnival (Mardis Gras in New Orleans), the Nice Carnival originates from the Middle Ages- when Catholics, prior to the start of Lent, would indulge in rich, plentiful, and fatty foods.  Indeed, it is the day of Mardis Gras (Fat Tuesday), which closes Carnival- and thus, is the last day of indulgence before the 40-day fast of Lent commences on Ash Wednesday.
In the early days of Carnival, the French were known to walk a fat cow through the streets, so that the public would be reminded that they were not to eat meat during Lent.
Today- with such a vast variety of religions in the region- the atmosphere is not as religious.  However, it is just as festive.  Music abounds, confetti flies, fireworks erupt, and various forms of entertainment take place all over the city. Passersby are happy to have confetti and streamers caught in their hair.
All of the parades are held on the famous "Promenade des Anglais," which provides the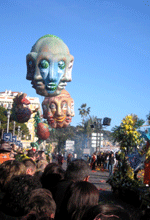 breathtaking backdrop of the azure-blue Mediterranean Sea.  In between shows and parades, visitors can explore the narrow streets of Old Nice, taste the local cuisine, or shop.  Though it is winter, the sun is known to shine and the days are mild.  Nice also houses a few casinos.
Monaco is right next-door (a short twenty-minute drive), and is highly recommended.  The Monte Carlo Casino is quite a site.  Though a lot smaller than anything in Las Vegas, it is a lot more elegant- so just remember to dress for the occasion (suits for men and absolutely no jeans). 
The atmosphere of the French Riviera during Carnival is festive, happy and warm.  It is also polite.  Don't come expecting the drunken rowdiness and flashing of breasts one sees on
Bourbon Street
in New Orleans.  This carnival exudes a maturity of laid-back calm that rarely gets that out of hand.  Indeed, if New Orleans wears you out, then this carnival will provide a pleasant escape.
The downfall is that if you want to do the carnival right, you will have to fork over some
dough.  None of the parades or large shows are free.  One must pay anywhere from 10-15 euros for one general admission ticket and anywhere from 20-30 euros for a numbered seat.  The upside is that you can walk away saying that you experienced the real French Mardis Gras.
Nice is about ten hours away from Paris by car or five-and-a-half by train.  Go to www.sncf.com for train schedules.  Press on the British flag for English.  Tickets are around $200.  However, for almost the same price, one can fly to Nice in a little over an hour from Paris Orly Airport.  Go to www.airfrance.com.
---
A REFLECTION of CARNIVAL 2006:
For the commencement of the Carnival this year, Her Majesty, the Queen of England- took a lap in her Rolls Royce at the start of the parade.  She was greeted by a troop of men dressed up as busty teenage girls- wearing blond wigs, pink skirts, black tights, florescent legwarmers and black sweatshirts with "Je suis une blonde" printed on them.  This translates to, "I am a blond." 
The troop mimicked the stereotypical blond by flirting with the crowd and then clumsily falling into each other as they danced.  As the Queen passed, the troop screamed "God save the Queen," while crazily jumping up & down and laughing like little schoolgirls.
Leave a reply
Your email address will not be published. Required fields are marked *