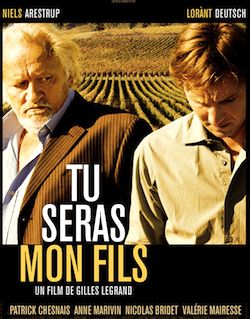 The film begins as a lugubrious family drama. Paul de Marseul (Niels Arestrup) is a distinguished vintner in the St-Emilion region, so renowned he is to be awarded the Legion of Honor. He's deeply attached to his vineyard and, now that he is aging, is obsessed with passing it all down to posterity. Normally that should be his son, Martin (Lorant Deutsch). The problem is that Paul has no confidence in Martin; he seems barely able to stand him at all. He keeps asking his daughter-in-law if she's going to have a baby, not out of grandfatherly urging, but probably the idea of generation-skipping. We learn the conflict is due not only to the opposition between the father's alpha-maleness and Martin's consummate nerdiness, but the circumstances of the deaths of Paul's wife and his own father.
The first part of the film is gripping, as the character configurations are laid out—Paul vs. Martin, also Paul vs. his daughter-in-law Alice (who looks like a sourpuss Emmanuelle Béart). Gilles Legrand's direction is rigorous (many terroir movies tend to feel-good self-indulgence) and the dialogue so astringent that listening to it feels like biting into a lemon. We see how the wine business is run, from cultivating the grapes to marketing the final product. Paul is a man with a feel for the soil and the vine, and he has warmer relations with his employees than with his own son. Martin is more modern, interested in doing business and exploring new technology. He irritates his father no end by jogging through the vineyard with his MP3 player (Paul says he's an aesthete, not an athlete).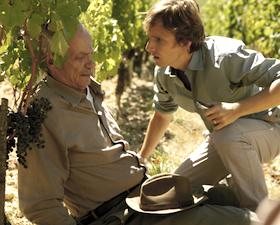 What catalyzes the story is the cancer and impending death of François (Patrick Chesnais), Paul's right-hand man. It's made clear that François is responsible for much of the vineyard's success, and his future departure spells disaster. Martin is eager to take François's place, but Paul will hear none of it. He keeps working on François (and plying him with wine) to keep him on the job, ironically hastening his end. For a film set in lush verdure, Son is haunted with aging and death, the razor's edge between fertility and sterility—the drama is ultimately less about Freud than the Fisher King.
The performances are strong, but mostly one-dimensional. Arestrup gives a thoroughly nasty portrayal as Paul—it might rank as a classic of repugnance. He also convincingly shows Paul's love of savoir vivre, but the bon vivant is missing—there's no real love of life. Lorant Deutsch gives depth of feeling to Martin, but the feelings lack charm, which adds a gnarled authenticity, but there's nothing to warm to. Both Paul and Martin are depicted without any redeeming features, while the secondary characters seem more human, with both negative and positive qualities. It's the dying François, especially, brilliantly played by Chesnais, who gradually dominates the movie.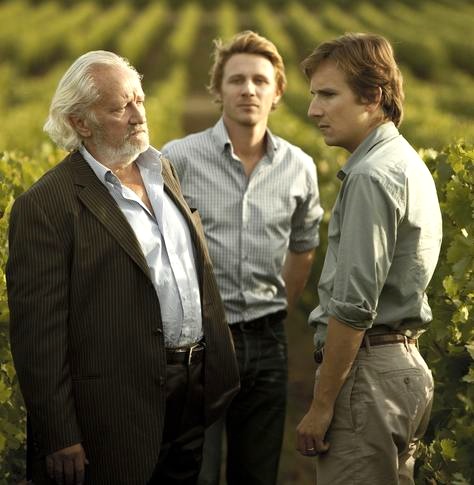 In the hands of a better filmmaker, the story would have developed and found a satisfying resolution. Instead, Son lurches from drama to grim melodrama. François also has a son, Philippe (Nicolas Bridet), who manages a vineyard in California (Coppola's, no less). Bridet resembles a callow Mathieu Almaric, but if he's callower Philippe still has it over Martin in handsomeness. In addition to looks, Philippe is everything Martin is not: ebullient, charming, and cheerful. Moreover he has a gut-level feel for wine—he can't bring a glass to his mouth without puckering his lips. Paul plans to hire Philippe to manage his vineyard—a job he'd promised his son—then seeks to have Philippe replace Martin altogether. What follows includes bitter disputes, revelations of family secrets, legal machinations, even self-mutilation. As the incidents get more extreme, the director's style goes from clean and controlled to frantic. But we have to admit—this is when the film becomes down 'n' dirty fun. There's even a juicy climax that promises to take the story from Balzac to Edgar Allen Poe. The movie doesn't quite follow through, but You Will Be My Son is still one of the stranger movies of the season.
Distributor: Universal Pictures France
Dimitri Keramitas is a Paris-based film writer who reviews the latest French film releases for BonjourParis every other Wednesday. Most recently he reviewed the film Lourdes.
Grab your own free subscription to BonjourParis & be first to receive Wednesday & Sunday newsletters linked to 50 original stories monthly with travel tips & the latest from France. Since 1995, BonjourParis has been your most complete online France travel & Francophile lifestyle eZine. RSS feed available.
If it's at Amazon.com, you can get it at our Amazon.com Boutique with new items added weekly. Same competitive prices and speedy delivery & your purchases support costs of keeping BonjourParis your most complete online France travel resource.
Search hint: start at the back pages for the most recent stock.
Short-cut? Check out
Current Favorites
for the daily top sellers.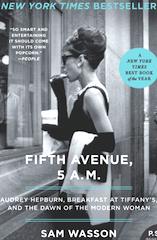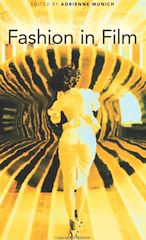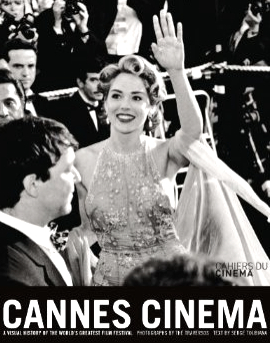 Fifth Avenue, 5 A.M.: Audrey Hepburn, Breakfast at Tiffany's, and the Dawn of the Modern Woman [pub Sept 2011; NYT Best Book of the Year]
Fashion in Film [June 2011, collection of scholarly articles that make for stunning look at fashion in film]
Cannes Cinema [May 2011 release that's a must for serious cinephiles.]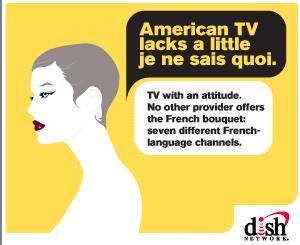 Only the DISH Network offers the "French Bouquet" programming package with 7 French channels, including:
France24 News,
TV5 Monde,
Radio France Intl (RFI),
Eurochannel & more.
Add French news, culture, documentaries, movies & more to your life!
For more, click: "French Bouquet" by DISH Network.