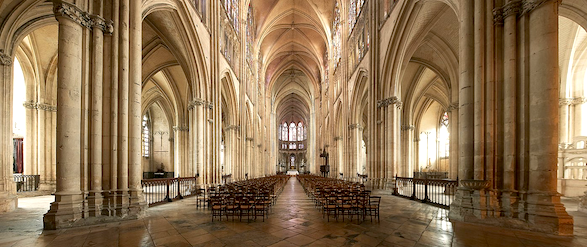 Cathédrale Saint-Pierre-et-Saint-Paul de Troyes. Photo by cbnewham
During the Hundred Years' War, in 1429, Charles VII of France, led by Joan of Arc and accompanied by his army, approached the city of Troyes en route to Reims for his coronation. Nine years earlier, in the Treaty of Troyes the succession of the French throne had been ceded to Henry V of England.  The Dauphin was refused entry to the city, but after a four-day siege the gates were opened and the city returned to French rule. Today a modest plaque on the Cathédrale Saint-Pierre-et-Saint-Paul de Troyes marks this momentous event in the long and tumultuous history of this beautiful city in the heart of Champagne.
Not by design, but simply as the by-product of a long and full history, Troyes has something to fascinate and please almost everyone. From its markets with local and regional gastronomic specialties (andouillettes de Troyes, chaource cheese, and of course Champagne) to its wealth of medieval and Renaissance religious statuary and extraordinary stained glass, to its history as a commercial and cultural center from early medieval times to the present, Troyes is a delightful place to explore.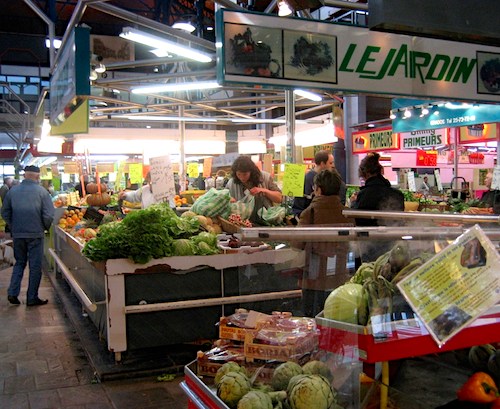 Troyes covered market. Photo by akilacharlie.
First appearing in written history in the Early Roman period as Tricasses, the commercial and strategic importance of Troyes was sealed by the construction of the Agrippa Way. From the fifth century, when Attila the Hun was prevented from plundering the city by St. Loup, the Bishop of Troyes; to the twelfth century when it gained importance as one of the major markets for the Champagne Fairs; to August 1944, when General Patton led its liberation; to October 2007, when the world's first commercial hybrid train arrived from Paris on its inaugural run, Troyes has been a vibrant and vitally important urban center at the crossroads of European history.
Troyes was home to Rashi, the famous 11th century Talmudic scholar; to Chrétien de Troyes, the poet credited with having been the first to write about the love affair of Lancelot and Guinevere and the Holy Grail; and to Pope Urban IV. It is also the place in which the Order of the Knights Templar was established in 1118.
Much of this history can be learned about in the city's many museums. The Maison de l'Outil et de la Pensée Ouvrière (Museum of the Tools) offers a unique collection of 17th and 18th century tools as well as a 20,000-volume library. (If you can't take the time to tour the museum, at least peek into the courtyard of the 16th century Hôtel de Mauroy where it is located, and visit the bookstore.) The Musée de Vauluisant contains both a Museum of History and a Museum of Hosiery, which showcases one of the city's most important industries since 1745. Apothicairerie de l'Hotel-Dieu-le-Comte is an Apothecary Museum; and there is a Museum of Modern Art housed in the magnificently restored 17th century Bishop's Palace, which includes works by Picasso, Matisse, Cezanne, and Modiligiani and is particularly known for its Fauvist collection. The St. Loup Museum has collections of natural history, archeology, and fine art, with works by Ingres and Watteau as well as rare examples of fifth-century gold jewelry.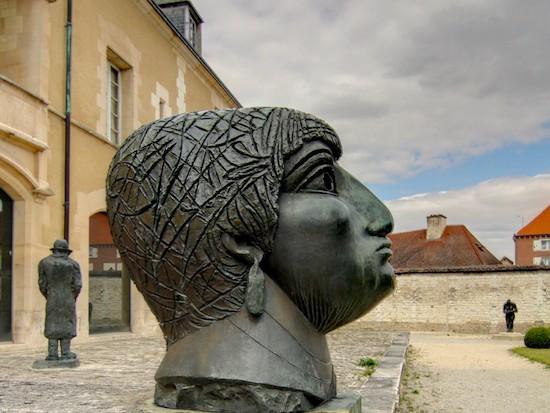 Troyes Modern Art Museum courtyard. Photo by theMUC.
Even without exploring its museums and churches, Troyes offers a feast for the eyes and a living history lesson. Wandering the city center with its quartier of beautifully restored half-timbered houses (one of the largest in France), don't forget to glance up once in a while to appreciate the extraordinarily beautiful architectural details and the narrowness of its medieval streets (one, called Ruelle des Chats, is purportedly so named because the buildings are so close together at the top that cats can leap from one building to another).  The city center is also home to—count them, ten!—religious buildings of historic and architectural significance, including a synagogue and the local parish church in which Henry V of England and the French princess Catherine of Valois were married in 1420.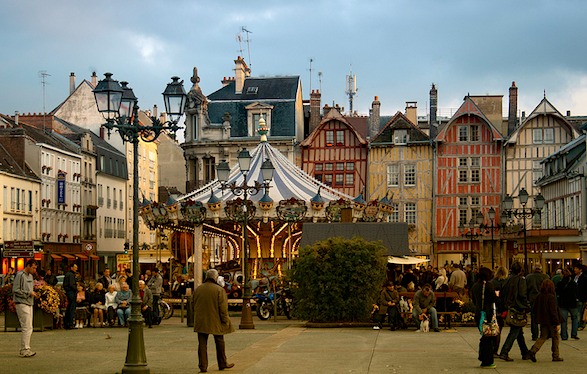 Troyes carousel in old square. Photo by Paristhiva.
While Troyes is often described as having had its "heyday" in the medieval and Renaissance periods, it has never failed to be important. Today the administrative and governmental capital of l'Aube, it remains a thriving cultural, educational, and commercial center in which festivals throughout the year enliven a city that is interesting and lively even without special festivities. The city center offers abundant opportunities for shopping and in the suburbs of Troyes, for those who love finding great bargains, a string of factory outlets beckons.
It would be easy to spend a week or more (maybe even a lifetime) in Troyes and never exhaust all it has to offer. But it is also a wonderful base from which to explore the surrounding area, rich in cultural, historic, and natural attractions. Stay tuned for more about them!

Janet Hulstrand is a writer, editor and teacher based in Silver Spring, Maryland. She teaches Writing From the Heartat the Essoyes School. Click on her name to more about her and read her essays published by BonjourParis.

Subscribe for
FREE

weekly newsletters with subscriber-only content.
BonjourParis has been a leading France travel and French lifestyle site since 1995.
Readers' Favorites: Top 100 Books, imports & more at our Amazon store
We daily update our selections, including the newest available with a pre-release of 30% discount. Find them by starting here at the back of each section, then work backwards page by page.
Smart travelers travel with great guides….click on image for details.
Click on this banner to link to Amazon.com & your purchases support our site….merci!