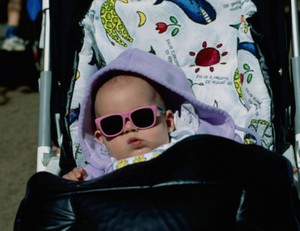 Ten Dos and Don'ts when bringing a baby to Paris
1.  DO come. French Parisians will welcome you and smile at your baby. Paris may be an old city, but remember, hundreds of thousands of children under the age of four live here and there are many activities that specifically cater to them.
2.  DON'T come overloaded with baby stuff. There's no dearth of available baby products, e.g., diapers and baby food in supermarkets.
3.  DO visit museums. Transporting a baby in a baby carrier will make it easy; many museums provide strollers for free. Babies do enjoy paintings, other forms of art and simply looking around. Or they may fall asleep. Lot of museums offer workshops for the older children (from 4 years old and up). Check out whether or not there are programs that appeal to your (older) children and book a session or more on the museum's website. Advance reservations are neccessary.
4.  TRY to avoid taking the metro with a stroller since most stations aren't equipped with escalators nor elevators. Plus, metros can be crowded. When possible, opt to travel by bus. The network is extensive and there's reserved seating for strollers. Plus, children under the age of four travel for free. And parents will enjoy the view during the trip. However, Parisian parents take the metro when they're in a hurry so it's definitely doable. If there are stairs, having two people to transport a stroller avec baby is easier on adult backs.
5.  DON'T take a taxi without having reserved one with a baby car-seat unless your stroller is equipped with one. Few taxis transport them in their trunks, so you'll need to call a taxi company to specifically request a car seat.
6.  DO participate in baby-friendly workshops in museums. For example, the science museum in La Villette (Cité des enfants) has a section dedicated to children age 2 and above, and the music museum (Cité de la musique) organizes visits for children from age 3 years old accompanied by one adult. The Cluny, Paris's Museum of the Middle Ages, also has its specific baby+parents visits; the first part is a cultural visit for adults while the second part is music and stories for children (in French only). Advance booking is necessary for all activities.
7.  DO plan some "baby-dedicated" breaks during your stay in Paris. The city has several baby-friendly cafés and restaurants, equipped with high chairs, changing mats and even a play corner.
Here are a few:
Pendant que les enfants jouent (75012, near the Gare de Lyon)
Le Petit Bazar (75015 – our favorite)
Les 400 coups (75019)
Le Poussette Café (75009) or any other café and restaurant. Please remember, all are now smoke-free. If your baby has a melt-down in an adult establishment, please take him or her out and walk the baby until calm has been restored. It's only polite.
8.  DO visit public gardens. All of them have playgrounds for children from 2 years old. Some even offer other activities such as pony walks, carousels, pedal cars, theaters, etc. Our favorites are the Jardin des Plantes and its menagerie (a small zoo) and the old-fashioned carousel.
More parks: The rue Croulebarde or the one located on rue de la Roquette. Both are typical Parisian ones that are frequented by locals. Don't miss the Jardin du Luxembourg for the various activities for children. If you can, visit the Luxembourg Garden during the week when it's less crowded.
9.  DO plan specific activities for your baby. There are music programs, baby gyms, baby massages and other workshops.  Most are more than doable even if you don't speak French.
10. DO plan to shop for your baby since French clothes are special and with any luck you'll be visiting during the sales. In the rue Vavin area (6ème arrondissement) you'll find plenty of different brands of clothes, shoes and toys. For discount clothes, the Rue Ste. Placide (6ème) stocks last year's models and overruns.