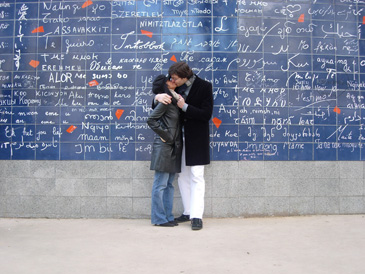 When I first travelled to Paris as an 18-year-old, just having the Eiffel Tower in my sights was enough to keep me content. I was only interested in fulfilling my Parisian fantasies by shopping on the Champs-Elysées, cruising the Seine and climbing the stairs to the Sacré-Coeur.
Over time and through multiple visits, though, I began to crave more. I wanted to get to know the real Paris, the one I suspected existed underneath the gilded exterior but wasn't able to access from the beaten paths. It was time to lift the lid off the City of Light and see what lay beneath.
What I found was a Paris buzzing with quirky sights and a multitude of wonderful things to explore—at any hour of the day. From outdoor art to midnight cinema and everything in between, if you're willing to stray away from the usual sights the city doesn't disappoint.
It's no surprise that Paris is chock-full of art. But away from the ever-popular Museé d'Orsay and the Pompidou Centre, there's a plethora of venues humming with creativity. Interact with artists directly at 104, a 39,000-square-metre exhibition space located in a former funeral home (104 rue d'Aubervilliers, 75019, Metro: Stalingrad, Riquet, www.104.fr). Cool things down in a former fridge turned artists' collective at Les Frigos (91 Rue des Frigos, 75013. Metro: Bibliothèque François Mitterrand, http://les-frigos.com), or get up close and personal and take tea in an artist's atelier (152 rue Saint Maur, Metro: Goncourt, www.marcusmcallister.com).
Hit the streets and head to Belleville—Rue Dénoyez, Rue Ramponeau and Rue de l'Ermitage to be exact—where artists have transformed the city's plain urban surfaces into fantastical murals (75020, Metro: Belleville). Or make your way over to Montmartre and get an eye full of love with the Mur des Je t'aime. The brainchild of Frédéric Baron, the wall consists of over 1000 'I love yous' written in more than 300 languages (Square Jehan-Rictus, Place des Abbesses, 75018, Metro: Abbesses, www.lesjetaime.com).
No visit to Paris is complete without a little shopping. If you can tear yourself away from the major department stores, there are some great gems to be found in independent shops all over the city. Shop guilt-free at concept store Merci, where all profits on designer-donated items go to charity (111 Boulevard Beaumarchais, 75003, Metro: Saint-Sébastien Froissart, www.merci-merci.com), or browse some vintage gear and get changed in a phone booth at Noir Kennedy (12 and 22 Rue Roi de Sicile, 75004, Metro: Saint-Paul, www.noirkennedy.fr). Pick up a custom-made shirt at Eglé Bespoke (26 Rue du Mont Thabor, 75001, Metro: Concorde, www.eglebespoke.com) or get a bit of luxury without breaking the bank at second-hand designer store Dépot Vente (109 Rue de Courcelles, 75017, Metro: Courcelles, www.depot-vente-paris.fr). Wherever you look, there are plenty of places to exercise your purchasing power.
Sure, you can spend time in the Louvre, but why not check out some of Paris' stranger museums, too? If flayed cadavers are your thing, go to Musée Fragonard, where a collection of 21 awaits (7 Avenue du Général de Gaulle, 94700, Metro: École Vétérinaire de Maisons-Alfort, http://musee.vet-alfort.fr). See inside an age-old tapestry factory at Manufacture des Gobelins (42 Avenue des Gobelins, 75013, Metro: Gobelins), or spice things at up and make history sexy at the Erotic Museum of Paris (72 Boulevard de Clichy, 75018, +33 1 42 58 28 73, Metro: Blanche, www.musee-erotisme.com). And if you can stomach it, head underground to check out Paris' sewer system at the Paris Sewer Museum (Place de la Résistance, Pont de l'Alma, 75007, Metro: Alma-Marceau, www.lesegoutsdeparis.com).
When dusk falls, there's no better time to poke into Paris' hidden corners. Hunt down some ghosts with the Paris Ghost Tour (www.mysteriesofparis.com), or let them come to you at Paris Paranormal, a séance held only 50 metres from Père Lachaise Cemetery (52 Rue des Rondeaux, 75020, Metro: Gambetta, www.lesjeudisduparanormal.fr). Experience full sensory pleasure by dining in the dark at Dans Le Noir (51 Rue Quincampoix, 75004, Metro: Étienne Marcel or Rambuteau, www.danslenoir.com) and jive to jazz in a former torture chamber at Le Caveau des Oubliettes (52 Rue Galande, 75005, Metro: Saint Michel or Cluny–La Sorbonne, www.caveaudesoubliettes.fr). If you want to rest your feet, head to Le Champo Cinéma, where you can watch not just one but three movies from midnight—and have breakfast, too (51 Rue des Écoles, 75005, Metro: Odéon, Saint-Michel, www.lechampo.com).
So next time you're in Paris, pay homage to the great sights, yes, but step a bit off the tourist trails and you'll see a whole new side to the City of Light.
Marsha Moore is a travel writer based in London, England. She has recently published 24 Hours Paris (available from www.prosperapublishing.co.uk), an hour-by-hour guide to what's on every hour in Paris.
If you're coming to France (or for that matter anywhere) you can reserve your hotel here. To rent a car, Bonjour Paris recommends Auto Europe.
Please post your comments or questions and let them flow. Register HERE to do so if you need a Bonjour Paris user name and password.