The Three Kings… and Their Influence on French Decor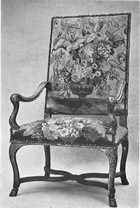 If France is the sun, then antique shoppers are the world and our buying patterns revolve around French finery as if one of the Louis cast a spell to magnetically pull all generations towards the treasures of La République! But have you ever wondered how to tell Louis XIV from Louis XVI and why Louis XV is perhaps the most reproduced style in the world? In spite of the fact that these three kings were the ruin of the French monarchy, Louis-cubed did something right. Their pursuit of gracious living and 150-year-long contribution to the arts is the greatest influence ever made on the world of design. Louis XIV: 1643-1715 LOUIS XIV. CHAIR. HOENTSCHEL COLLECTION, METROPOLITAN MUSEUM OF ART. Known as the Sun King, Louis XIV is famous for his patronage of Versailles. I refer to him as "Baby Baroque" for this is the style for which his period is known. Characterized by bold details, heavy ornamentation and large scale, it's a manly-man's type of furniture with a symmetrical form. But don't let this description fool you—Louis XIV style is also oh so opulent. The most famous designer of this period is Charles Andre Bouille, whose work is characterized by ebony wood and tortoise-shell inlay with brass detailing. In addition to Bouille's grand pieces perfect for palatial living, you'll find pieces perfected in oak, walnut and chestnut. Arm chairs or upholstered wing chairs and tables have stretchers running between their boldly turned legs, and the beds from this period were made to heavily drape with fabric. Principal motifs include lion heads or paws, griffins, musical instruments, leaves and dolphins. Louis XV: 1723-1774 LOUIS XV. CHAIR. HOENTSCHEL COLLECTION, METROPOLITAN MUSEUM OF ART. When examining the difference between the style of Louis XV and that of his great-grandfather Louis XIV, into whose royal court he was born with the proverbial silver spoon in his mouth, I can't help but ponder what Freud would say about Little Louis' backlash against grand-père. While Louis XIV furniture is masculine, heavy and solid, Junior's décor is feminine with curved lines characterized by delicate pieces and cabriole legs. While Louis XIV was all about symmetry, Louis The Beloved (as he was known before his debauchery led to La Révolution) embraced asymmetrical detail, lavishing his period with floral motifs, ribbons and shells. From this latter motif comes the term used to refer to the style of his period—Rococo, coming from the combination of the French words rocaille (stone) and coquille (shell). During Louis XV time France was living la dolce vita. Peace and prosperity were the mots du jour and Louis' love for fine décor trickled down to the rising middle class. New furniture forms were in demand—with an emphasis on comfort and elegance. By the end of the period, La Republic bulged with bergères, chaises longues, and duchesses brisées as well as bombé-shaped commodes, matching consoles and elaborate gilt mirrors. Gone were the turned legs of Louis Quatorze and in their place stood curved, almost floating legs, spread as if waiting for a lover. But all's not necessarily well that ends well. Like the petulant middle son determined to get his way, the seeming prosperity of the Louis XV era folded under his ill-advised financial policies, bankrupting the nation and leading to the demise of the French monarchy. And while Louis The Beloved became the most unpopular king in French history, darn it, he had good taste. Today his style is what "les Américains" refer to as "French Country Style." Louis XVI: 1779-1793 LOUIS XVI. CHAIR. HOENTSCHEL COLLECTION, METROPOLITAN MUSEUM OF ART. Louis XVI didn't stand a chance. Fifteen years after grandpa's death, the Revolution erupted. Louis le Dernier inherited a world of hurt, causing speculation that nothing could have prepared him for it. Again we see a revolt against the style of the predecessor; this time the new décor was defined by the most important discoveries of the time: the ruins of Pompeii. Neo Classical décor was all the rage. Symmetry and straight legs were back. Musical instruments found their way into motifs, showing up on lyre-backed chairs, while classical architectural elements like columns and pediments were reinvented into design along with the use of beading, rosettes and trophies. The ribbon motif from Louis XV décor lingered, tying graceful bows alongside the backs of sofas and chairs. Gone was the bombé, replaced with semi-circular commodes and side tables. And while this is serious style—keeping with the mood of Liberté Egalité Fraternité, a topic of conversation that originated among the aristocracy and got "out of hand" when embraced by the lower classes—this style was also one that lingered into that of its predecessor. Bonaparte sobered the style, removing ornamentations in an attempt to hide the Ancien Régime, but the essential style of Directoire furniture remains steadfastly the same as that of the executed king. Long live the king.   Toma Clark Haines is The Antiques Diva™, author of the blog
Antiques Diva
and Chief Executive Diva of
The Antiques Diva™ European Shopping Tours
and the tour de force behind the online antique store "
Treasures by The Antiques Diva™
"  . The Antiques Diva™ is the In-House Antiques Expert for Bonjour Paris. Bonjour Paris Premium Members will receive a 10% discount with the Antiques Diva™ Tours. If you're coming to France (or for that matter anywhere) you can
reserve your hotel here.
To rent a car, Bonjour Paris recommends
Auto Europe
. Please register
HERE
if you need a free Bonjour Paris user name and password and post comments
SUBSCRIBE
ALREADY SUBSCRIBED?
BECOME A BONJOUR PARIS MEMBER

Gain full access to our collection of over 5,000 articles and bring the City of Light into your life. Just 60 USD per year.

Find out why you should become a member here.

Sign in

Fill in your credentials below.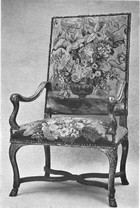 If France is the sun, then antique shoppers are the world and our buying patterns revolve around French finery as if one of the Louis cast a spell to magnetically pull all generations towards the treasures of La République! But have you ever wondered how to tell Louis XIV from Louis XVI and why Louis XV is perhaps the most reproduced style in the world? In spite of the fact that these three kings were the ruin of the French monarchy, Louis-cubed did something right. Their pursuit of gracious living and 150-year-long contribution to the arts is the greatest influence ever made on the world of design.
Louis XIV: 1643-1715
LOUIS XIV. CHAIR. HOENTSCHEL COLLECTION, METROPOLITAN MUSEUM OF ART.
Known as the Sun King, Louis XIV is famous for his patronage of Versailles. I refer to him as "Baby Baroque" for this is the style for which his period is known. Characterized by bold details, heavy ornamentation and large scale, it's a manly-man's type of furniture with a symmetrical form. But don't let this description fool you—Louis XIV style is also oh so opulent. The most famous designer of this period is Charles Andre Bouille, whose work is characterized by ebony wood and tortoise-shell inlay with brass detailing. In addition to Bouille's grand pieces perfect for palatial living, you'll find pieces perfected in oak, walnut and chestnut. Arm chairs or upholstered wing chairs and tables have stretchers running between their boldly turned legs, and the beds from this period were made to heavily drape with fabric. Principal motifs include lion heads or paws, griffins, musical instruments, leaves and dolphins.
Louis XV: 1723-1774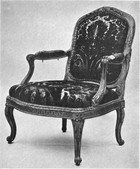 LOUIS XV. CHAIR. HOENTSCHEL COLLECTION, METROPOLITAN MUSEUM OF ART.
When examining the difference between the style of Louis XV and that of his great-grandfather Louis XIV, into whose royal court he was born with the proverbial silver spoon in his mouth, I can't help but ponder what Freud would say about Little Louis' backlash against grand-père. While Louis XIV furniture is masculine, heavy and solid, Junior's décor is feminine with curved lines characterized by delicate pieces and cabriole legs. While Louis XIV was all about symmetry, Louis The Beloved (as he was known before his debauchery led to La Révolution) embraced asymmetrical detail, lavishing his period with floral motifs, ribbons and shells. From this latter motif comes the term used to refer to the style of his period—Rococo, coming from the combination of the French words rocaille (stone) and coquille (shell).
During Louis XV time France was living la dolce vita. Peace and prosperity were the mots du jour and Louis' love for fine décor trickled down to the rising middle class. New furniture forms were in demand—with an emphasis on comfort and elegance. By the end of the period, La Republic bulged with bergères, chaises longues, and duchesses brisées as well as bombé-shaped commodes, matching consoles and elaborate gilt mirrors. Gone were the turned legs of Louis Quatorze and in their place stood curved, almost floating legs, spread as if waiting for a lover.
But all's not necessarily well that ends well. Like the petulant middle son determined to get his way, the seeming prosperity of the Louis XV era folded under his ill-advised financial policies, bankrupting the nation and leading to the demise of the French monarchy. And while Louis The Beloved became the most unpopular king in French history, darn it, he had good taste. Today his style is what "les Américains" refer to as "French Country Style."
Louis XVI: 1779-1793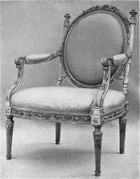 LOUIS XVI. CHAIR. HOENTSCHEL COLLECTION,
METROPOLITAN MUSEUM OF ART.
Louis XVI didn't stand a chance. Fifteen years after grandpa's death, the Revolution erupted. Louis le Dernier inherited a world of hurt, causing speculation that nothing could have prepared him for it. Again we see a revolt against the style of the predecessor; this time the new décor was defined by the most important discoveries of the time: the ruins of Pompeii. Neo Classical décor was all the rage. Symmetry and straight legs were back. Musical instruments found their way into motifs, showing up on lyre-backed chairs, while classical architectural elements like columns and pediments were reinvented into design along with the use of beading, rosettes and trophies. The ribbon motif from Louis XV décor lingered, tying graceful bows alongside the backs of sofas and chairs. Gone was the bombé, replaced with semi-circular commodes and side tables. And while this is serious style—keeping with the mood of Liberté Egalité Fraternité, a topic of conversation that originated among the aristocracy and got "out of hand" when embraced by the lower classes—this style was also one that lingered into that of its predecessor. Bonaparte sobered the style, removing ornamentations in an attempt to hide the Ancien Régime, but the essential style of Directoire furniture remains steadfastly the same as that of the executed king.
Long live the king.
Toma Clark Haines is The Antiques Diva™, author of the blog Antiques Diva and Chief Executive Diva of The Antiques Diva™ European Shopping Tours and the tour de force behind the online antique store "Treasures by The Antiques Diva™"  . The Antiques Diva™ is the In-House Antiques Expert for Bonjour Paris. Bonjour Paris Premium Members will receive a 10% discount with the Antiques Diva™ Tours.
If you're coming to France (or for that matter anywhere) you can reserve your hotel here. To rent a car, Bonjour Paris recommends Auto Europe.
Please register HERE if you need a free Bonjour Paris user name and password and post comments
More in Antiques shopping, Bonjour Paris, French history, French influence USA, Palace of Versailles, Paris shopping
---
---