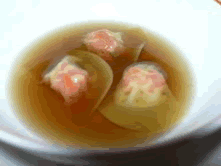 It's official, Wolfgang Puck decides to be kinder to the animals he cooks. In a recent announcement, in tandem with The Humane Society of the United States (www.hsus.org), Puck now bars cruelty from his $300 million-a-year business empire (does this include kitchen staff too, Wolfie?) "My restaurants, including Spago, no longer serve foie gras, use pork or crate kept calves, and no hen's eggs from unhappy hens", puckers Puck.
Meanwhile, in Paris, Alain Passard banned meat from his kitchens five years ago, still keeping his *** Michelin stars. "I reached a point when vegetables stopped being the garnish and became the stars in my kitchen", he said one sunny day last week. "My relationship with meat was becoming tough", he grins. "Dead animals, blood and animal flesh were no long inspiring me".
So, as alert BUZZERS know he set about buying a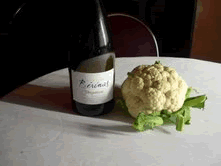 potager in the Sarthe region: "it had lain fallow for thirty years", and planted "legumes oublier" which he grows without pesticides and which rely on two horses, not only to pull that plough, but also for fertiliser! And his produce  sits on his tables: cauliflowers, Jerusalem artichokes, red, white and black beetroots, instead of the usual floral tributes most restaurants find so key to their deco.
And because you are also what you drink Passard is very fussy about his wine list, gathering vintages along with the fruit and veg. His latest chou-chou is Domaine Bérenas, located in the Herault region, near Montpelier, not far from Norman Foster's Millau Viaduct, well worth the detour to visit Christophe and Isabelle Tison to taste and buy their excellent wines.
The vines grow on 20 hectares of flat stony land, the dominant grape, red Carignan, backed up by Cinsault, Grenache, Sauvignon blanc, Chardonnay, Syrah, Petit Verdot and Merlot. So impressed is Passard that he decides to dedicate lunch to Christophe, Isabelle and Domaine Bérenas.
His signature starter of soft boiled egg with maple syrup is followed by Beetroot "Tonda di Chiggia" slow-baked in a salt pyramid with notes of black cherries coming on quietly. Steeve Jiquel, Chef Sommelier at l'Arpege serves Collines d'Oc 2005, with blackberry and cassis notes. Tison's vineyards date back to 1794, were in the same family until 1997 when they were bought by an Australian who recently handed over to the Tisons: Domaine Beausejour became Bérenas, a new era began.
Meanwhile back at the lunch, paper thin herb ravioli is served in a rich fragrant vegetable broth, and we sip L'Impatiens blanc" with notes of cinnamon and vanilla. Carpaccio of langoustine is sprinkled with radish petals, drizzled with carrot oil (I know, only Passard knows how to make it, it's his secret, but I'm working on getting some). "L'Ixia Rosé with woody and floral notes is a perfect match. A bouquet of vegetables with coriander and Argan oil is the perfect prelude to guess what? Are you sitting down? T-bone of Lozere lamb with sea-weed and wood smoked potatoes. "L'Iris Blanc"  intense, a touch of aniseed, complex, long in the mouth,  perfect with the lamb, which led a merry life if the taste was anything to go by.
So Passard returns to meat and, hang on, just as you think you're done along come the lamb kidneys, lightly grilled with the pungent taste of hysope and a glass of "L'Impatiens red".   When asked why the return of the meat, he just shrugs, "it's the evolution, just seems right now, I know where every one of my products comes from and that is my confidence right now to continue with meat", he says. Puck and Passard have much to discuss.
Lunch continues with Duck from Challans, slow cooked with a crispy crust of black sesame, you really want to get down on the mat and gnaw those delicious morsels, Passard cuts any grease, and really there is none, with his "marc d'orange", just all the fibre of the orange blitzed in a blender (daren't ask if he uses a blender, fear being banned and want to return to taste his "fat duck" daily). With the duck, "L'Iris Rouge" probably the favourite of Tissot's wine family. Intense, ruby and plum flavours, who doesn't love syrah with a touch of petit verdot? Everyone's got their noses buried in their Lalique glasses.
With Bernard Anthony's sublime cheeses, a wedge of vintage Cantal, Bérenas "L'Iris Blanc" is perfect. Monsieur Anthony is to cheese what Passard is to gastronomy: a genius. T: 03 89 40 42 22 (he delivers) 5 rue de la Montagne, 68480. Vieux Ferrette.
And so to finish, Millefeuille noir "Arpege", paper thin, crumbly leaves held together with chocolate that melts in the mouth, leaves creamy, dark notes. Passard is not *** Michelin: he's ****. OK, we're still in Black Amex land, but it's so worth the experience – because you are. NetJets Europe, the fractional ownership jets for the rich and famous, just announced that clients can order from L'Arpege before flying off….quick go and buy a lottery ticket.
L'Arpege,
84 rue de Varenne 7th (Metro:Varenne),
T: 01 45 51 47 33
Shut Sat-Sun
Menus: Lunch 130€ Dinner 340€
Average spend a la carte 250€ + wine
Domaine Berenas,
RN9 – 34800 Nébian.
T: 04 67 96 27 80
Call ahead to visit and for dates of summer concerts
At the Domaine.
Buy Domaine Bérenas @
Les Fontaines des Crus du Soleil,
57 rue Daguerre, 14th.
Cave Saint Martin
195 rue du Faubourg St. Martin, 10th
From 6-50€ per bottle