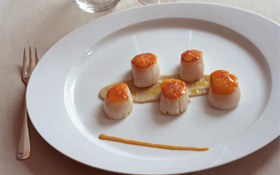 In 1925 August Rech, arriving in Paris from his native Alsace Lorraine, bought a grocery store on avenue des Ternes which he transformed into a smart art-deco style brasserie serving excellent sea-food his motto: "Products to the fore-front".
Monsieur Rech showcased his banc of oysters and seafood on the front stall, liveried chauffeurs would collect and take home the bounty to their titled employees, living in splendour on the cutting edge of the Bois de Boulogne. In house he created three signature dishes: Skate with capers, specially matured Camemberts (which to-day come from Marie-Anne Cantin www.cantin.fr) and giant home-made chocolate and coffee éclairs. Rech was a hit.
Monsieur and Madame Meunier (maybe that's where sole Meunier got it's name?) took over from Rech until the 1990's and, when they retired, let's say Rech stayed in an art-deco time warp. Nothing wrong with the quality of the products,   a sleeping beauty needing a Prince to wake her up. Enter Alain Ducasse!
"I am completely in love with her", admits a sleek, slim, cheerful Ducasse, lunching on the first floor, nipping across to the open kitchen from time to time. In the salle, Persil white tablecloths, wood panelling, retro-photos, stained glass windows, excellent food and wines. "No major changes", he insists. "I just want to restore the elegant lady to her former glory,  revise and correct the dishes and the kitchen, n'est pas"? To do this Ducasse travelled, and ate extensively on the Breton coast. Rech- Man cannot live by skate, camembert and éclairs alone. Right!
In the spotless steel open kitchen, Baptiste Peupion (ex-Benoit another tasty transformation by Ducasse). And, back to the future on the pavement in front, Malec the oyster seller, 25 years on the job, composes seafood platters, just like before: to eat at Rech, or take away. Place of honour to Yvon Madec oysters from Prat-Ar-Coum (Speciales No.3, Creuses and Boudeuses), clams, cockles and mussels alive-alive oh!
Inside, the pleasure begins with generous glass jars of mackerel and salmon rillettes with Bordier butter, warm breads. There's a creamy " New England" Clam Chowder, marinated sardines, tuna cru-cuit. Langoustines, direct from Brittany waters, are steamed 3 minutes, cut in two, drizzled with citrus vinaigrette: sea-bass is baked with seaweed crowned with béarnaise sauce. Or, the seafood platter with a coupe or two of Ayala Champagne?
Any wine you like as long as it's French. They're excellent, chosen by Ducasses' chef sommelier Gérard Margeon. Chablis, Meursault, Puligny-Montrachet,
Chassagne-Montrachet. "And the Pauillac is in perfect harmony with the only meat dish on the menu", adds Margeon. Finish with 20cms of sexy fat chocolate or coffee éclair or a sensual baba au rum de Martinique and a big boule of hazelnut ice-cream, August Rech's secret recipe.
L'Express magazine writes that the opening of a new Alain Ducasse restaurant is like an eagerly anticipated Wood Allen film. "We have the right to at least one each year, it's always a major event". And do they like the neo-Rech? "Histoire d'une resurrection réussie", they confirm. You bet!
Rech – Chateaux & Hotels de France,
62 avenue des Ternes 17th (Metro: Ternes)
T: 01 45 72 29 47
Gone fishing Sunday & Monday
Lunch menu 34€ A la Carte 70€ + wine
18.30 – 20hrs Club Rech: tastings, seafood & wine.