The Paris Olympics 2012: In the Métro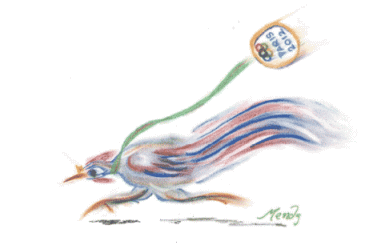 By: Deborah Mends and Dennis Neuenkirchen Paris is making a big push to get the Olympic Games in 2012.  There are posters in the métros and on the streets.  One métro station, Hotel de Ville (City Hall), is entirely covered with large photos of "average" Parisians saying why they want the Olympics here in 2012. There are articles in the papers, stories on TV.  Many stores have Olympic stickers on their windows.  Everyone wants to be an Olympic partner.  There are hundreds of banners fluttering in the breeze along the streets of Paris.  Our (we Parisian guys) motto has become: Let's Win the Games (Gagnons les Jeux).  Even as I write – Sunday afternoon – they've closed down the entire Champs-Elysées.  And why?  Damned if I know.  But it's something to do with the Olympics.  If they haven't turned the entire Eiffel Tower into a giant Olympic flame, it's only because they haven't thought of it.  Yet!  Olympic Inspectors visit my son's school as a possible training site.  There'll be money to fix it up before the Olympic participants arrive (even though there isn't the money to fix it up as just a school). People are so excited.   And then there's me.  I keep thinking, do I really want millions of sports-crazed tourists descending on my town?  Do I want all the hoopla the Olympics would bring, when already I'm annoyed at the hoopla that's there just to get the Olympics?  .    But, no!  This cannot be!  I've got to get into the spirit of this like everyone else before they rescind my resident card and send me back to Bushland.  So, I've thought of a few new challenges they could add to the Olympics in 2012, if they come to Paris.  And what is more Parisian than the métro?  So these are games you'll need a little purple ticket to play.     The 10-meter Métro Sprint with (Human) Obstacles   To be fair, if this makes it to the official Olympic competition, I'll have a big advantage, since this is a sport I've been practicing for several months.  Unfortunately, despite my training and the fact that the other competitors don't even know it's a race, I don't win all that often.    To get to work in the morning, I take th
e RER (a train) at Gare du Nord.  Early.  Around 6 a.m.  Now, people will always rush to get ahead of you, just so they can slow down and take their time once they're sure you're safely stuck behind them.  And one place people just love to do this is on the stairs at Gare du Nord.  So I have to rush faster than they do, to get to the stairs first!  And thus was born this new Olympic sport.  Let me tell you about it. This morning, I entered the métro at Porte de Clignancourt,  just 2 minutes shy of 6 o'clock.  I eye potential competition as I strategically choose a placement.  Second métro car from the back, third group of seats.  No one's here yet.  Some people might choose the folding seats closer to the door, but I'm relaxed, confident as I sit in a free square of four seats.  I'm reading the new biography of Christopher Marlowe by David Riggs.  It's intelligent, interesting, informative – highly recommended.  I read, but I'm distracted at each stop, at each possible competitor who enters the métro.  I study people standing near the doors; these are the ones I have to watch out for; these are the ones I fear.  There's a tall, thin black man, young and alert.  But at six a.m., most people are half-asleep– some, snoring.   The métro enters the station Barbes-Rochechouart.  More people get on.  Next stop: Gare du Nord.  And the race is on.    It's farther between Barbes and Gare du Nord than it is between most métro stops.  I finish reading my page and put my book away.  I check out the exits in front of me and behind me.  The front exit usually lines up better with the stairs, but there's a man with a rolling suitcase about the size of Rhode Island.  Behind, there's no one.  Access to the door is essential.  If someone else gets their hand on the door latch before me, I know, all will be lost.  The pressure is mounting.  Pearls of sweat dot my forehead like a punctuation-crazed writer without a proofreader.  I have to make a decision.  Now!   I go for the door in front.  Step over a leg.  "Pardon!" I bark.  This is no time for being polite, but I was just brought up that way.  The man with the massive suitcase struggles to get to his feet.  I have to beat him to the door latch!  I have to get my starting block!   I shoot out my right hand to grab the metal pole in the middle of the floor and swing myself around.  There's a fleeting image of Indiana Jones in my mind.  My left hand snakes between the latch and the suitcase man's grasping paw.  I make it!  I have the latch!   The metro train enters into the station, slowing.  Wait for a full stop before lifting the latch?  Insanity!  I push and strain against that latch, clacking it upward like an 8/8 time castanets.  But until the driver releases the doors from his pilot's booth, all is futility.  At last I hear the…
SUBSCRIBE
ALREADY SUBSCRIBED?
BECOME A BONJOUR PARIS MEMBER

Gain full access to our collection of over 5,000 articles and bring the City of Light into your life. Just 60 USD per year.

Find out why you should become a member here.

Sign in

Fill in your credentials below.
By: Deborah Mends and Dennis Neuenkirchen
Paris is making a big push to get the Olympic Games in 2012.  There are posters in the métros and on the streets.  One métro station, Hotel de Ville (City Hall), is entirely covered with large photos of "average" Parisians saying why they want the Olympics here in 2012. There are articles in the papers, stories on TV.  Many stores have Olympic stickers on their windows.  Everyone wants to be an Olympic partner.  There are hundreds of banners fluttering in the breeze along the streets of Paris.  Our (we Parisian guys) motto has become: Let's Win the Games (Gagnons les Jeux).  Even as I write – Sunday afternoon – they've closed down the entire Champs-Elysées.  And why?  Damned if I know.  But it's something to do with the Olympics.  If they haven't turned the entire Eiffel Tower into a giant Olympic flame, it's only because they haven't thought of it.  Yet!  Olympic Inspectors visit my son's school as a possible training site.  There'll be money to fix it up before the Olympic participants arrive (even though there isn't the money to fix it up as just a school). People are so excited.
And then there's me.  I keep thinking, do I really want millions of sports-crazed tourists descending on my town?  Do I want all the hoopla the Olympics would bring, when already I'm annoyed at the hoopla that's there just to get the Olympics?  [Yes, here's the time and place to admit it, I'm an old fogy, a stick-in-the mud, a party-pooper, a curmudgeon, in other words, a mature, intelligent adult (no, not really, read on) ]. 
But, no!  This cannot be!  I've got to get into the spirit of this like everyone else before they rescind my resident card and send me back to Bushland.  So, I've thought of a few new challenges they could add to the Olympics in 2012, if they come to Paris.  And what is more Parisian than the métro?  So these are games you'll need a little purple ticket to play.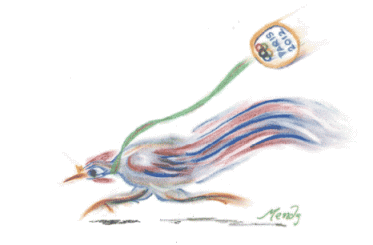 The 10-meter Métro Sprint with (Human) Obstacles
To be fair, if this makes it to the official Olympic competition, I'll have a big advantage, since this is a sport I've been practicing for several months.  Unfortunately, despite my training and the fact that the other competitors don't even know it's a race, I don't win all that often. 
To get to work in the morning, I take th
e RER (a train) at Gare du Nord.  Early.  Around 6 a.m.  Now, people will always rush to get ahead of you, just so they can slow down and take their time once they're sure you're safely stuck behind them.  And one place people just love to do this is on the stairs at Gare du Nord.  So I have to rush faster than they do, to get to the stairs first!  And thus was born this new Olympic sport.  Let me tell you about it.
 This morning, I entered the métro at Porte de Clignancourt,  just 2 minutes shy of 6 o'clock.  I eye potential competition as I strategically choose a placement.  Second métro car from the back, third group of seats.  No one's here yet.  Some people might choose the folding seats closer to the door, but I'm relaxed, confident as I sit in a free square of four seats.  I'm reading the new biography of Christopher Marlowe by David Riggs.  It's intelligent, interesting, informative – highly recommended.  I read, but I'm distracted at each stop, at each possible competitor who enters the métro.  I study people standing near the doors; these are the ones I have to watch out for; these are the ones I fear.  There's a tall, thin black man, young and alert.  But at six a.m., most people are half-asleep– some, snoring.
The métro enters the station Barbes-Rochechouart.  More people get on.  Next stop: Gare du Nord.  And the race is on. 
It's farther between Barbes and Gare du Nord than it is between most métro stops.  I finish reading my page and put my book away.  I check out the exits in front of me and behind me.  The front exit usually lines up better with the stairs, but there's a man with a rolling suitcase about the size of Rhode Island.  Behind, there's no one.  Access to the door is essential.  If someone else gets their hand on the door latch before me, I know, all will be lost.  The pressure is mounting.  Pearls of sweat dot my forehead like a punctuation-crazed writer without a proofreader.  I have to make a decision.  Now!
I go for the door in front.  Step over a leg.  "Pardon!" I bark.  This is no time for being polite, but I was just brought up that way.  The man with the massive suitcase struggles to get to his feet.  I have to beat him to the door latch!  I have to get my starting block!
I shoot out my right hand to grab the metal pole in the middle of the floor and swing myself around.  There's a fleeting image of Indiana Jones in my mind.  My left hand snakes between the latch and the suitcase man's grasping paw.  I make it!  I have the latch!
The metro train enters into the station, slowing.  Wait for a full stop before lifting the latch?  Insanity!  I push and strain against that latch, clacking it upward like an 8/8 time castanets.  But until the driver releases the doors from his pilot's booth, all is futility.  At last I hear the compressed air's cobra-hiss.  The door begins to open and I artfully shoulder a wiry Italian-looking man out of the way.
One of my natural disadvantages in the métro sprint competition is my powerful, wide athletic shoulders.  But I have learned to overcome this handicap.  I turn my body sideways, squeezing through the opening métro door.  At this point, you don't count in seconds.  Seconds are for seconds; I must be First!  I count in milliseconds!
My urgent glance as I scope out the quay before my sprint is suddenly checked by a sprightly young nymph in a scandalously small bikini.  Halted in my headlong impetus by the interesting intellectual problem of this C&A ad, I stop while my right hand reaches dreamily for the pipe in my pocket while my experienced eye commences its critical appraisal in light of Ruskin's principles of aesthetics.  I read thoughtfully, 19,25 € for her bathing suit and Huguette will have a date for tonight.  She sure will, I think.  Surely, she will. 
But a man whams into me!  I come to my dynamic self!  Now, back to our competition!
At the same time that I'm wriggling through the still-opening door, I try to gauge the obstacle before me:  a vacation-bright middle-aged couple with suitcases – this could be fatal.  Two Arab men talking, hands flying.  A hippie, either in a drug haze, or maybe just tired.  It is six in the morning.
Body still sideways, still squeezing, still straining, I get deftly onto the platform.  I dodge a young woman, rushing to get on the métro I've just left behind, leap over the hurdle of a rolling suitcase, slalom through an agitated group of students.  From the corner of my eye, I glimpse my competition as I approach my goal: the first step of the stairs.
But…he's running!  Running!  Outright legs outstretched, both-feet-in-the-air running!  And he lands on the first step at least three lengths ahead of me!  But he was running!   Didn't his mother ever tell him not to run in the métro?  He should be disqualified!
 American Spotting
American Spotting is much less physically demanding than the métro sprint, but it will be particularly appropriate if Paris does "Win the Games" as we all pray so earnestly that it will. Technically, this competition should be called Tourist Spotting, but American Spotting has a nice ring.
The goal of this competition is to identify Tourists on the métro.  The rules are simple.  You have to identify the nationality of a tourist without hearing what language he or she speaks.  You can hear him speak, however.  Loudness is one of the identifying characteristics of both the American and the German tourist.  But if you can make out the words – Game Over.  And it has to be in the métro.  Why?  Because that's the way it's played.
First, let's start with some tips to help the rookies in this sport.  These can be important clues to spotting the foreign tourist in Paris.  But remember the list is not exhaustive and it's highly personal.  Every Métro Tourist Spotter has his or her own little secrets to Spot That Tourist!
Americans:  loud, huge butts, permed hair, silly looking, but very self-confident.  You can see the strain as they try to project the thought  — We saved your butts in '44.
Germans: loud, blond, large, with a tendency to sing "Deutschland Deutschland Über Alles" in the métro.  This, by the way, is a dead giveaway.  Almost no non-Germans sing "Deutschland…." At least not in the métro.  They are projecting the thought  — We whipped your butts in '40.  We could do it again.
Italians: always travel in groups, often have dark hair
English: pink skin, if there's been any sun in the past three days, bright red skin, sometimes pink hair, safety pin in nose
Canadians:  Always – always —  ALWAYS – have a little Canadian flag conspicuously showing.  The don't want to take any chances of being mistaken for Americans
Scottish:  They really do wear skirts, not all of them, and not all the time, but if you see a man in a plaid skirt, take a chance, go out on a limb: peg him as a Scotsman. (Especially if he's playing the bagpipes.)
French tourists:  Yes, there are French people who come to Paris on their vacations, too.  They tend to have an awed, bewildered look on their faces.  They often look like farmers, which they probably are.  I've always considered anyone who live outside of Paris city limits to be a "plouc," which means hick, ridge-runner, a hillbilly.  Some people think my definition is a bit Draconian.  But they're wrong.
Red Herrings:  No, I'm not going to tell you how to identify residents of the country Red Herring.  Red Herring means a false or misleading clue.  Much beloved of Agatha Christie.  Now, the problem is that a lot of French people want to look like Americans.  It's true!  Even the ones who hate America!  They believe in the separation of fashion and state.  So don't think that just because you see a White Sox cap or an Iowa State University sweatshirt that you've bagged an American!  Or if you see a black guy with a white head rag and a baseball cap balanced sideways on his head (and I see them often), this is probably not 50 Cent or a guy from his posse, but some French guy who thinks that this is the way Americans dress.
"This newsflash just in from our Special Correspondent Deborah Mends.  In
the Métro."
"Thanks, Dennis.  We're here risking assault for Bonjour Paris at the Harried Working Mothers Competition, which over the past ten or fifteen years has developed into a dominant métro Olympics contact sport. 
The rules are very straightforward for our armchair spectators out there to understand:  the competitors, encumbered with shoulder bags, high heels, briefcases and shopping bags with children's clothing bought at lunchtime, all wait tensely on the quay, having left the office at least ten minutes late.  The alarm opening the doors sounds, and the more determined athletes surge to make it first over the finish line of the doorframe, to immediately screech to a halt and block the way for the other competitors.  A solid, self-satisfied wall of like-minded individuals thus rapidly forms through which the mass of anguished others now moving at hurricane force ten have to pass to pick up their kids on time at school! 
It's so exciting!  Stressed-out mothers in the back of the crowd getting on the train are faced with three grim options, Dennis:  first, assuming a greater sense of civilization than those blocking the door and slowing down, risking missing the train and facing the headmistress who wanted to leave the school early that day; second, punting someone out of position, who will regain their balance, bug their eyes and concur silently or vociferously with others on just how brutish the newcomer is; and third, forced on by now delirious mothers from behind, competitors can veer desperately into the narrow spaces between those blocking the way, smartly jolting people out of place to the left and right of their trajectory to speed helplessly at the small open-mouthed Korean tourist shrinking against the far wall of the car, where there is and always has been lots of open space.  It's just great, Dennis, but not as great as the upcoming Harried Working Mothers Triathlon, scheduled for the period of the next SNCF contract negotiation!  That will really be something to look forward to – and now back to you!"
"Thank you, Deborah."
---
---