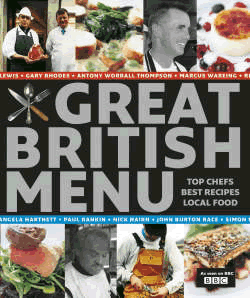 The British Embassy, Paris, which Pauline Borghese once called home, is to-day the beating heart of England in Paris, sublime setting for a party showcasing the best of British food and wine.  At the invitation of the Ambassador, Sir Peter Westmacott and his wife Lady Susie, four top British chefs invaded the magnificent mansion  to celebrate The Great British Menu. Naturally BUZZ was there.
Actually GBMenu is a TV series, a delicious programme created by Optomen Television (Jamie Oliver's Naked Chef, Gordon Ramsey's F word, French Leave etc.)  transmitted on BBC2 and worldwide. In its' second season "Great British Menu" records the trials and tribulations of 14 UK top chefs (shut up! there are even more than that waiting in the wings). Think Alain Ducasse's Fou de France, except this is cutting edge competition, the chefs participating in regional heats for the chance to cook, this time, at The Ambassador's Dinner in Paris. The first series, shown last summer, climaxed with four winning chefs cooking for Her Majesty the Queen, and 350 guests, at a Mansion House banquet to celebrate Her Maj's 80th birthday. One was very pleased!
The judges are Prue Leith, English super-chef, champion of healthy eating and Head of School Food Trust. Restaurant Owner Oliver Peyton (Mash, Inn the Park etc) and Matthew Fort, (Author of books such as "Eating Up Italy, and Food Critic for the Guardian Newspaper). Helped,  at the end, by a viewer's poll to keep it democratic. After eight weeks of blood, sweating onions and tears "and the winners were"….
Representing The Midlands, Chef Sat Bains (1 star Michelin – www.restaurantsatbains.com) for his starter of Slow cooked Duck Egg, Ham and Peas. "We liked his "scientific" approach to a traditional British combination, which understates the exciting nature of the only dish in the final to win 10/10", said the judges. "And the public clearly saw its merits too", they added. The wines included Breaky Bottom Cuvée Alex Mercier 2003 (www.breakybottom.co.uk) and Nyetimber Blanc de Blancs 1996, also from the UK. (I know what you're thinking but don't forget the Romans planted vines in England, they're good, give 'em a go).
Next up, the ever so lively Irish lad, Richard Corrigan, of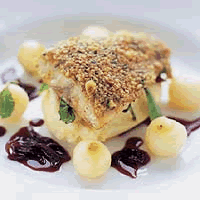 achingly chic Michelin-star Lindsay House (www.lindsayhouse.co.uk) in London's Soho. "I had to tweak my salmon course, which the judges disliked the first time they tasted it, but a few last minute changes and my Wild poached Salmon with oysters, sea-weed and sea beads won the day. Oh! not forgetting my signature wheaty bread", he adds with his dimpled Irish grin.
The main course was awarded to Mark Hix. Rabbit and Crayfish Stargazy Pie. What? A traditional English dish, you need to know the Crayfish are arranged with their tails towards to centre, heads and beady black eyes poking through the crust, held in place with a china blackbird: they appear to be gazing star-gazy wards. No doubt they were hoping for a few drops of Chateau Pichon Longueville, Comtesse de Lalande 1986 to come their way.
You also need to know that Mark Hix is one of Britain's top chefs, with a finger in many pies www.caprice-holdings.co.uk So much so he even got to do the dessert! A revised and corrected version of classic English summer delight, jelly and ice cream! He calls it, "Perry Jelly and Summer Fruits with Elderflower Ice Cream", and it matched the Pol Roger Brut Rosé 1998 to perfection.
In the Ambassador's kitchen chef James Viane was waiting for them, at the Embassy for thirty years he's cooked for 10 Ambassadors, barely speaks a word of English. James began his culinary life as a lowly commis at the Windsor mansion in the Bois de Boulogne. "Yes, he will probably add the GBmenus to his repertoire, especially the dessert.
The tables in the ornate gilded ballroom, overlooking the Embassy gardens were named for herbs, Tarragon, Parsley, Sage, Rosemary and Thyme, they looked magnificent.  Men wore black tie, women couture, sky high stilettos and designer bags. Pierre Gagnaire, Jean-Luc Naret (head honcho at Michelin) and his tres belle Odile, Raymond Blanc, Trish Desseine, Mick Hucknell (the red haired rocker has a vineyard on Mount Etna, look out for his wine, Il Cantante, "the singer") David Ginola, Sarkozy and Cecilia's chef. Cyril Lignac, whose second Paris restaurant, after Le Quinzieme, is in the pipeline, said. "I came to Paris from ze Auvergne wiz only my suitcase, and look at me now, I'm dining at ze Embassy." Oui chef.
"Lignac's done well", said Pierre Gagnaire, who has restaurants in

Paris, Hong Kong, Japan and London. Of the GBmenu he said. "There was innovation, technique, skill, and it still kept it's passion, I loved it, bravo!" "It was like a jazz concert, lots of improvisation and the finish was on a perfect note", declared Jean-Luc Naret. But, last word must go to Brit TV Presenter and journalist Kirsty Young, "I'd say it was on the right side of British stodge, I love a pie I'm Scottish", she purred.
The Great British Cookbook
www.amazon.com