Not a lot of people know that Michel Guérard's revolutionary Cuisine Minceur was created in a hairdressing salon on Avenue Montaigne! Before his legendary Pot au Feu restaurant at Asnieres, Guérard, having trained as a traiteur/patissier, was asked to set up a little "snack" chez Monsieur Antonio, a tres BCBG gentleman who ferried freshly crimped jet-set clients back and forth in his Rolls-Royce. "I could understand that the "ladies who do" wanted light, light, light. So I called my lunches "Ligne". Unfortunately, the extravagant crimper went bankrupt; Guérard went on to make his name chez Regine, at Asnieres, and the world.



 

"Actually I was always a greedy, overweight little devil", admits a now trim Guérard,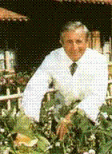 who decided to slim down, change your world and mine, gastronomically, when he fell in love, in the 70's, with the beautiful talented Christine Barthelemy.


 

Last week we lunch in Le Petit Salon, facing the bucolic gardens of the Guérards' 3*** Michelin country house spa and hotel, Les Prés d'Eugenie les Bains, in the Landes region (South-West France). Our Dejeuner Cuisine Minceur Active ® of: Le Thon de Saint Jean de Luz aux Graines de Sésame, with fresh garden herbs, is followed by Le Curry aux Petits Légumes du Potager, riz Basmati. Listen to this, we even get a soufflé Chaud Exotique and the whole meal costs a mere 375 calories including a glass of Rose la Rose 2003 Tursan Rosé from the Guérard's own vineyards "You must add the olive bread calories", insists Guerard but, bien sur, you don't eat it if you are on a serious diet". Hmmmm.


 

So, chef why is it called Active? "Because it not only helps to protect the heart and arteries from cardio-vascular disease and hypertension, but also promotes energy and vitality. We have recently added pulses as a supplement to green vegetables, rich in vegetable protein, like cereals, they contain slow carbohydrates and fibre which retard the return of hunger pangs. Olive oil and canola oil have almost replaced butter and cream, except in a few pastries! And saturated fatty acids have given way to mono and polyunsaturated fatty acids. We use salmon, tuna, sardine, mackerel, all contain precious polyunsaturated fatty acids (OMEGA 3)".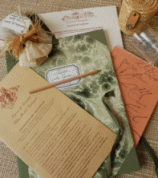 If you can find it, grab an original copy of Guérard's Cuisine Minceur Cookbook , the English translation  by Caroline Conran,  sets out Guérard's revolutionary cooking methods. Cuisine Minceur (now called Cuisine Minceur Active®)  preceded "Nouvelle Cuisine", and young mavericks (Ducasse,
Boulud, Michael Romano, you name them) flocked in pilgrimage to Eugenie to learn from the Master. Escoffier is said to have formed 2000 chefs, can Guérard be far behind?


 

To-day, Guérard's Lecons de Cuisine teach his basic ideas. They are exciting and, continually evolving, take in La Grande Cuisine Gourmande, Minceur Active ® & La Cuisine de Terroir de la Ferme aux Grives . The brilliant idea is you learn to cook low calorie or trad, in tandem. "My Cuisine Minceur Active® is protein rich, more or less eliminates carbs and fats", explains Guérard. So expect to wrap your poissons, viandes, poulets, in hay, seaweed, en papilottes of brown paper etc.  Most of my students like to learn the principles of Minceur Active ® then devote, say, a week once or twice a year to losing weight, without losing daily taste sensations!"


 

So, Guérard shows how to prepare his minceur fish, beef and chicken stocks. Butter is a no-no, as is flour for sauces which are prepped using appropriate stocks with the addition of vegetable purées, herbs or fromage frais. Salads are drizzled with olive oil salt, pepper, lemon juice, herbs. And, food which needs to be cooked in liquid is cooked in Eugenie thermal water, of course!


 

It's the incredible lightness of being chez Guérard. And what about the pudds? No problemo! Cloud like soufflés are made with natural fructose, and the signature granité is made with bitter chocolate, vanilla pods and low fat milk, or with fresh seasonal fruits.


 

Eugénie is named in homage to Napoleon's wife who came to take the waters here in the 1800's. (More of that in a future BUZZ). To-day Eugénie would hardly recognise Eugenie-les-Bains, the former tiny hamlet, but she would delight in the evolution of the colonial pile, now a 40+ acre landscaped designer wonder, luxury spa, with herb gardens, formal gardens, magic springs, swimming pools, and to-die-for décor by Madame Guérard. Think, a way of life that is a perfect lesson in the art de recevoir and de vivre; read a little corner of paradise.   
 
Les Prés d'Eugénie,
40320 Eugénie les Bains. Landes
www.relaischateaux.com/guerard
T: 05 58 05 06 07


 

Lecons de Cuisine chez Michel Guérard,
Next course to celebrate Les Feux de la Saint Jean-24th June 05.
Courses are flexible …
Can include wine tasting in the Grand Cave d'Eugénie and at the Chateau de Bachen.
Prices start at 210€ – include afternoon instruction with recipe book and initiation
Into wine tasting