Marc de Champerard is the tireless ambassador of French Gastronomy, as soon as his 2005 Red Guide was published, he was back on the road, searching for new and exciting addresses to add to this years' edition.
Believing, like his friend Alain Ducasse, that young talent needs promoting, de Champerard has dedicated this year's guide as, "homage à la jeune generation. "The world of restaurants is evolving fast, in the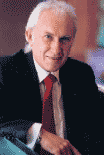 world of politics nobody listens to you, in our restaurants, it's a question of survival we are obliged to listen to your praise, your complaints! Fini the time of excessive bills, high priced wines. You, the client have a thirst for simplicity, authenticity and truth", explains de Champerard.
He looks on his discoveries as his extended family (he is aided by his lovely wife Nicole). "My boys are re-inventing cuisine for the 21st century", he says.
These are the names to note, you'll be a wow at the next dinner party. Jean-Francois Piege, Pascal Barbot, Didier Elena, Yannick Alléno, Thierry Schwartz, Stéphane Carrade, Fréderic Coursol, Jacques Décoret, David Zuddas, Jean-Marie Baudic, Nicolas Pourcheresse, Jean-Marc Boyer, Alexandre Gauthier, Eric Guérin, Lionel Lévy, Laurent Petit, Nicolas le Bec, Michel Portos, Stéphane Froidevaux, Stephane Laurier. "All good mates", says de Champerard, but each one with a different kitchen, different and exciting concepts".
De Champerard feels French cuisine is experiencing a huge revolution not seen since Escoffier.
"We refer to a meal as "le service" in France, but it is no longer a mass conducted in Latin", observes de Champerard. It's "cuisine libre!"
On the Hit-Parade, with a maximum of …. 2006 Dider Elena (ex-Ducasse) chef at Chateau des Crayères, Reims goes up to the highest rating. For de Champerard he is the example for all the others to follow, "what they must do to keep up with tomorrow". 15 Young Chefs of 2006 beginning with Sébastian Buecher, Auberge Frankenberg, La Vancells, (67) "are more or less unknowns, "go and discover their talent", pleads de Champerard, they deserve it".
The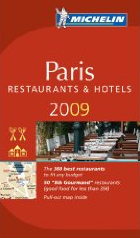 guide is sprinkled with colour photos of not only "Chef of the Year" "Young Chef of the year" but also "Hostess of the Year" ( Martine Petit, Le Clos des Sens, Annecy-le-Vieux, 74). Sommelier of the Year,  
Michèle Vételé of Anne de Bretagne, La-Plaine-sur-Mer, 44) Patissier of the Year, Arnaud Delmontel, La Renaissance-Arnaud Delmontel, Paris, 9th…..a mine of information that, even if your French is not up to muster you'll enjoy.
And it's not all accent on youth, Hommage of the Year, goes to Alain Senderens, "inventor of nouvelle cuisine".
In all 4,830 restaurants ( 309 new addresses -79 promotions – 86 demotions) 4,300 artisans (269 new), 1875 hotels, 875 Dream Weekends, maps….everything you need to know about dining and staying in France. Well done Marc de Champerard,
www.bonjourparis.com awards you ….
Guide Champerard, 2006
Editions Plon (23.50€)
www.amazon.com
Available from 20th October 2006.