TeaTheTcha: Delicious Tea Salon in the Paris 13th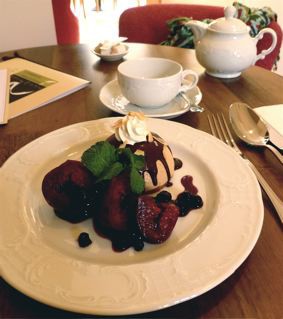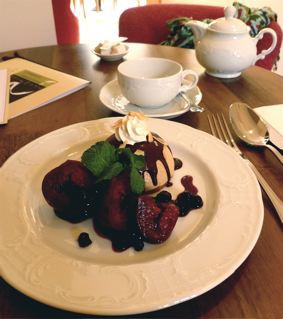 The jazzy sounding TeaThéTcha is not a dance. This clever composite of three names for tea is the name given to Patrick Loustalot-Barbé's brightly welcoming tea salon and comptoir in the Paris 13th. Patrick is a tea expert and a superb pâtissier. His charming L'Artisan des Saveurs salon was a beloved destination in the 6th for many years. After closing L'Artisan des Saveurs, Patrick took a break to write a book on tea.
In fall 2010 he opened this new comptoir and salon du thé, TeaThéTcha. This is excellent news for tea lovers. His salon is a lovely spot to relax over one of his sublime seasonal pâtisserie or a selection of scones with homemade jams, while sipping perfectly brewed tea from an estimable list of pure teas, blended teas, flavored teas and tisanes.  
TeaThéTcha is luminous, calm and intimate. Afternoon light floods the space and the busy boulevard seems worlds away. The comptoir area gives pride of place to bright white tea canisters set on warm wooden shelves. A second display holds Patrick's colorful fruit compotes, jams, honeys and selected herbal blends. The salon area has comfortable seating around round tables. Wonderful for tea, conversation, and sampling a treat from Patrick's seasonal patisserie carte, this place simply hits all the right notes.
Situated on rue de la Glacière near the village-like Butte aux Cailles quarter, this salon is only a short bus or metro ride from central Paris. Since opening on September 2010, the salon has attracted devoted regulars who appreciate this oasis of warmth, good tea and enjoying an afternoon douceur.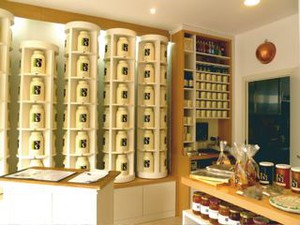 Over 200 selections of teas en vrac are available for purchase, carefully chosen from Jardins et de Grandes Origines around the tea-growing world. There are also lovely tea blends and numerous herbal infusions. If you love Chinese teas, Japanese teas, Taiwanese Oolongs, Nepalese teas, Indian teas, teas from Sikkim or Kenya, they are all here. There are green teas, white teas, blue-vert (Oolong), black teas and pure or parfumé blends for any mood or repast. One-hundred grams is the minimum purchase for tea from the comptoir and prices are very fair. I was delighted to find Temi tea from Sikkim, a black tea similar to Darjeeling but unique to its terroir and very good.
Patrick works closely with the venerable French tea-importing firm Georges Cannon to select and blend teas especially for his shop. He is utterly and unobtrusively expert at suggesting a tea to suit your taste and mood or to pair with his patisserie selections. During my visit, my choice of a buttery sablé cookie topped with Pu Ehr tea-infused ice cream napped with a cassis coulis and surrounded with plump, cassis-poached fresh figs sent me into advanced patisserie-nirvana. Patrick recommended a pot of Chinese Panyong Nid Dore OP that admirably complemented the pastry and intense fruit flavors. Perfection on the plate and in the pot!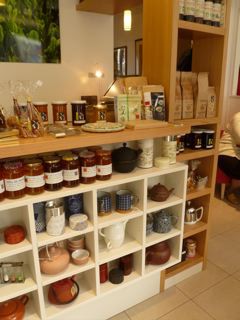 Teas by the pot range starts at a very reasonable €5 depending on the pure tea or the blend. Choose from thirteen teas from China, four from Taiwan, four from the Himalayan region, five from India, three from Ceylon and five from Japan. The patisserie carte choices range from scones with cream and currant compote, to spicy carrot cake with mascarpone and orange, to cookies made with honeys, to that sublime Sablé Glacé with figs mentioned above.  There is also a killer Tarte fondante au chocolat noir and a Savarin au Rhum "Belle Fruitière". Prices range from 5.50 to 6.50 E. I purchased a jar of the currant compote for a currant-loving friend and it was a very welcome gift. indeed, apparently being carefully doled out spoonful by spoonful.
If you happen to not like tea or be with a friend who prefers other infusions, there are three coffee choices from Verlet, Paris's premium roaster, and a choice of two chocolat chaud preparations.

TeaThéTcha is worth the short metro trip! Patrick is one of those effortlessly welcoming propriétaires who creates a warmly convivial ambience while offering top-quality teas and accompaniments. He will happily chat about tea or will simply welcome you to settle in and enjoy this convivial space. Inevitably, one leaves wishing that TeaThéTcha could be one's "local."
On Wednesday and Saturday mornings there is a marché volant along boulevard Alésia and rue de la Glacière.
On market days, Patrick opens at 8:30am. Go: you will be glad that you did.
PRACTICAL INFORMATION:
TeaThéTcha
Tél: 01 5380 4829
119, rue de la Glacière, Paris 13th
Open: Tuesday through Saturday, 10am-7pm.
Salon du thé tea service 2:30pm until close
Métro: Glacière
Bus 21 or 62
Sally Peabody is a Paris specialist who leads Your Great Days in Paris, small group cultural and culinary tours in France, the Pays Basque, Istanbul and Turkey. Please click on her name to read about her next tours and to read her past reviews published inBonjourParis.


Subscribe for
FREE

weekly newsletters with subscriber-only content.
BonjourParis has been a leading France travel and French lifestyle site since 1995.
Readers' Favorites: Top 100 Books, imports & more at our Amazon store


Seeking a fine pot of tea or hot chocolate in Paris? Click on an image for details.
Thank you for using our link to Amazon.com…we appreciate your support of our site.
Leave a reply
Your email address will not be published. Required fields are marked *