Tarn and Garonne: Meandering Through the Land of Milk and Honey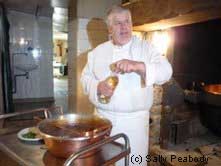 I was lucky indeed. And I'd like to share my recent discovery of a splendid region of rural southwestern France with you. In the company of an enthusiastic small group of American foodies who had previously enjoyed one of my Paris Culinary Treasures tours together, I set out in late September to explore and taste my way around the Tarn et Garonne region in the French southwest. Tarn et Garonne lies just south of the Dordogne and about an hour north of Toulouse. Working together with a French colleague who was born in the region and returns each summer to vacation in her ancestral village, we crafted a week of seamless explorations of utterly charming and blessedly uncrowded medieval hill-top towns, tranquil river valleys, vine-filled plateaus with views rolling off for miles over verdant countryside, visited splendid markets, culinary artisans and ate and drank very well indeed. This region, referred to by the Occitans as the Pays de Cocaigne (the land of milk and honey), is a verdant and varied landscape. For centuries it has been a pleasant and productive place to live, farm or simply enjoy the area's many serendipities. There are unexpected and fascinating resonances with Renaissance Italian architecture and style. Under the reign of François I the area prospered and enjoyed active trade with northern and central Italy while also benefiting from the work of skilled Italian craftsmen. You will note typical stone dwellings that have unusual roof-top porches open to the breezes, reminiscent of Florentine architecture. And we learned a new meaning for the word 'pastel'. The warmly hued stone houses and farm buildings throughout the region are distinguished by lovely and seemingly omnipresent pale blue 'pastel' shutters. Pastel, it turns out, is a plant that thrives in the region. Its leaves and flowers produce a characteristic blue dye or a paint that is widely used in the towns and villages. Handcrafters and artisans still dye fabrics and wools with pastel, creating lovely knits and clothes in that distinctive blue. We based ourselves in the utterly charming medieval village of St. Antonin Noble Val, set along the Tarn river and nestled between high craggy white limestone cliffs. La Résidence is a terrific B&B in a 17th- century house run by an amiable and professional Dutch/German couple. Highlights of the generous breakfasts were an array of homemade confitures that were spectacularly good. In addition to very comfortable large bedrooms and en-suite baths, La Résidence has a large backyard ringed by high walls of stone and mature trees, and, with views up to those often translucent-looking limestone cliffs. A very pleasant place to stay indeed. St. Antonin is home to one of the best street markets in southwestern France on Sunday mornings and set as it is in winding ancient streets framed by sunlit cliffs, the setting is as delightful as the abundant high-quality food and artisanal products for sale. Numerous artists and artisans have moved to the area and the variety of art and craft on offer in the markets and in many villages or in the well-preserved hilltop bastide towns is quite high. Needless to say the market is a major gathering place and social event too. Great fun. Active travelers can kayak on the rivers, bicycle, walk and explore to their hearts' content. The region is hilly but not mountainous. Highlights of our group's van-based explorations were numerous. My top picks would have to include our visit to the Château Mayragues, a top Gaillac wine producer and one of the noted biodynamic vineyards in France. Alan and Laurence Geddes are the vignerons and they make a selection of dry and sweet white and red Gaillacs using grape varietals with historic roots preceding Roman times. Indeed, the Gaillac wine region is, after the Narbonnais, the oldest wine growing area in France. The splendid Château de Mayragues, constructed from the 14th to 16th centuries, has been painstakingly restored by the Geddes family and has won an award from the French State for the preservation of this remarkable example of fortified regional residential architecture. Another top pick for architecture, atmosphere and ambience has to be Cordes-sur-Ciel. This hilltop village dates back to the middle ages with remarkably intact buildings and a seductively non-Disneyesque historic atmosphere. For over fifty years artists and artisans have worked in Cordes, committed to preserving and restoring local traditions. The surrounding countryside within the Cérou valley is reminiscent of Tuscany. The France Michelin Guide gives Cordes a three-star rating for its history, ambience and architecture. Unrepentant foodies all, we also loved the local 'croquants' (thin almond tuile-like cookies loaded with nuts) and the variety of high-quality artisans' shops. And in late September it was peaceful and delightfully uncrowded. In the pleasant small city of Albi, also given a three-star rating by Michelin, the massive fortified brick Cathédrale Sainte-Cécile sports stunning interior paintings and vast frescoes that transport one to Bologna. Albi is also home to an excellent small Toulouse Lautrec museum, robust year-round cultural offerings, good bistros and varied shopping. We enjoyed a leisurely delicious and sophisticated modern bistro lunch in the garden of Le Clos Ste. Cécile, near the cathedral, and would highly recommend that choice for lunch or dinner any time. During our post-lunch explorations, I was absolutely delighted to find an exceptional tea shop in the old …
SUBSCRIBE
ALREADY SUBSCRIBED?
BECOME A BONJOUR PARIS MEMBER

Gain full access to our collection of over 5,000 articles and bring the City of Light into your life. Just $60 a year.

Find out why you should become a member here.

Sign in

Fill in your credentials below.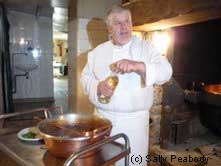 I was lucky indeed. And I'd like to share my recent discovery of a splendid region of rural southwestern France with you.
In the company of an enthusiastic small group of American foodies who had previously enjoyed one of my Paris Culinary Treasures tours together, I set out in late September to explore and taste my way around the Tarn et Garonne region in the French southwest. Tarn et Garonne lies just south of the Dordogne and about an hour north of Toulouse.
Working together with a French colleague who was born in the region and returns each summer to vacation in her ancestral village, we crafted a week of seamless explorations of utterly charming and blessedly uncrowded medieval hill-top towns, tranquil river valleys, vine-filled plateaus with views rolling off for miles over verdant countryside, visited splendid markets, culinary artisans and ate and drank very well indeed.
This region, referred to by the Occitans as the Pays de Cocaigne (the land of milk and honey), is a verdant and varied landscape. For centuries it has been a pleasant and productive place to live, farm or simply enjoy the area's many serendipities. There are unexpected and fascinating resonances with Renaissance Italian architecture and style. Under the reign of François I the area prospered and enjoyed active trade with northern and central Italy while also benefiting from the work of skilled Italian craftsmen. You will note typical stone dwellings that have unusual roof-top porches open to the breezes, reminiscent of Florentine architecture.
And we learned a new meaning for the word 'pastel'. The warmly hued stone houses and farm buildings throughout the region are distinguished by lovely and seemingly omnipresent pale blue 'pastel' shutters. Pastel, it turns out, is a plant that thrives in the region. Its leaves and flowers produce a characteristic blue dye or a paint that is widely used in the towns and villages. Handcrafters and artisans still dye fabrics and wools with pastel, creating lovely knits and clothes in that distinctive blue.
We based ourselves in the utterly charming medieval village of St. Antonin Noble Val, set along the Tarn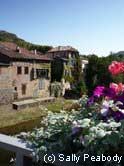 river and nestled between high craggy white limestone cliffs. La Résidence is a terrific B&B in a 17th- century house run by an amiable and professional Dutch/German couple. Highlights of the generous breakfasts were an array of homemade confitures that were spectacularly good. In addition to very comfortable large bedrooms and en-suite baths, La Résidence has a large backyard ringed by high walls of stone and mature trees, and, with views up to those often translucent-looking limestone cliffs. A very pleasant place to stay indeed.
St. Antonin is home to one of the best street markets in southwestern France on Sunday mornings and set as it is in winding ancient streets framed by sunlit cliffs, the setting is as delightful as the abundant high-quality food and artisanal products for sale. Numerous artists and artisans have moved to the area and the variety of art and craft on offer in the markets and in many villages or in the well-preserved hilltop bastide towns is quite high. Needless to say the market is a major gathering place and social event too. Great fun.
Active travelers can kayak on the rivers, bicycle, walk and explore to their hearts' content. The region is hilly but not mountainous. Highlights of our group's van-based explorations were numerous. My top picks would have to include our visit to the Château Mayragues, a top Gaillac wine producer and one of the noted biodynamic vineyards in France. Alan and Laurence Geddes are the vignerons and they make a selection of dry and sweet white and red Gaillacs using grape varietals with historic roots preceding Roman times. Indeed, the Gaillac wine region is, after the Narbonnais, the oldest wine growing area in France. The splendid Château de Mayragues, constructed from the 14th to 16th centuries, has been painstakingly restored by the Geddes family and has won an award from the French State for the preservation of this remarkable example of fortified regional residential architecture.
Another top pick for architecture, atmosphere and ambience has to be Cordes-sur-Ciel. This hilltop village dates back to the middle ages with remarkably intact buildings and a seductively non-Disneyesque historic atmosphere. For over fifty years artists and artisans have worked in Cordes, committed to preserving and restoring local traditions. The surrounding countryside within the Cérou valley is reminiscent of Tuscany. The France Michelin Guide gives Cordes a three-star rating for its history, ambience and architecture. Unrepentant foodies all, we also loved the local 'croquants' (thin almond tuile-like cookies loaded with nuts) and the variety of high-quality artisans' shops. And in late September it was peaceful and delightfully uncrowded.
In the pleasant small city of Albi, also given a three-star rating by Michelin, the massive fortified brick Cathédrale Sainte-Cécile sports stunning interior paintings and vast frescoes that transport one to Bologna. Albi is also home to an excellent small Toulouse Lautrec museum, robust year-round cultural offerings, good bistros and varied shopping. We enjoyed a leisurely delicious and sophisticated modern bistro lunch in the garden of Le Clos Ste. Cécile, near the cathedral, and would highly recommend that choice for lunch or dinner any time.
During our post-lunch explorations, I was absolutely delighted to find an exceptional tea shop in the old core of Albi at 33 rue de l'Hôtel de Ville named Cha Zhuang. Stéphane, the friendly young owner, has a superb collection of fine pure and blended teas and he knows his 'brews'. There were numerous temptations at Cha Zhuang but I succumbed to a green and black tea blend with chestnut that I had never seen before (or since). I now regret buying only 100 grams. It is amazing tea. This shop alone would be worth driving to Albi for, at least for the tea-obsessed.
Other charming villages in the region include Bruniquel, Vaour, Penne, Caylus and Varen. We visited an excellent shop well known in the area called Les Délices de Caylus in the tiny village of Caylus that sells an excellent array of local charcuterie, cheeses, confits, pâtés and prepared dishes like Aligot and lovely salads. Farms abound that offer dégustations of foie gras and confits, goat and sheep milk cheeses. There are numerous wine producers who welcome visitors. Farmers in these parts tend to employ traditional methods, are small-scale in scope and care deeply about quality of their products. They are not fans of large-scale industrialized farming.
There are spectacular corniche roads that wind along the Tarn river and also numerous scenic loops through the dramatic gorges of the Tarn and the surrounding countryside. One of the main French medieval pilgrimage routes to Santiago de Compostela runs through the area, and lovers of ancient churches and monasteries will find several excellent prospects to visit, including a Cistercian abbey that has been turned over to the French state and now exhibits modern art in its tranquil sanctuary. As the time in the Tarn et Garonne came to its end, we all agreed that this is serendipitous 'poking around' rural French countryside par-excellence!
Sally Peabody's Your Great Days in Paris offers small-group culinary tours and Off the Beaten Path tours in Paris, the Tarn et Garonne and in the Pays Basque. She also works with adventurous independent travelers to plan memorable trips on their own or with some private guiding.
Auto Europe is the savvy visitor's best bet for planning a trip to Paris. Whether you're looking for the best deals in car rentals or air travel, hotels or GPS rentals, just go to Auto Europe and you're on your way.
Medjet Assist. As a member of MedjetAssist, if you become hospitalized as an inpatient more than 150 miles from home, you will be transported at your discretion to the hospital of your choice from virtually anywhere in the world – at no additional cost.  Domestic air medical evacuations average $20,000 while international medical evacuations can exceed $100,000 – but not with the protection of MedjetAssist.
More in Bonjour Paris, Food Wine, French tourism
---
---