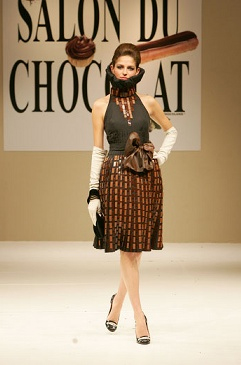 In France some brilliant women have created brands/labels/ideas that change everyday life; Sylvie Douce is a fine example. In 1995, Sylvie an events organiser, created Le Salon du Chocolat because, "everybody loves chocolate, it needs to be marketed as fun, and it's a perfect link uniting people everywhere".
The choco concept took off big time and now there are, at the time of writing, 22 Chocolate Shows world-wide. Last year Sylvie was elected "Femme en Or", next week the Queen of Chocolate receives prestigious Chevalier de l'Ordre National du Mérite for services to the big bean.
We sit in Sylvie Douce's sunny, ordered office at Event International headquarters, a divine townhouse in the 16th, and discuss the runaway success of le salon. On the book-lined shelves there's lots of objects  and photos as well as a machete from Cote d'Ivoire used for harvesting chocolate beans. I tell Sylvie I've read 41% of women would rather eat chocolate than make love. Blushing a little, she replies that chocolate is very sexy, healthy because of the magnesium and relaxing. "Eating it makes you happy, what's important is you buy your bars and boxes for pleasure, and to give pleasure to others," she decides.
Pleasure for this exceptional woman is Marc Jacobs perfume, a bouquet of orchids, glasses of red or rosé wine from the Domaine L'Isle Fort, Bordeaux vineyards, where she has a home.  Weekends spent "en famille", and a recently discovered violin that belonged to Louis Douce, her grandfather, a director of biscuits Gondola.
The French eat 7.1 kilos a year. The Brits 10.3 kilos: The Swiss 14.3 kilos: Germans 11.2 kilos. Belgiums 9.3 kilos and  Americans 6 kilos. At this years' edition 400 exhibitors, as well as large and small producers, from Brazil, Gabon, Madagascar, Mexico, Venezuela,  Sao Tome and Principe will present their products to a curious and appeciative public. Le Salon covers two floors including Swiss and Italian pavillions, "next year we hope to have a British one", adds Sylvie. Superchef Alain Ducasse will pay a special tribute to the late Gaston Lenôtre and launch a film and photo exhibition dedicated to the legendary patissier's life.
"It's exciting  when we're approached by new countries such as Italy, Brazil, Egypt. When I say "we" I mean my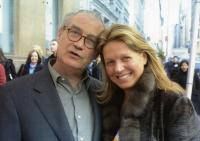 husband Francois Jeantet, we're a team, partners in life and work, Bonnie and Clyde, but we're not bandits, so say Adam and Eve!" Francois, who trained as an architect, designs the décor and visual aspects, continually re-inventing the concept.  The event is divided into exotic designer sections, which become more ambitious each year. This years' theme, Opera, will be presented as a fairytale opera, with a 3- meter high replica of the Opera Garnier, made of Leonidas chocolate, decorated with Swarovski crystals. There's the now traditional "couture meets chocolate" fashion show, delicious dresses by top designers such as Thierry Mugler and Jean-Claude Jitrois. Super-models give their time gratuitiously to support various charities such as Carole Bouquet's, La Voix d'Enfant. Sylvie explains that there's a muslin base and then the chocolate dresses are fitted over the top. "Except one year in New York, the designer moulded the chocolate to the model's body and everything melted while she was on the catwalk!"
The first salon, at Quai Branly, welcomed 40,000, each year numbers have increased until last year 100,000 came over the four fabulous days. Sylvie says the trend at present is towards Fair Trade chocolate as well as eccentric items such as Jacques Bockel's dark shiny tablets inspired by the Kama Sutra, but notes his bawdy folies are made with vintage 70% beans from Papua, New Guinea. Expect Jean Paul Hevin's chocolate ballet shoes, Carmen re-visited in a choco-painting by Francois Pralus, expect to be amazed.
And when you've finished at the fair, head on over to Maison Boissier, now owned by Sylvie and Francois, and exhibiting at the Choco Show. They saved the historic maison created by Belissaire Boissier circa 1827, Victor Hugo was particularly partial to the chocolat chaud, as is Sylvie. Stay tuned for more delicious news.
www.maisonboissier.com [1] [2]
15th Salon du Chocolat Paris,
14-18 October 2009
Porte de Versailles – Halls 5/2 et 5/3
Metro: Porte de Versailles
11th Chocolate Show NYC
30 October-1 November 2009
Metropolitan Pavilion
125 W 18th Street NY 10011