The good news is the entire Spoon space is non-smoking, "and nobody has complained, everyone is delighted", confirms Christian Laval the smooth and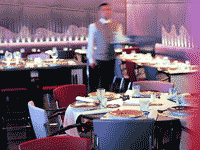 efficient directeur du salle. Warm ruby red colours, parquet and wengé wood, by designer Jean-Francois Auboiron, make the perfect backdrop for Patricia Zurini's sculpture, "Ondes des Temps", 100,000 coloured pearls representing, the past, present and the future.
But what about the food?
"The chef Alain Ducasse wants to continue, in one space, to showcase a cuisine inspired by global tastes, flavours and Monsieur Ducasse's world travels", explains Ducasse's  No.2, the young and talented  Stéphane Colé. "Respecting the products, bien sur", he adds. Look for "A Week With Us" which translates to a 3-course lunch served within 40 minutes, should you wish. Add delicate freebie starters and warm home-baked bread. Choose, say, Citrus and calamar taboulé, a main of Lamb kebab, carrots and cumin with apple and date crumble for pudd. Chocolate and vanilla cookies finish a perfect lunch. Or try Spoonsum, dishes served in small portions, so you can have lots of taste sensations: Rougaille curry bream and crispy vegetables, king prawn kebabs, stir fried vegetables, spare ribs with peanuts, red mullet tajine, strawberry shake it up and/or cheesecake. Yum!
Dinners have a theme too. Travel Spoon invites you on a world trip (no packing) with dishes inspired by other Spoons (Ile Meurice, London, St. Tropez, Hong Kong, Gstaad and Tunisia). "We call it freedom to incorporate new ideas", says Colé. Or, sign up for C'Xy Spoon, dishes inspired by Ducasse's Spoon Cook Book. Even if you have the tome at home, it don't taste the same do it? Desserts include Bubble gum ice cream, chocolate pizza, our favourite cheesecake or taste the lot with Spoon's Top 5.
If you don't want the specials, just want to choose from the menu, so be it. Sensational soft boiled eggs and oursins on a bed of seaweed tofu, hard act to follow, but the classic pan-seared tuna with satay sauce and wok sautéed vegetables does well. As does roast duckling with dolce forte sauce and raw and cooked turnips. Wash down with wine by the glass but do take a look at the world wine list. How often do you see a Pinot Noir from New Zealand? Martinborough 1998 (82€). A nice kosher 1999 from the Golan Heights (56€) and a 2002 Massaya from the Bekkaa Valley (47€). Drink the world – find peace at Spoon.
See you Spoon.  
14 rue de Marignan, 8th (Metro: Franklin Roosevelt)
T: 01 40 76 34 44
Shut Sat-Sun
A week with Us: starter: main: dessert 38€
Spoonsum lunch: 2 starters + 1 fish + 1 meat + 3 desserts 45€
Top Spoon: from 14€
Travel Spoon: from 19.50€
C'Xy Spoon: 85€
Spoon Cook Book at Spoon or on www.amazon.com
Jean Francois Auboiron – www.auboiron-exclusive.com
Particia Zurini – www.patricia-zurini.fr