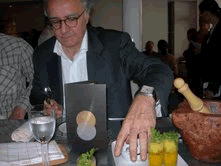 "Ten years ago we created Spoon, Food and Wine" recalls Alain Ducasse this week. "It was new and exciting, a celebration of many different cuisines I discovered during my travels, we called it fusion". Then the world copied Ducasse's concept and: "it became con-fusion".
So, Ducasse re-launched Spoon, in collaboration with Nathalie Richard and group Richard who recently bought and transformed The Hotel Marignan where Spoon is located. New décor, new spoons, new brooms, but the same talented chef, Stephane Colé. "We're featuring classic Spoons such as L'Oeuf mollet sur morue "Mantecato". Le Thon à la Plancha, sauce satay, legumes au wok and, of course Glace Malabar", he grins.
The menu itself has been made more "user- friendly", for some reason it caused a real furore, made some diners angry that they had to complete a sort of culinary Sudoko instead of having it all done for them.
What's new then? The Pasta Pot, a utensil made by Alessi, created by Alain Ducasse and Patrick Jouin (who's "doing" The Jules Verne as you read this. Don't ask, top secret but watch this space). Ducasse says it gives much more flavour to the pasta and is inspired by a centuries old tradition of olive pickers who went to work in the fields, taking their olive pots and very little water, "so it's cooked like a risotto, and we add spices, herbs, mushrooms, seasonal vegetables and even yogurt, just as they did all those years ago." (20€)
Spoon showcases world cuisine and this season you can visit India (no visa required) and taste Homard tandoori roti legumes verts (47€) or Roast Poulet Tikka, sauce supari, pack choux (28€). Prefer French? "We re-interpret some classics using modern techniques for dishes such as Agneau Cotelette à la plancha. Canette from Rouen croisée à la broche: Filet of Rouget snacké with nems", explains Ducasse. A new generation of "condiments" (nosh alone or mix with your dish) are crushed in handsome artisanal pestles and mortars made in Provence by Mustapha Messaoudi. They are used on the tables, as decoration, unfortunately too heavy to pop in the Vuitton.
The room seats 80, a long table d'hote in the centre for making new best friends. Lots of healthy salads for the ladies who don't, plus non-alcoholic cocktails and try Le Sparkling de Rhubarbe for a sexy tingling sensation like no other you'll get with your clothes on. Finish with the best cheesecake in Paris, frozen coconut lollipops, kumquat marmalade or Malabar and Tagada Ice-cream.
Looks like Ducasse has done it again!
Just a short VelLib ride away talented Japanese chef Hiroyuki

Hiramatsu blends innovation and tradition, drawing on the changing seasons, to create dishes such as his signature Carpaccio de pigeon aux truffes d'automne sur une rosace de celery-rave or Croustillant de pieds de porc à l'ail doux, tomates étuvees au vinaigre de balsamique.
Alain Ducasse says some of the best food he's tasted recently is in Japan (Beige, Benoit and B-Boulangerie are his over there). "I leave it to my mother to cook Japanese", sniffs Hiramatsu.
Alert readers will recall that four years ago Hiramatsu opened a tiny 16-seater resto on the Ile Saint Louis, you could never get a table, now he's become an uptown boy it may be a little easier. He's transformed Henri Faugeron's former restaurant into an elegant art-deco space with interesting art, some Japanese objects, Wengé wood and beautiful Baccarat glassware.  José Pedro Parente looks after the salle and the knowledgeable sommelier Michel Le Meur will direct you to some excellent vintages, say, St. Estephe Chateau Les Ormes de Pez 2001 or Domaine du Collier (white) Saumur 2004. "It's always the French cuisine of tomorrow that fascinates me", says Hiramatsu, with his shy smile that reflects thousands of years of east-west culture.
Deeply inspired as a young boy by everything French, "I decided at an early age I would devote my life to French culinary arts", he admits. This guy's no slouch, he came to Paris to learn his craft, returned to Japan and has, at the last count, 20 restaurants, bistros and cafés  dotted all over the land of the rising sun, introducing French cuisine, "as a composite art form to which I can contribute my personal touch". Very zen – sayonara.
Address Book:
Spoon at The Marignan,
Hotel Marignan Champs-Elysées,
12 rue de Marignan, 8th (M: Franklin Roosevelt)
T: 01 40 76 34 44
Valet parking
Average Spend – Lunch 47€ Dinner 89€ + wine
Shut: Sat-Sun so eat in the 15Cent15 lounge-bar
at The Marignan – tres cool!
Hiramatsu
52 rue de Longchamp, 16th
(M: Trocadero)
T: 01 56 81 08 80
Average Spend Lunch 48€
Menu Découverte 95€
Menu Délices gastronomique 130€
+ A La Carte + wine